Glenn Beck's radio co-host Pat Gray took to Facebook to address Fox News' Sean Hannity's criticism of conservatives — such as Beck — who refuse to support Republican presidential nominee Donald Trump.
"Hannity is calling us every name he can think of, because we don't worship at the altar of Trump," Gray wrote.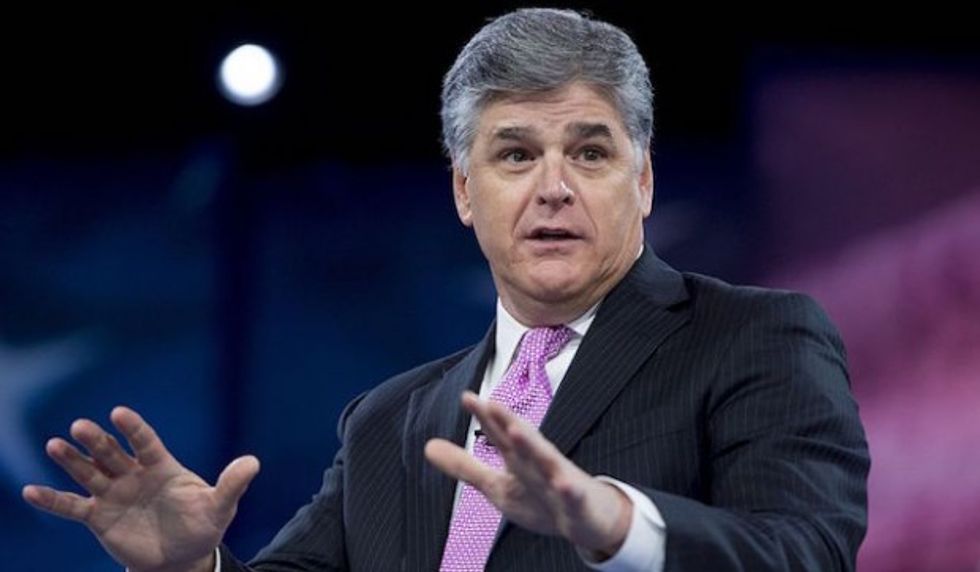 Fox News host Sean Hannity speaks during the annual Conservative Political Action Conference at National Harbor in Maryland on March 4. (Saul Loeb/AFP/Getty Images)
Beck and Hannity have had an ongoing disagreement about Trump's candidacy. Hannity, a vocal supporter of Trump, accused Beck of waging a "holy war" against the candidate because Beck has said he cannot support him.
Hannity argued that conservatives who refuse to support Trump will "own" Hillary Clinton's presidency. Beck said on his radio show earlier this week, "While I have been strong with my warnings on Donald Trump, I have been equally strong in my condemnation of Clinton."
Gray argued that he cannot support Trump because "voting for the lesser of two evils, is STILL choosing evil," adding:
We are trying to find someone we can believe in...vote for that person...and then let God sort it out...hoping that if enough people TRY to choose righteousness, the nation will be blessed, even though the person who wins the Presidency won't be good.
Gray noted that Hannity has vowed to "hold us 'accountable' if Hillary wins."
"What will being held 'accountable' by Sean Hannity entail, I wonder?" he wrote. "No free tickets to ride on the 'Stop Hillary Express 2016'? Will he not call on us for questions when he's Trump's Press Secretary? I shudder to think."
Read Gray's post below:
—
Follow the author of this story on Twitter and Facebook: