Labor Day marks the unofficial kick off of the last leg of the 2106 race for the White House. The day started with both Donald Trump and Hillary Clinton boarding campaign planes headed to rallies in key battleground states.
In Clinton's case, Monday marked the first time the Democratic nominee invited members of the press to fly alongside her in the her new campaign airliner.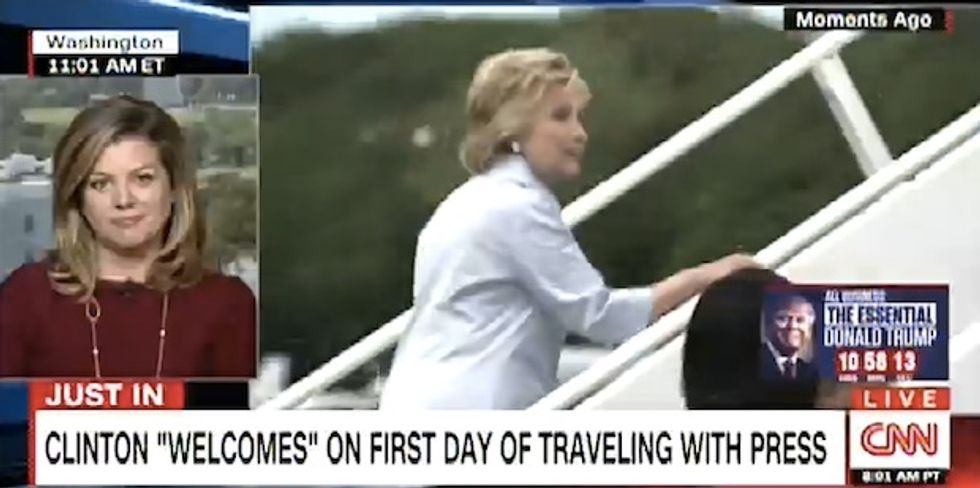 Image source: YouTube 
Before taking off, Clinton wandered back to the section where the journalists were seated to "welcome" them.
"Hey guys," Clinton said with a smile, as she stood at the entrance to the press area. "Welcome to our big plane. It's so exciting."
An off-camera questioner asked Clinton, "What do you think?"
"I think it's pretty cool, don't you?" she said, before leaning in and stressing, "You're supposed to say, 'Yes!'"
A smattering of laughter was heard from the reporters and then Clinton added, with what appeared to be a tinge of sarcasm, "I am so happy to have of you here with me."
"I've been just waiting for this moment," she quipped.
Some members of the entourage lobbed a couple of light questions to the candidate, asking how her Labor Day weekend was. Clinton responded, "It was good, really good. Yeah, we had a good time."
Clinton gave a shout-out to one reporter she recognized named Mark. However, her longest interaction with the crew in the back of the plane was with a campaign staffer named Arun.
When asked if she had a Labor Day comment, Clinton replied, "I definitely do. ... If you want more Happy Labor Days, you know who to vote for."
CNN followed up the report highlighting the fact that Clinton has not had a full press conference since last December.
Watch the exchange between Clinton and the press corps.
__