Perhaps she was joking — after all, that's what Amy Schumer does for a living. However, the comic's statement about leaving the country if Donald Trump becomes president has rippled across the internet.
In a recent interview with BBC Newsnight, Schumer announced, "My act will change because I'll need to learn Spanish, because I will move to Spain or somewhere," adding, "It's beyond my comprehension if Trump won."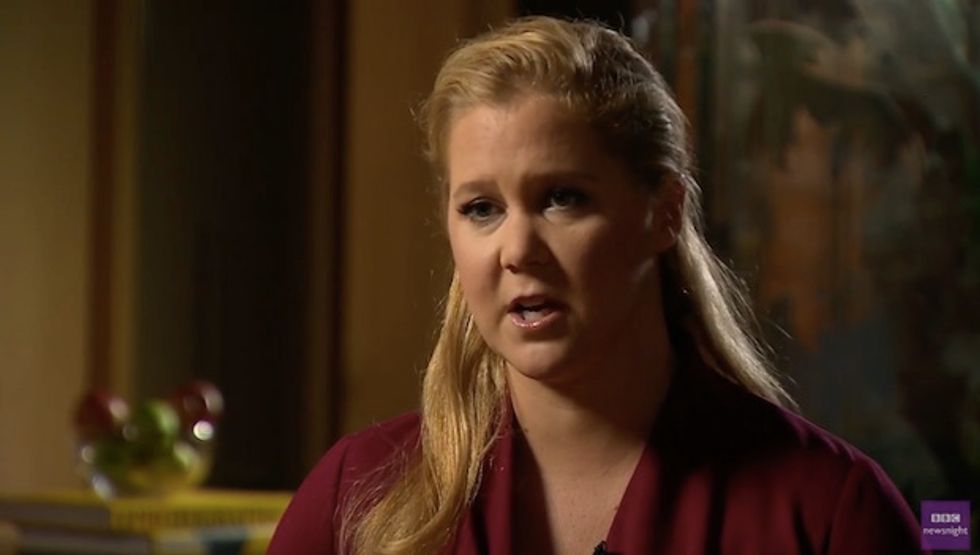 Amy Schumer (Image source: YouTube)
Schumer is not the only celebrity to "threaten" to run away from America should Trump move into the White House.
Here's a list of the famous faces who, in addition to Schumer, have pledged to relocate outside the country in the event of a Trump presidency:
Barbra Streisand: "I'm either coming to your country, if you'll let me in, or Canada," the singer told "60 Minutes" in Australia last month.
Rosie O'Donnell: The comedian and former co-host of "The View" reportedly said she would move to Canada if Trump wins.
Cher: The singer tweeted that she would prefer to live on Jupiter should Trump win this fall.
@gabeAlfassy IF HE WERE TO BE ELECTED,IM MOVING TO JUPITER

— Cher (@cher) June 16, 2015
Jon Stewart: "I would consider getting in a rocket and going to another planet, because clearly this planet's gone bonkers," Stewart said last September during his acceptance speech at the Emmy Awards.
Samuel L. Jackson: Participating in a comedy sketch on ABC's "Jimmy Kimmel Love" in December, the actor stated, "If that motherf***er becomes President, I'm moving my black ass to South Africa."
Jennifer Lawrence: Though she did not identify a country she would prefer over a Trump-helmed America, the young Oscar-winner gave a more dismal prediction, telling Entertainment Weekly, "If Donald Trump becomes president, that will be the end of the world."
Omari Hardwick: The actor told TheWrap.com that he would move his family to Italy if Trump is elected.
Eddie Griffin: The comedian/actor is also not a Trump fan and has vowed to move to Africa after a Trump victory.
Barry Diller: The media mogul and billionaire has also made it known that he will leave the country, telling Bloomberg, "If Donald Trump doesn't fall, I'll either move out of the country or join the resistance." Trump responded to Diller's threat to depart on his favorite social platform:
Little Barry Diller, who lost a fortune on Newsweek and Daily Beast, only writes badly about me. He is a sad and pathetic figure. Lives lie!

— Donald J. Trump (@realDonaldTrump) October 10, 2015
We will add to the list as the names of other celebrities make their post-election plans known.
—
Follow the author of this story on Twitter and Facebook: