Glenn Beck may still hold firm citizenship in the "Never Trump" camp, but he took a moment on his Thursday show to focus on the election's aftermath.
After commiserating with some feelings around the presidential election with his guest, National Review senior editor Jonah Goldberg, Beck put aside end-of-days hyperbole and said Americans are going to survive the showdown between Donald Trump and Hillary Clinton.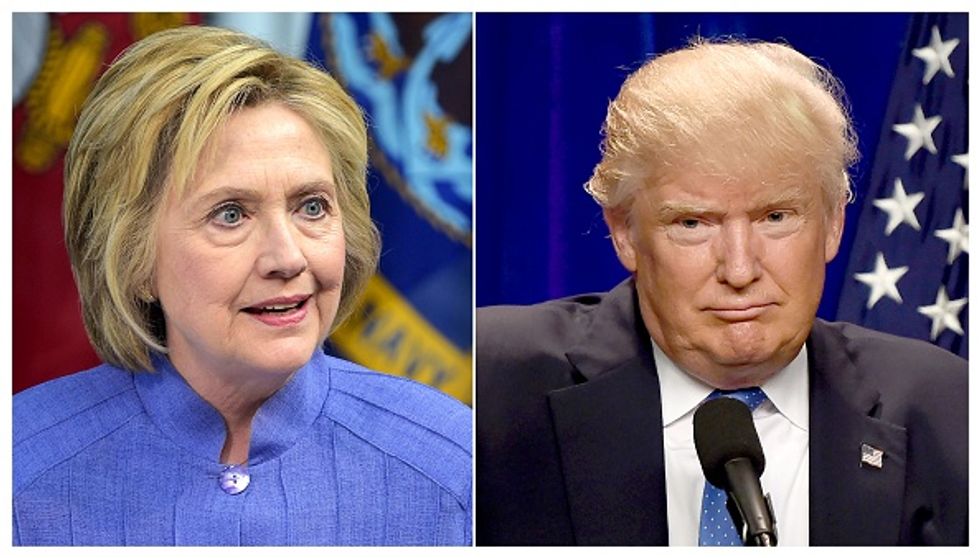 This combination of file photos shows Democratic presidential nominee Hillary Clinton(L)on June 15, 2016 and presumptive Republican presidential nominee Donald Trump on June 13, 2016. (DSK/AFP/Getty Images)
"What do things look like in 70 days [a week after the election], or 200 days from now, with the conservative movement?" Beck asked Goldberg.
In response, the National Review editor was clear to point out that he takes a backseat to no one in regard to his criticism of the Clinton's, but conceded that he has "more faith in the United States of America that we are never just one election away from doom."
After sparing about the importance of weighing the matter of Supreme Court nominations into one's decision to support either Clinton or Trump — or not to vote at all — Goldberg laid out his feelings on the entire election in a throw-your-hands-up-style approach:
I've been saying this for two years almost that this ends up in tears no matter what. And that this is an election that is a choice between two different kinds of crap sandwiches. They're just in different kinds of bread. And the problems with both presidencies are huge but they are not equivalent. They're different problems.

God, in his infinite sense of humor, has decided that in an election where we have the two most unpopular candidates in American political history, probably, we've managed to have a system that's generated two candidates whose only chance of winning is because the other is equally disliked by the American people.
Watch the 6-minute exchange: —