BOYDS, Md. (TheBlaze/AP) — The Washington Spirit prevented Seattle midfielder Megan Rapinoe from kneeling again during the national anthem by altering its pregame ceremonies rather than "subject our fans and friends to the disrespect we feel such an act would represent."
The National Women's Soccer League team moved up the anthem, playing it while the teams were off the field at the Maryland SoccerPlex.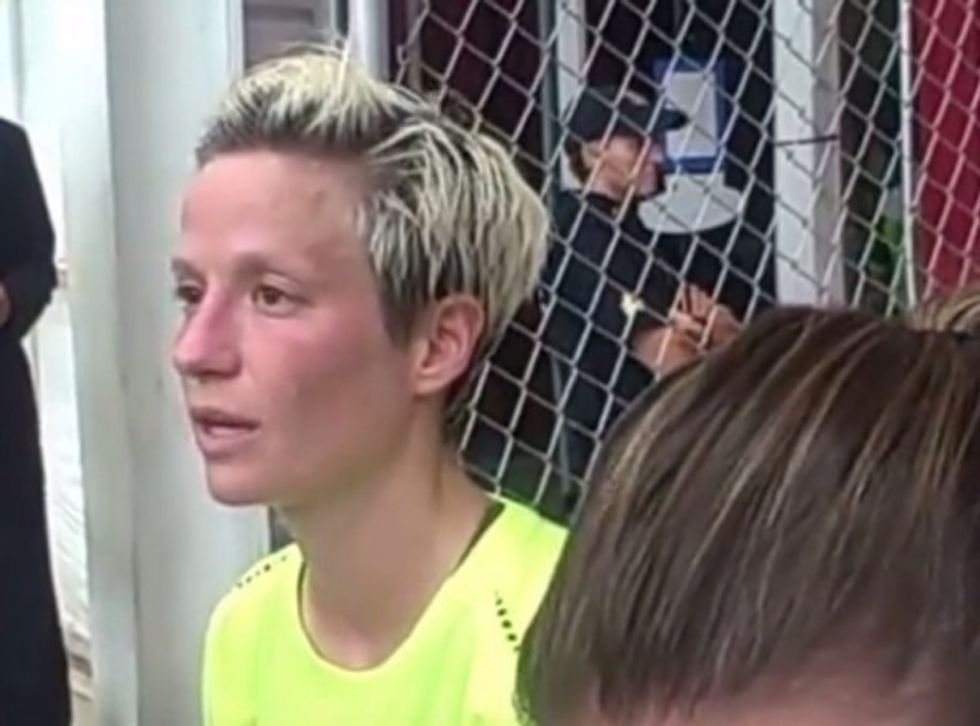 Megan Rapinoe interviewed after Wednesday's game. (Image source: YouTube)
"We decided to play the anthem in our stadium ahead of schedule rather than subject our fans and friends to the disrespect we feel such an act would represent," the Spirit said in a statement. "We understand this may be seen as an extraordinary step, but believe it was the best option to avoid taking focus away from the game on such an important night for our franchise."
On Sunday before the Reign's match in Chicago, Rapinoe knelt during the anthem in solidarity with Colin Kaepernick — the San Francisco quarterback who has refused to stand during the anthem to protest racial injustice and minority oppression. She said at the time she planned to continue to kneel.
"To willingly allow anyone to hijack this tradition that means so much to millions of Americans and so many of our own fans for any cause would effectively be just as disrespectful as doing it ourselves," the Spirit said in the statement.
Following the match, Rapinoe said she was saddened by the Spirit's move, calling it "f***ing unbelievable."
"I think it was incredibly distasteful to say that I, four days before one of the worst tragedies we've had in our country ... hijacked this event," she added.
During the match a group of supporters chanted, "Let her kneel!"
The Spirit said team owner Bill Lynch is a veteran who has lost friends in overseas conflicts, as had his close friends.
"The tradition of honoring our military and our patriotism before our games is very important to us," the statement said. "We strongly feel that there are better ways to begin a conversation about a cause than tarnishing a tradition that is so important to so many."
Here's an interview with Rapinoe after the game. (Content warning: Profanity):
Rapinoe — who is gay — also was asked in the interview if she thought the Spirit's action had homophobic undertones.
"I do, yeah," Rapinoe said, adding that she's "had conversations with Spirit players current and past. The fact that they don't have a Pride Night ... I think they've made it pretty clear, at least internally, that's not something they're interested in."
"I don't know if it was directly at me because I'm gay and it's a protest that I'm making as a gay woman," she continued, then added with a smile, "Bit of a stretch."
Earlier Wednesday, the Reign said they were standing by Rapinoe. In a statement, the team said it recognizes Rapinoe's action "was offensive to some and a source of inspiration to others."
"We will continue to encourage all Reign FC players to participate in the pre-match ceremony, which honors those who have served and made sacrifices on our behalf," the Reign said. "We will also continue to allow players to participate in the pre-match ceremony in a manner consistent with their personal beliefs, reflecting our respect for the rights earned and defended by those fighting for our nation."
[sharequote align="center"]"It was incredibly distasteful."[/sharequote]
Kaepernick drew attention when he remained seated on the bench before a preseason game against Green Bay. Last Thursday night in San Diego, he and safety Eric Reid knelt during the anthem before a game against the Chargers.
On Sunday night, Rapinoe kneeled during the anthem prior to the match against the Chicago Red Stars, in what she called "a little nod" to Kaepernick.
"I think it's actually pretty disgusting the way he was treated and the way that a lot of the media has covered it and made it about something that it absolutely isn't. We need to have a more thoughtful, two-sided conversation about racial issues in this country," Rapinoe told the website American Soccer Now afterward.
She went on to say: "Being a gay American, I know what it means to look at the flag and not have it protect all of your liberties. It was something small that I could do and something that I plan to keep doing in the future and hopefully spark some meaningful conversation around it."
The 31-year-old Rapinoe has been with the U.S. national team since 2006 and has played in two Women's World Cups and two Olympics. She has played for Seattle since 2013,
Rapinoe injured her knee last December during training and required surgery, but was able to come back and play in the Rio Games. The United States, which had won three straight gold medals in the sport, was eliminated in the quarterfinals by Sweden.
Since coming out in 2012, Rapinoe has been devoted advocate for LGBT rights and has worked with the Gay, Lesbian & Straight Education Network (GLSEN) and other organizations.
Rapinoe also has been vocal about pay equity, and was among five national team players who lent their names to a complaint filed with the Equal Employment Opportunity Commission alleging wage discrimination. The players claim that members of the team make in some cases up to four times less than their male national team counterparts.