Maureen Dowd, a columnist for the New York Times who has been critical of both Hillary Clinton and Donald Trump, believes the big revelation following the Democratic presidential nominee's collapse is less medical and more political.
During an interview on Fox News Monday night, host Megyn Kelly asked Dowd if voters should give Clinton the "benefit of the doubt" and accept that pneumonia is the only thing wrong with the presidential candidate.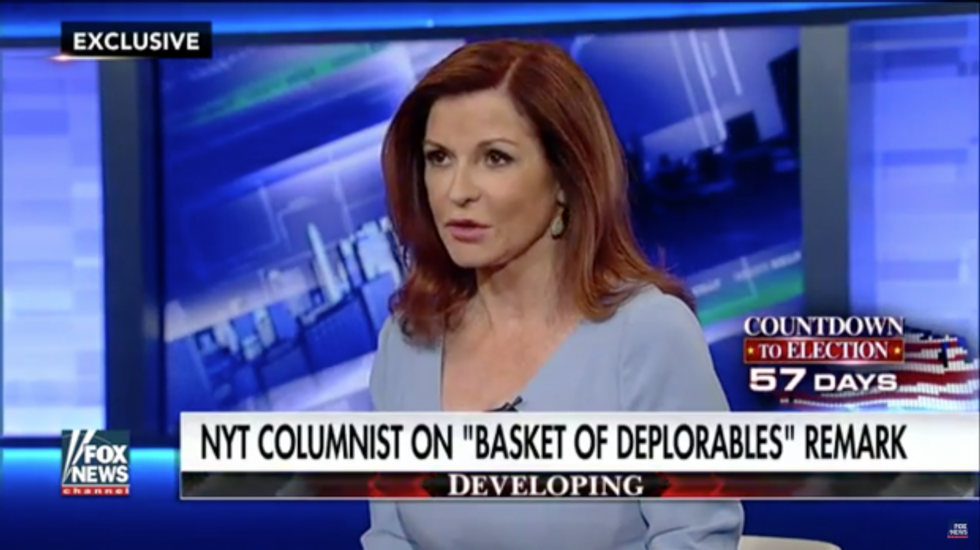 Fox News/YouTube
"I agree with David Axelrod, who said, 'It isn't about the health, it's about the stealth,'" Dowd said. "The health issue this week is the perfect microcosm of why she has problems."
Antibiotics can take care of pneumonia. What's the cure for an unhealthy penchant for privacy that repeatedly creates unnecessary problems?

— David Axelrod (@davidaxelrod) September 12, 2016
Axelrod, who is a Democrat, was President Barack Obama's chief strategist for both of his presidential campaigns in 2008 and 2012.
The Times writer went on to tell Kelly she has been covering Clinton since the early 1990s, when she rose to national prominence, then as first lady to President Bill Clinton. She said she likewise began following Trump in the late '90s.
"This is the exact same pattern she follows every time," Dowd said. "Trump has his wall, she has her wall of defensiveness and secretiveness."
She said Clinton is frequently "pushing back the press" because "they can't know anything" — a political decision the Pulitzer Prize-winning journalist said just inflames the situation.
"That spirals into a snowball and her press and her foes get into a frenzy and then the whole thing is so much worse when it starts out as relatively mundane," Dowd told Kelly.
Earlier in the interview, Dowd discussed Clinton's now-infamous statement last week when she said "half" of Trump's supporters are in a "basket of deplorables."
"The first thing I thought [when I heard it] was, 'That's my family they're talking about,'" she said. "Because I have essays in [my book] by my brother and sister, who are explaining why they are gonna vote for Trump."
Dowd is the author of the new book "The Year of Voting Dangerously: The Derangement of American Politics," which explores "the psychologies and pathologies in one of the nastiest and most significant battles of the sexes ever."
Watch the interview below:
—
Follow the author of this story on Twitter: