FORT PIERCE, Fla. (AP) — Someone set fire to the mosque once attended by Omar Mateen, the man who opened fire at an Orlando nightclub in the deadliest mass shooting in modern U.S. history, authorities said Monday. No one was injured.
The blaze happened a day after Americans commemorated the 15th anniversary of the Sept. 11 terror attacks, and also coincided with the beginning of the Muslim holiday Eid al-Adha. However, Maj. David Thompson of the St. Lucie County Sheriff's Office declined to speculate on whether the arson was tied to 9/11 anniversary.
The St. Lucie County Sheriff's Office said on its official Facebook page that surveillance video shows someone approaching the Islamic Center of Fort Pierce around 12:30 a.m. Monday, moments before a flash was seen and the fire started. The fire was put out, but there was no word on how much damage it caused.
Mateen opened fire at the Pulse nightclub on June 12 in a rampage that left 49 people dead and 53 wounded. His father is among roughly 100 people who attend the mosque.
About 30 investigators were still at the mosque after 9 a.m. Monday. The mosque is on a fairly busy two-lane road in a neighborhood. A Baptist church is nearby, along with a couple of small businesses.
Multiple agencies, including the State Fire Marshal's Office, the federal Bureau of Alcohol, Tobacco, Firearms and Explosives and the FBI, are investigating. Sheriff's officials said they will be releasing the video and asking for the public's help in identifying the person who set the fire.
Officials say the mosque has had other trouble since the Orlando attack.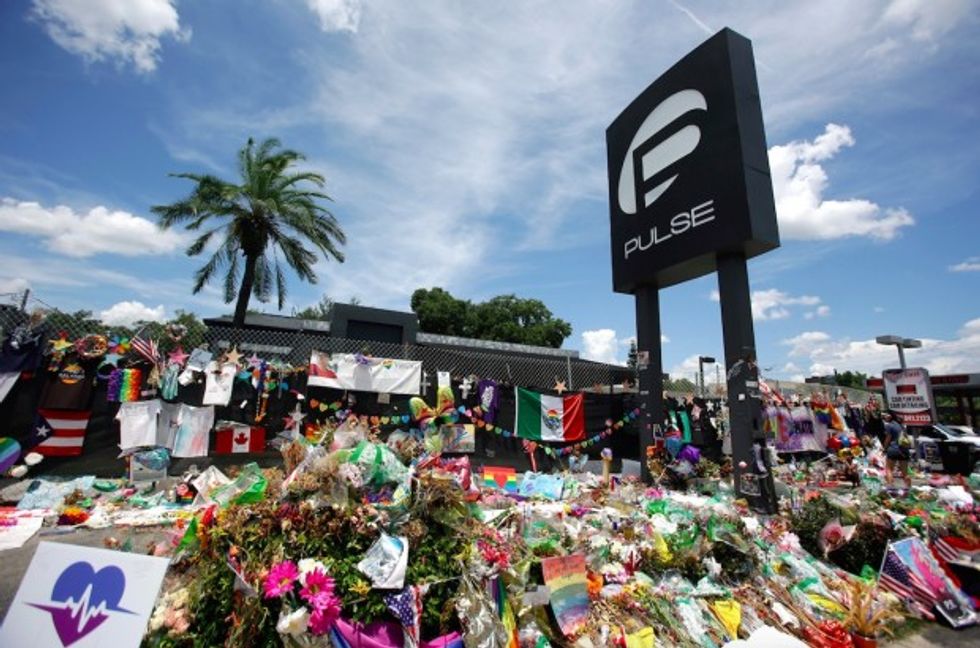 A makeshift memorial outside the Pulse nightclub one month after the mass shooting in Orlando, Fla. (AP Photo/John Raoux)
A few weeks after the nightclub shooting, a man was beaten outside the mosque, according to Sheriff Ken J. Mascara. Early on July 2, deputies were called by a man who said someone was trying to break into a vehicle. Arriving deputies found a man bleeding from the mouth who told them he was approached by someone who "asked him what he was doing and then punched him several times in the face and head."
The attacker was stopped by deputies and arrested a short time later.
The Council on American-Islamic Relations said in a statement that a man in a truck had stopped outside the mosque earlier that same day and made slurs, including, "you Muslims need to get back to your country."
—