Donald Trump, known for his penchant for verbal jabs, began going after rival Hillary Clinton during a speech at a black church in Flint, Michigan, but he was quickly shut down.
Moments after the Republican presidential nominee started attacking Clinton on Wednesday afternoon, Rev. Faith Green Timmons walked up to the podium and instructed him not to do so.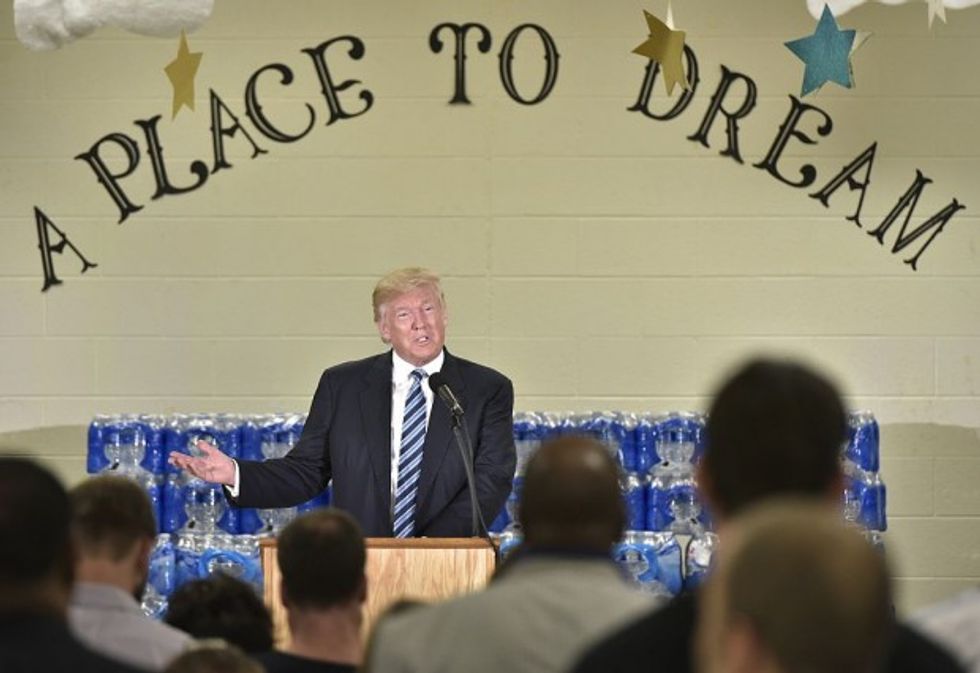 Republican presidential nominee Donald Trump speaks at the Bethel United Methodist Church on Sept. 14, 2016. (MANDEL NGAN/AFP/Getty Images)
"Mr. Trump, I invited you here to thank us for what we've done for Flint, not to give a political speech," the pastor told Trump firmly but politely.
Trump, appearing to be slightly embarrassed by the confrontation, quickly responded, "Oh, OK, OK, OK, that's good. Then I'm going to go back on to Flint."
The pastor's comments to Trump were met with mild applause and seconds after she left the stage, Trump said, "no, no, no, I never would," in response to an inaudible question from the audience.
Before he was stopped, Trump, speaking at Bethel United Methodist Church, told the crowd the Democratic presidential nominee "failed on the economy just like she has failed on foreign policy."
"Everything she touched didn't work out," Trump said, seemingly reading from prepared notes. Within a matter of moments, Timmons interrupted the billionaire businessman, who was visiting the area on the heels of a widespread water crisis.
Trump vowed — should he become president — to bring jobs back to Flint, tying the situation in Michigan to Mexico.
"It used to be cars were made in Flint and you couldn't drink the water in Mexico," he said, per The Detroit News. "Now the cars are made in Mexico, and you can't drink the water in Flint. That's not good."
Timmons, in a statement to The Detroit News, said the church decided to welcome Trump to speak as part of their policy of inviting "all people."
"Trump's presence at Bethel United Method in no way represents an endorsement of his candidacy," the pastor said. "What we pray is that it conveys a final example of a faithful, intelligent, historically African-American congregation at work, serving and volunteering among the people of Flint as we work through this crisis of national impact."
"We cannot let this story drift from national attention for any reason," she added.
Watch the awkward moment below:
Trump interrupted, asked "not to give a political speech" while delivering statement in Flint, Michigan https://t.co/ncrmsmmLP4

— MSNBC (@MSNBC) September 14, 2016
—
Follow the author of this story on Twitter: