A Michigan school superintendent is apologizing after students at a football game were seen waving flags that some attendees found to be offensive.
During the game between Ottawa Hills High School and Forest Hills Central High School on Friday, Forest Hills students were photographed waving two flags: one a dark blue banner with the Donald Trump campaign logo splashed across the front and the other the original 13-star Betsy Ross flag.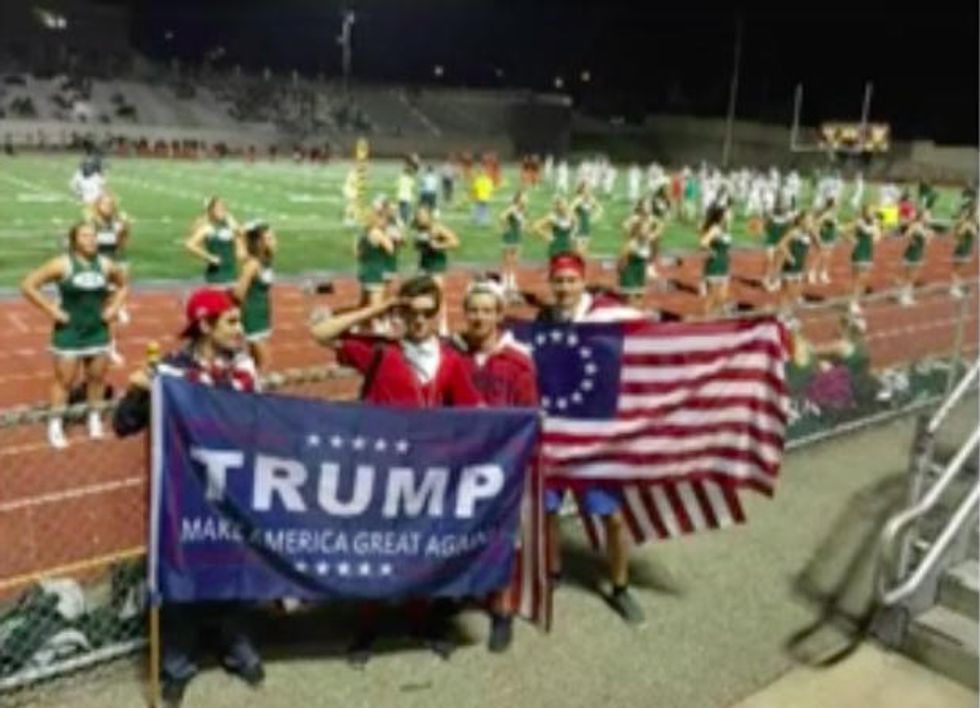 Michigan students display a Trump for President flag and a Betsy Ross flag at a high school football game. (Image source: WOOD-TV)
Because Ottawa Hills is predominantly black and both flags have been associated with white supremacist groups, some perceived the students' actions as taunting and offensive, the Grand Rapids Press reported.
As a result, Dan Behm, superintendent of the mostly white Forest Hills issued an apology.
Injecting partisan politics into a community football game and into a commemoration of the events of September 11 is inappropriate. Parading our current United States flag in a manner that is inconsistent with proper etiquette is disrespectful to all who have served our nation. And, to wave a historical version of our flag, that to some symbolizes exclusion and hate; injects hostility and confusion to an event where no one intended to do so. To our gracious hosts — the students, families, staff and community of Grand Rapids Ottawa Hills High School and Grand Rapids Public Schools — and to the student-athletes, coaches, officials, and supporters of both teams, we are truly sorry.
Grand Rapids Public Schools Superintendent Teresa Weatherall Neal also apologized, saying, "I cannot deny the hurt, disrespect and outrage that I and so many others in this community felt about these actions that took place in our backyard, in our home at Houseman Field."
"This type of behavior should not and will not be tolerated in our stadium or schools — nor should it in any across our state and nation," Neal added.
Trump's campaign has come under scrutiny from both political parties for not expanding its outreach into minority communities. Former KKK leader David Duke and other white supremacists have publicly stated their support for the Republican nominee, raising further concerns among minorities.
The 13-star Betsy Ross flag, which was created while slavery was still legal, is also reportedly embraced by white supremacists.
(H/T: Washington Post)
—
Follow the author of this story on Twitter and Facebook: