In a wide-ranging Vanity Fair interview with historian Doris Kearns Godwin, President Barack Obama opened up about his time in the White House, even discussing more intimate parts of the job.
Kearns asked Obama how he blows off steam amid "this lack of discourse" in politics, referencing the fact that former Presidents Franklin D. Roosevelt and Abraham Lincoln often drafted letters in the throws of frustration and then disposed of them once they calmed down.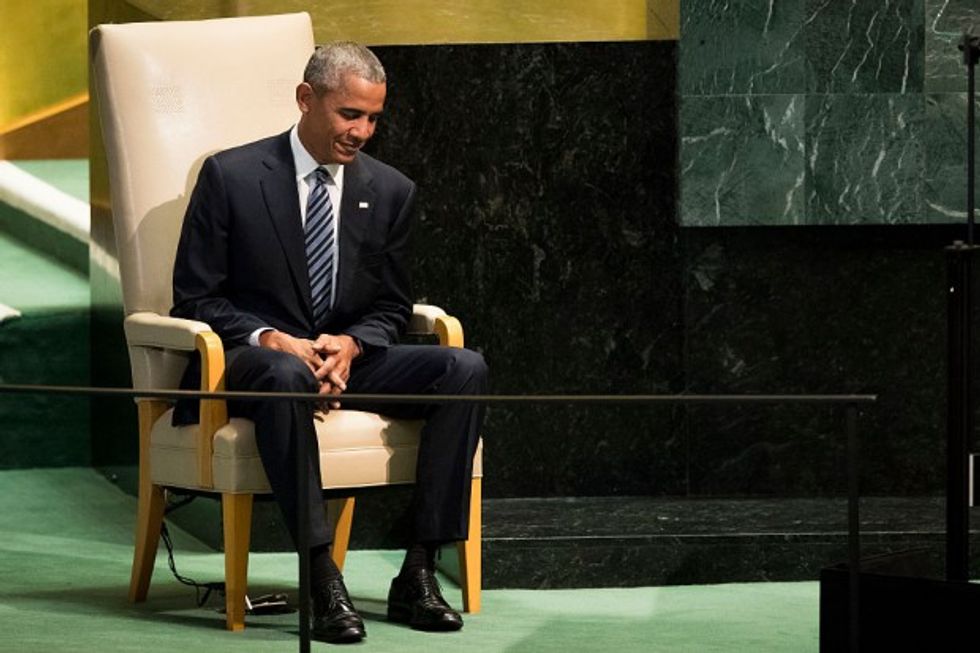 Drew Angerer/Getty Images
"I do it all the time. I will write a response — a full rant," the commander in chief, whose current Gallup approval rating is 53 percent, told Kearns.
"No kidding?" the historian asked with a chuckle.
Obama opened up on the topic, admitting he often finds himself cursing more than he did prior to entering the Oval Office in 2008:
Every once in a while, my team here will hear me go on a rant. Generally speaking, people who know me will tell you that my public persona is not that different from my private persona. I am who I am. You sort of get what you see with me. The two exceptions are that I curse more than I should, and I find myself cursing more in this office than I had in my previous life. [Laughter.] And fortunately both my chief of staff and my national-security adviser have even bigger potty mouths than me, so it's O.K. And the second thing is that I can be much more sarcastic and, I think, sometimes withering in my assessments of things than I allow to show in my public life.
In the end, though, the outgoing president said he just crumbles the written rants up, and throws them away.
Also during their discussion, Kearns asked Obama about his "peculiar ambition," a hat tip to a quote from a 23-year-old Lincoln, who is credited with saying, "Every man is said to have his peculiar ambition. I have no other so great as that of being truly esteemed of my fellow men, by rendering myself worthy of their esteem."
The president said his father's absence during his upbringing may have been a "motivator for early ambition," adding that "being a mixed kid in a place where there weren't a lot of black kids around might have spurred on my ambitions."
Over time, though, Obama said those ambitions shaped the "worldview" he ascribes to today.
"The world only makes sense to me given my life and my background if, in fact, we're not just an assortment of tribes that can never understand each other, but that we're, rather, one common humanity that can meet and learn and love each other," he told the historian.
(H/T: Mediaite)
—
Follow the author of this story on Twitter: