Disney, preparing for its upcoming animated film "Moana," which tells the story of a mythological Polynesian hero, was selling a costume depicting the central character, but quickly pulled it when it was criticized for cultural appropriation.
The children's costume of Maui featured full-length brown leggings and a long-sleeved shirt with padded muscles made to resemble the shirtless character with tattoos, along with a skirt made of leaves and a shark tooth necklace.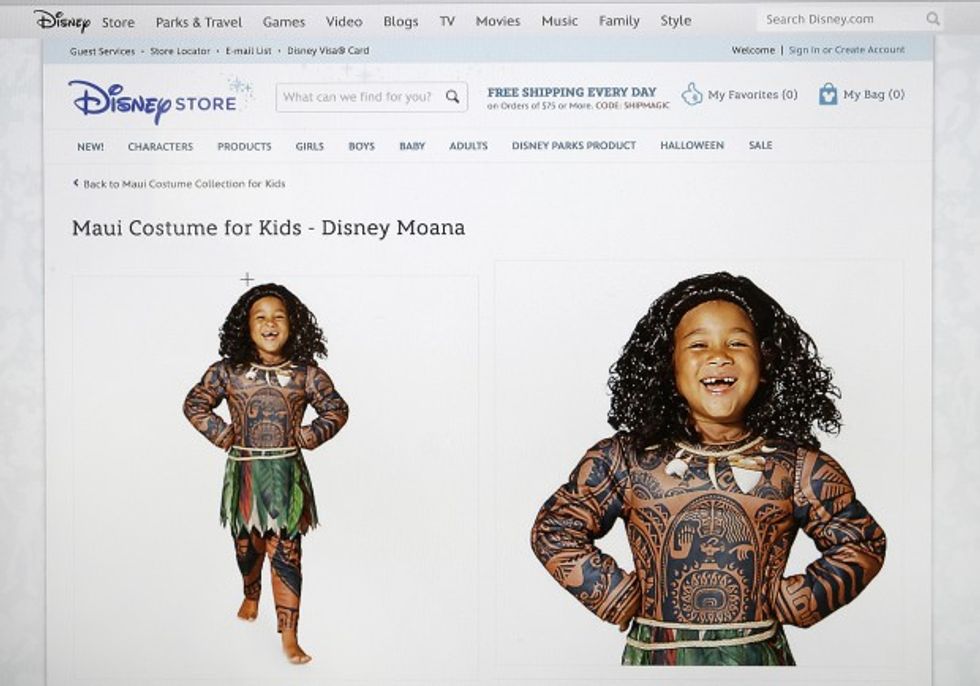 AP
While the tattoos depicted in the costume as well as the jewelry were intended to highlight the ancient Polynesian culture, some Pacific Islanders were offended by the ensemble, saying it promoted "Polyface," so Disney decided to remove the outfit from its stores.
Chelsie Hunan Fairchild, who described herself as a "livid" native Hawaiian of Polynesian decent, said the costume is a perfect example of cultural appropriation. In an expletive-laced YouTube video about the ordeal, Fairchild said it was wrong for Disney to promote children pretending to be another race.
"It's disgusting," she said. "[Disney] literally thinks it's OK to have children dress up as other races. How is that not offensive at all? ... This is inappropriate. It's not OK."
In response to the backlash from Fairchild and others on social media, Disney issued an apology and pulled the costume.
"The team behind 'Moana' has taken great care to respect the cultures of the Pacific Islands that inspired the film, and we regret that the Maui costume has offended some," Disney said in a statement on the matter. "We sincerely apologize and are pulling the costume from our website and stores."
The upcoming film, slated to be released in November, is set 2,000 years ago in the South Pacific, telling the story of a teenage girl in search of Maui, the Polynesian hero, who she needs to save her people. The Pacific Islander demigod will be voiced by actor Dwayne "The Rock" Johnson.
See the trailer for the animated movie below:
—
Follow the author of this story on Twitter: