HEMPSTEAD, N.Y. — Hillary Clinton and Donald Trump have traded a number of jabs on the campaign trail already, but tonight, the two presidential contenders will finally come face-to-face for the first time on a debate stage.
Hofstra University in Long Island is the host of the first 2016 presidential debate after Wright State University in Ohio backed out due to security and financial concerns. With approximately 100 million Americans expected to view tonight's contest, here's what — and who — to expect.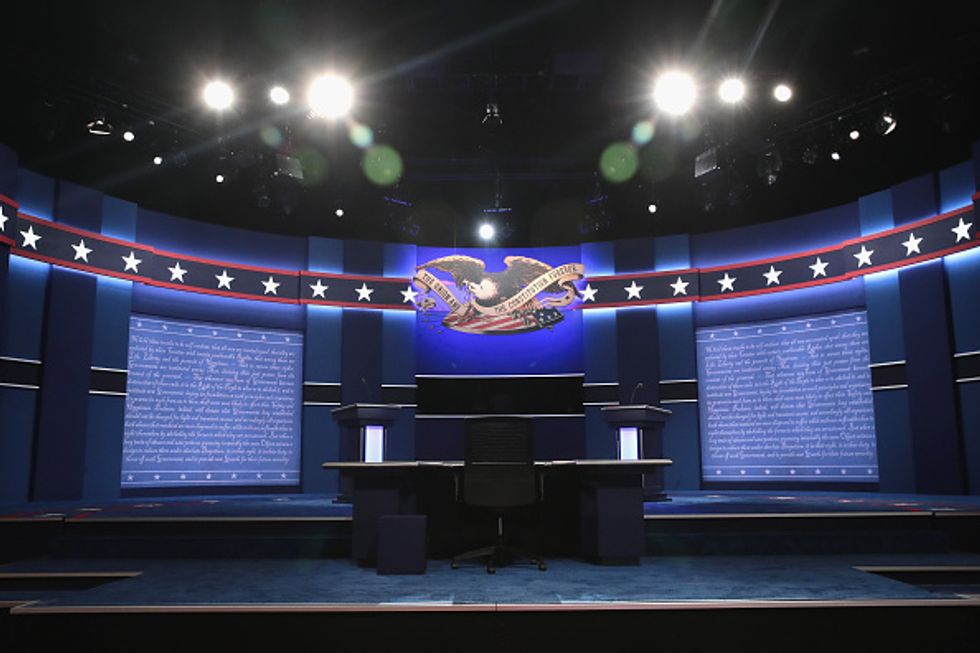 The stage is set ahead of the Presidential Debate between Democratic presidential nominee Hillary Clinton and Republican presidential nominee Donald Trump at Hofstra University in Hempstead, New York. (Getty Images/Drew Angerer)
The Candidates
It's Clinton representing the Democrats in one corner versus Trump representing the Republicans in the other corner tonight.
Despite much cajoling and campaigning, Libertarian Party nominee Gov. Gary Johnson did not reach the threshold to be considered an eligible candidate by the bipartisan Federal Election Commission to attend Monday's debate. The former New Mexico governor did, however, make it on the ballot in all 50 states as well as the District of Columbia.
Polling
Clinton is only ahead of Trump by 2.3 percent going into Monday's debate, according to Real Clear Politics aggregated polling data.
Aside from how the two fare against one another, both candidates need to be cognizant of the fact that Americans are increasingly becoming more dissatisfied with the direction of the country.
Personalities
While Trump has promised to treat his counterpart with "respect" during Monday's contest, he also said he'll be looking to see how Clinton acts on stage.
"I don't know what I'm going to do exactly. It depends on what level she hits you with, if she's fair, if it's unfair, but I'm certainly not looking to do that," Trump told Fox News ahead of the debate on whether he would bring up her husband's sexual indiscretions.
And while Trump will need to keep his temper in check Monday night, Clinton will need to not only appear likeable, but trustworthy. The latter characteristic is one that she's struggled with amid her email scandal and her recent health scares.
Experience
This is Trump's first presidential election, but it certainly isn't Clinton's first rodeo. The former secretary of state vied for the Democratic nomination in 2008, losing out to then-Sen. Barack Obama.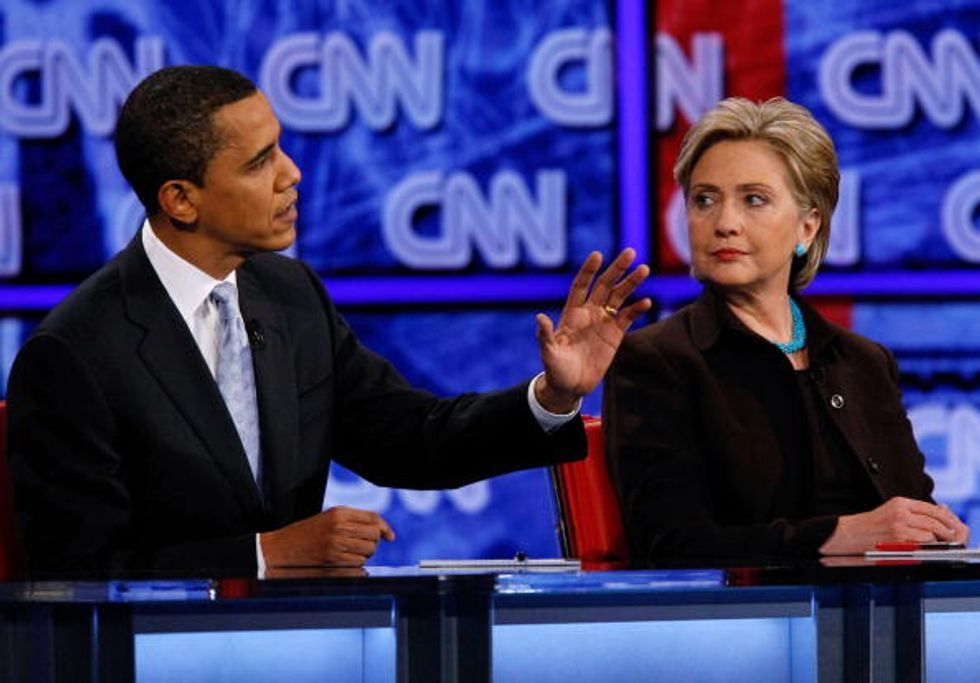 Democratic presidential hopefuls Sen. Barack Obama and Sen. Hillary Clinton participate in the CNN/LA Times/Politico Democratic presidential candidates debate at the Kodak Theatre January 31, 2008. (Getty Images/David McNew)
According to the Associated Press, Clinton has debated at the presidential level more than 30 times, including in match ups against Obama and former 2016 Democratic presidential contender Sen. Bernie Sanders. Tonight, however, is her first as the party's nominee.
Trump was obviously a commanding presence on the debate stage during the Republican primaries, known most memorably for his tiffs with Florida Sen. Marco Rubio, New Jersey Gov. Chris Christie and Texas Sen. Ted Cruz on the debate stage.
Debating Over the Debate
The debate itself has caused much consternation among political pundits and the candidates' campaigns. Clinton's campaign has pressured moderator Lester Holt, host of NBC's "Nightly News," to fact-check Trump throughout the evening in the event the bombastic real estate tycoon attempts to argue with any misleading statements.
However, Trump's campaign has pushed back with its own argument that Clinton's team is simply trying to get the NBC News anchor to do her job for her during the debate.
And speaking of Holt, Trump criticized the anchor ahead of the event when he implied that the debate could be rigged because "Lester is a Democrat." Holt is, in fact, a registered Republican in New York.
Candidates' Guests
Billionaire Mark Cuban, owner of the Dallas Mavericks and host of ABC's "Shark Tank," began the controversy over just who would be in the audience at the debate when he tweeted last week that he had been invited by Clinton to sit in the front row of the showdown — or the "Humbling at Hofstra" as he called it.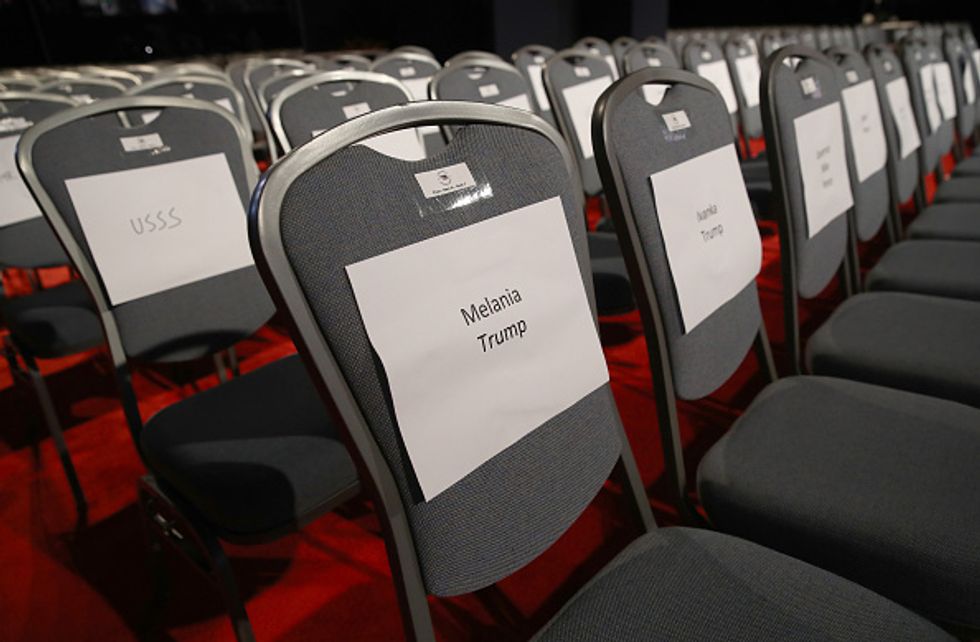 A seat is labeled for Republican presidential nominee Donald Trump's wife, Melania Trump before the Presidential Debate at Hofstra University. (Getty Images/Win McNamee)
That in turn prompted Trump to tweet that he would "perhaps" invite Gennifer Flowers, the woman who allegedly had an affair with former President Bill Clinton in the 1970s, to sit alongside Cuban.
Buzzfeed News reported Sunday that Flowers would accept Trump's invitation to sit in the front row, according to her assistant. But Trump's campaign has since denied actually inviting Flowers to the event.
"We do not expect her to be there as a guest of the Trump campaign," Trump's newest campaign manager Kellyanne Conway told CNN.
After the Curtains Close
Once the debate has ended, the spin room has cleared out and the press have vacated the private school, what's next?
Clinton and Trump won't face off again on a debate stage until Oct. 9 at Washington University in St. Louis. In the meantime, their running mates, Democrat Sen. Tim Kaine (Va.) and Republican Gov. Mike Pence (Ind.), will have their own debate at Longwood University in Virginia on Oct. 4.
Later this week, Clinton will continue to campaign in Raleigh, North Carolina, and Durham, New Hampshire. Trump will head to Melbourne, Florida, and Waukesha, Wisconsin, as well as New Hampshire later this week.
And in case either of the two candidates inspire Americans watching the debate in an extraordinary way, Tuesday is National Voter Registration Day.
—