Donald Trump and Hillary Clinton faced off for the first time on the general-election debate stage Monday night, and immediate reviews were mixed.
But the lack of a clear winner in the first of three televised general election debates is good news for Trump, a political neophyte who was able to hang with the former secretary of state during their first outing on the primetime stage in front of as many as 100 million people.
The billionaire businessman even appeared to take an early lead, hammering Clinton on her flip-flop on the Trans-Pacific Partnership trade agreement. Clinton tried to push back on his characterization of her position as "just inaccurate," but was unable to get around the fact that she had once called it "the gold standard in trade agreements" before switching her position.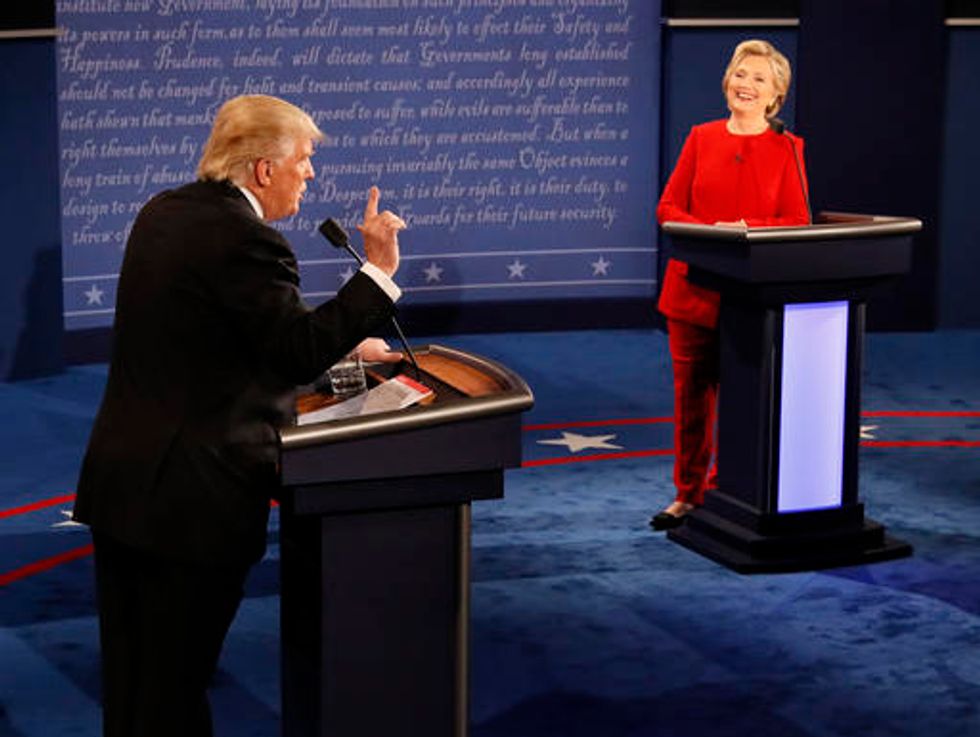 Democratic presidential nominee Hillary Clinton smiles as Republican presidential nominee Donald Trump speaks during the presidential debate at Hofstra University on Monday. (Rick T. Wilking/Pool via AP)
Trump had struggled in several primary debates, even skipping one, electing instead to hold an event benefiting veterans.
Texas Sen. Ted Cruz, a former 2016 Republican presidential contender who withheld his endorsement of the nominee until last week, said Monday that this debate was Trump's strongest so far.
"Tonight, Donald Trump had his strongest debate performance of the election cycle. He drew strong contrasts with Hillary on taxes, regulations, law and order, and the disastrous Iran deal," Cruz said in a Facebook post.
Clinton sought to paint Trump as unprepared for both the debate and the presidency. After the debate, Clinton campaign chairman John Podesta said that Trump "came unprepared" for Monday night's debate stage.
But despite her decades of political experience, Trump was able to hold his own against Clinton — interrupting numerous times to insert his own points, and successfully turning the discussion several times to the private email server that Clinton used during her tenure at the State Department.
After the debate, the pro-Democrat American Bridge PAC had already put out a video dubbing Trump the "interrupter-in-chief."
Clinton got in several blows of her own — especially when it came to Trump's unwillingness to release his tax returns.
The candidates spent the majority of the debate talking about the economy and national security, but also spent a good chunk of time on the issue of race relations in the U.S. at the behest of the debate moderator, Lester Holt.
In the spin room after the debate, Trump tried to walk back some of his more problematic comments, including when he said it was "smart" of him to use incentives in U.S. law to avoid federal taxes. After the debate, Trump claimed he didn't say that — but the exact phrase he used was "that makes me smart."
Fact-checkers will have more than enough ammunition on Trump's statements like, "you've been fighting ISIS your whole life" (which Clinton hasn't), but the former reality television star seemed right at home on the general election debate stage with Clinton.
Conservative blogger and National Review contributor Jim Geraghty put it this way:
Hillary is winning the political debate, Trump is winning the television show.

— jimgeraghty (@jimgeraghty) September 27, 2016
Vice presidential candidates Sen. Tim Kaine (D-Va.) and Republican Indiana Gov. Mike Pence will face off next Tuesday at Longwood University in Farmville, Virginia.
Trump and Clinton will debate again on Sunday, Oct. 9.
—
Follow the author of this story on Twitter and Facebook:
[facebook //www.facebook.com/plugins/like.php?href=