In a moving speech on the Senate floor Tuesday, Florida Sen. Marco Rubio (R) honored Miami Marlins star pitcher José Fernández, who was tragically killed in a boating accident over the weekend.
In the more than 10-minute speech, Rubio told the life story of the 24-year-old all-star baseball player, a Cuban immigrant and who had attempted multiple times to defect from the communist nation to the United States.
"He risked it — not once but on four separate occasions," Rubio explained. The first three attempts proved unsuccessful for Fernández, and he was even thrown in prison for two months for his attempted defection.
However, on the fourth attempt, he and his mother were able to successfully defect. Though Fernández had a difficult time adjusting to his new life in the U.S., he was quickly grounded by his love of baseball in high school. By the time he was a senior, Fernández was already a top major league prospect.
In the 2011 MLB draft, Fernández was selected by the Marlins in the first round as the 14th overall pick. The Marlins signed Fernández to a minor league contract with a singing bonus of $2 million. He made his major league debut in 2013. During his time in the majors, Fernández was twice selected as an all-star.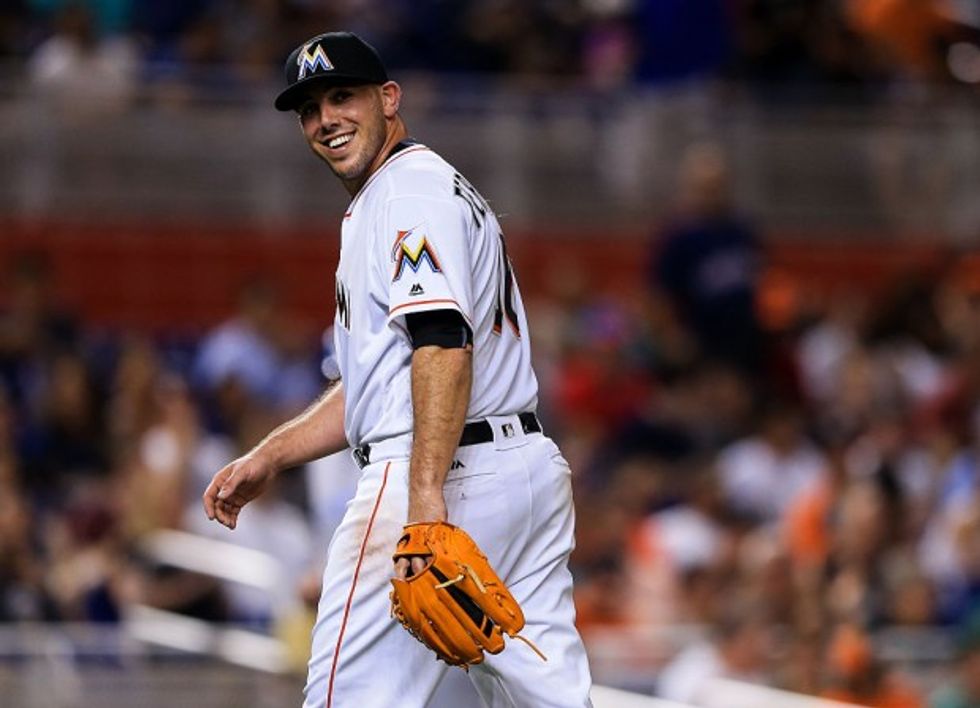 Jose Fernandez of the Miami Marlins. (Getty Images/Rob Foldy)
But those accolades aren't what Fernández was most proud of, according to Rubio. Instead, it's something that happened to Fernández just last year — receiving his American citizenship.
"One of José's proudest accomplishments, in fact he said one of his proudest was not on the diamond, and we know this because he told us," Rubio said.
Rubio went on to read what Fernández said last year during his citizenship ceremony:
This one is my most important accomplishment. I am an American citizen now. I am one of them. I consider myself now to be free. I think this amazing country for giving me the opportunity to go to school here and learn the language, and pitch in the major leagues. It is an honor to be a part of this country, and I respect it so much.
Fernández's story resonated with Rubio — himself a child of Cuban immigrants — and many others in his state because "he reminds so many in my community of someone they know: a brother or a son or a nephew."
"This is what the American dream looks like, and boy is the American dream alive and well," Rubio said. "This young man meant a lot to us for different reasons and in different ways. And now, just as quickly as he came into our lives … he is gone." He concluded:
José Fernández made Tampa's Alonzo High better. He made the Miami Marlins better. He made all of baseball better. He made Miami and Tampa better. And the way he lived his life … he reminded all of us how blessed we are to live in this, the greatest nation on Earth. That's not bad for a 24-year-old kid from Santa Clara, Cuba.
The Marlins also honored Fernández earlier this week by retiring his jersey, #16.
Watch Rubio's full speech below:
—
Follow the author of this story on Twitter and Facebook:
[facebook //www.facebook.com/plugins/like.php?href=