Baltimore Ravens tight end Benjamin Watson discussed maintaining his Christian faith as a player in the National Football League during an interview Thursday on TheBlaze TV's The Glenn Beck Radio Program about his new book "Under Our Skin."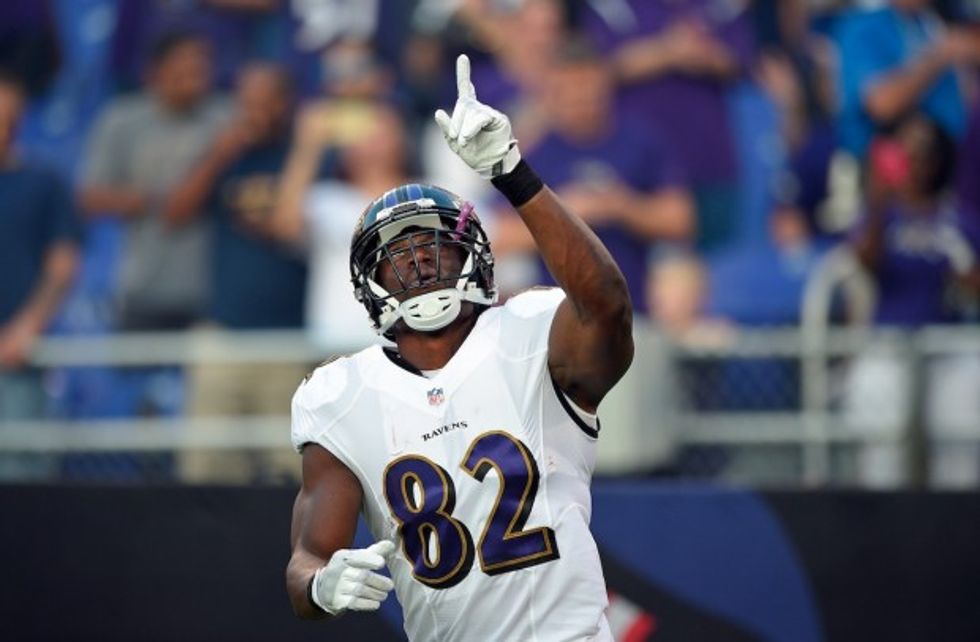 Baltimore Ravens tight end Benjamin Watson gestures as he is introduced before a preseason NFL football game against the Detroit Lions on Aug. 27 in Baltimore. (AP Photo/Nick Wass)
"How hard is it to keep your faith in the world that you live in?" host Glenn Beck asked Watson.
Watson replied that being in the NFL can present "unique challenges," but added, "We all have struggles."
"What I've found and what Scripture tells us is that your faith is not something on the side, something you carry with you — it is inherently who you are," he said. "When you pass from death into the life, you become a new person, and so everything you do flows from that."
When you go to work, you are a Christian at your workplace. You're not a broadcaster who happens to be a Christian — you're a Christian who does broadcasting and writes and those sorts of things. Same thing for me as an athlete. So everything I do, even just who I am … whatever the trials are and the temptations are in any job is not anything that is not uncommon.
Co-host Pat Gray noted that Watson has taken strong stances on many social issues — including his opposition to Planned Parenthood — and asked if he experiences "pushback" from his fellow athletes.
"No, not from fellow athletes," Watson replied, adding that sometimes "athletes are in a position where others think they shouldn't weigh in on certain social topics":
But overwhelmingly, I would say I've had really good support from many of my teammates and the guys that I play with. We want to be able to express our views, you know, we're part of this country too. We pay taxes and we vote and all those things, so it's important for us to be able to talk about these things. I have a little bit of pushback from other people, but you know, the great thing is people are entitled to their opinions, but I would say overwhelmingly, I've had a lot of support. —
Follow the author of this story on Twitter and Facebook: