Six-time MLB all-star Curt Schilling said Friday that he's "serious" about mounting a challenge in 2018 to unseat Massachusetts Sen. Elizabeth Warren, a Democrat.
"Oh, I'm serious about that," Schilling said Friday when asked about the possibility of challenging Warren during an interview with Fox News host Neil Cavuto.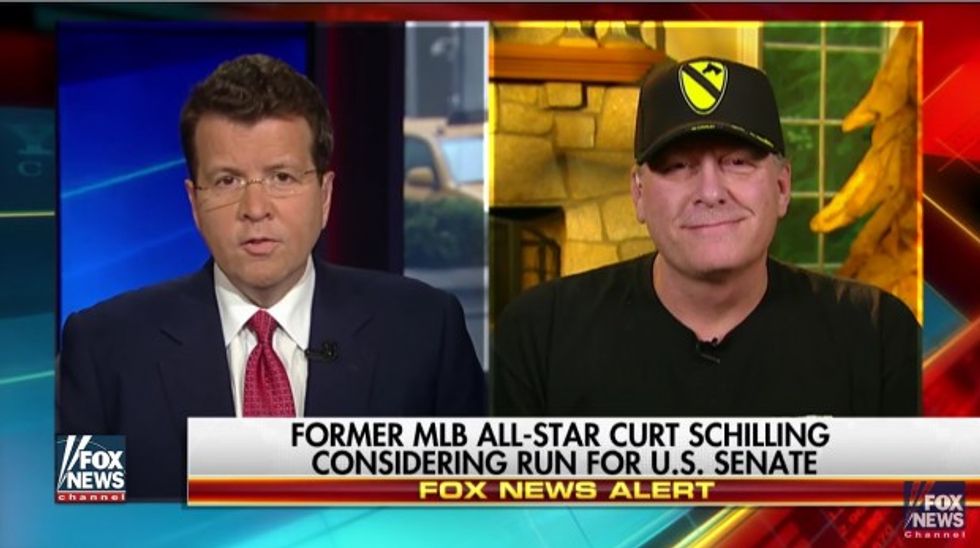 Image source: YouTube
Schilling added that he believes being senator would require him to be a good leader.
"But I believe being a senator, being a governor, being in public office is about being a leader. It's not about being the smartest guy in the room or the smartest gal in the room," he said. "It's about surrounding yourself with smart people and coming to a consensus and making the right decisions for the people you represent. As a senator, that would be the people of Massachusetts, as the governor you're fiscally responsible for Massachusetts, as president it's the country."
During the 11-minute interview, Schilling also took several shots at Democratic presidential nominee Hillary Clinton, saying he's not sure how the former secretary of state isn't in jail.
"I don't understand how Hillary's an option, much less the candidate. I don't understand how she's not in jail," Schilling said. "She's done the opposite of nothing, she's hurt in every possible way she can and I think she's the epitome of just a very bad, bad, evil human being."
Schilling announced in May he was endorsing Republican nominee Donald Trump for president.
Schilling made headlines in August after the former pitching great said he was considering challenging Warren in 2018.
Watch Schilling's full interview with Cavuto below:
—
Follow the author of this story on Twitter and Facebook:
[facebook //www.facebook.com/plugins/like.php?href=