One of the 6-year-old victims in an elementary school shooting in South Carolina passed away Saturday afternoon.
Jacob Hall was shot along with another 6-year-old student and teacher last week when a teenager opened fire on the Townville Elementary School playground in Upstate South Carolina.
Jacob Hall was struck in his femoral artery which caused massive blood loss and cardiopulmonary arrest, according to his family.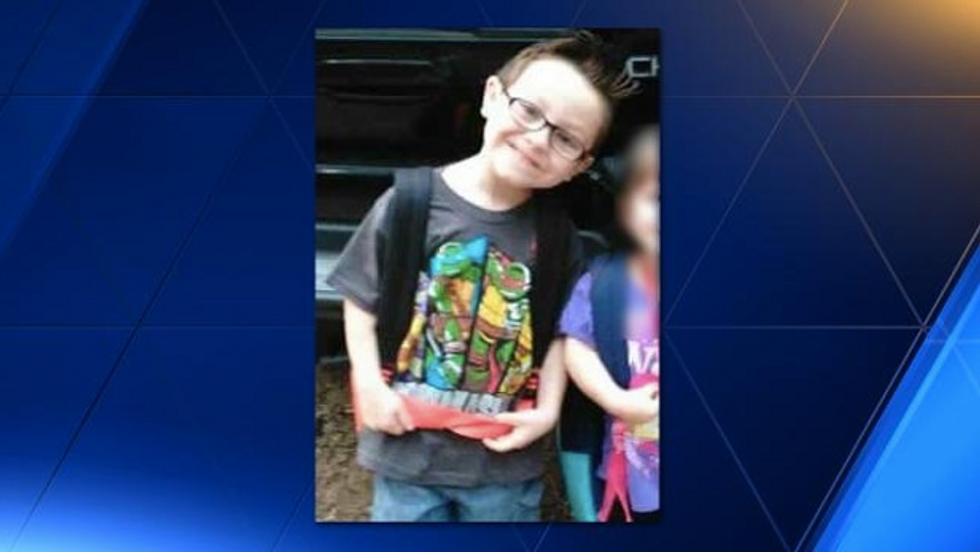 Image source: WYFF-TV
Dr. Keith Webb, who was Jacob Hall's doctor at Greenville Hospital, told WHNS-TV in a statement:
Jacob was a tremendous fighter but was unable to overcome the catastrophic blood loss and resulting cardiopulmonary arrest caused when the bullet hit his femoral artery. We grieve for the loss of this little boy and pray for his family as they work through this extraordinarily difficult time.
Following her son's death, Renae Hall told reporters that her son was "going to make a difference" as he was an example of  how "we were brought to this world to love each other, not to hate."
"Jacob was an angel who was brought to this earth to show love, to show kindness, to show forgiveness," Hall said.
"Jacob was forgiving. What happened to Jacob, Jacob forgives already," she added. "He's in heaven smiling down at us, and he's asking his mommy to be able to be strong to forgive just like he would have."
Renae Hall described her son as someone who "loved God" so much that "he was not afraid to go home to God." He would always encourage her to pray anytime that she was having a bad day, she said.
"There's good people in this world, and it took my son's death to realize that," she said, speaking of the outpouring of encouragement and support she's received not only from the Townville community but also from around the world.
Jacob Hall's funeral will be representative of who Renae Hall said her son was — a superhero.
The 6-year-old will be wearing a superhero costume as will the pallbearers, WHNS reported. Funeral goers are also encouraged to dress the part.
Batman and a replica Batmobile will also be in attendance thanks to the charity organization Heroes 4 Higher in West Virginia.
"We are honored and look forward to meeting Jacob's family, friends, classmates and community," the company wrote on its Facebook page. "Tough things do you make us stronger and pain will be turned into power."
Meghan Hollingsworth, a first-grade teacher at the school, was shot in the shoulder and the other student victim was shot in the foot. Both have already been released from the hospital.
A GoFundMe page has been set up to help with Collin's family. As of Sunday afternoon, the fundraising page had raised more than $3,500.
The GoFundMe page for the Hall family raised more than $126,000 before the Halls asked to have it taken down.
—