Mike Pence has had "enough" of Democratic presidential nominee Hillary Clinton and her running mate for "broadly" accusing police officers of "implicit bias" every time there is a police shooting.
GOP nominee Donald Trump's running mate criticized Clinton Tuesday night during the lone vice presidential debate for using the recent fatal shooting death of Keith Lamont Scott — a black man who was killed by police in Charlotte, North Carolina, last month — as an example of "implicit bias" by law enforcement officials during last week's presidential debate.
"We ought to stop seizing on these moments of tragedy," Pence said. "We ought to ensure the public that we'll have a full and complete and transparent investigation whenever there is a loss of life because of police action."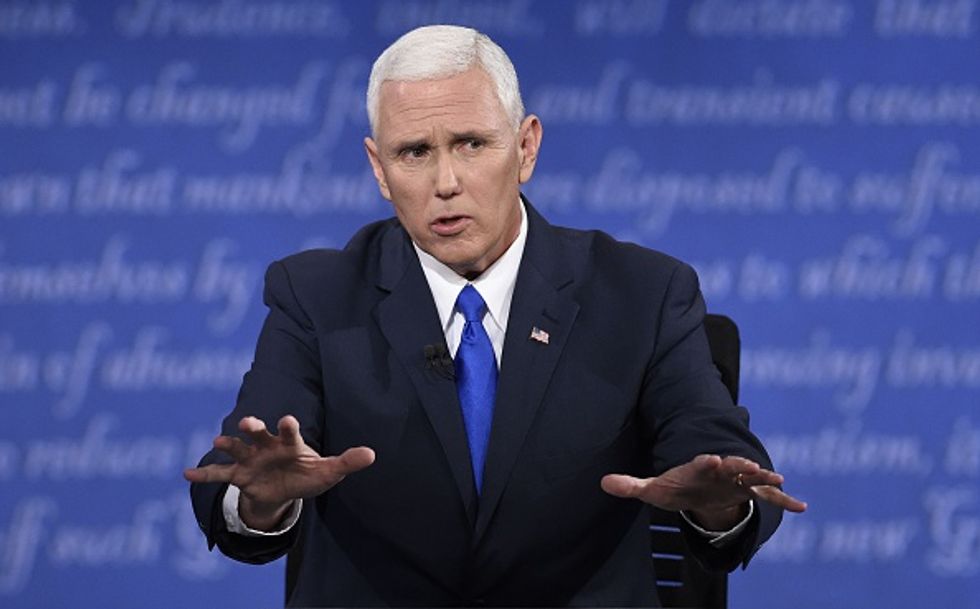 Republican vice presidential candidate Mike Pence speaks during the U.S. vice presidential debate at Longwood University in Farmville, Virginia. (Getty Images/Saul Loeb)
"But Senator, please. Enough of this seeking every opportunity to demean law enforcement broadly by making the accusation of implicit bias every time tragedy occurs," the Indiana governor continued over his opponent Sen. Tim Kaine's protestations.
Clinton said last week that she believed "implicit bias" to be a "problem for everyone, not just police."
"But when it comes to policing, since it can have literally fatal consequences, I have said, in my first budget, we would put money into that budget to help us deal with implicit bias by retraining a lot of our police officers," Clinton said then in New York.
From the debate stage in Farmville, Virginia Tuesday, Pence slammed Clinton's comments in regards to police after that "tragedy."
Whether Scott was armed when he was fatally shot by police in September remains a point of contention between Charlotte police and Scott's family. The release of the full video of his shooting did not clear up that debate.
—