Democratic presidential nominee Hillary Clinton's campaign hit Republican vice presidential candidate Gov. Mike Pence (Ind.) in a new internet ad for defending his "indefensible" running mate during Tuesday evening's vice presidential debate.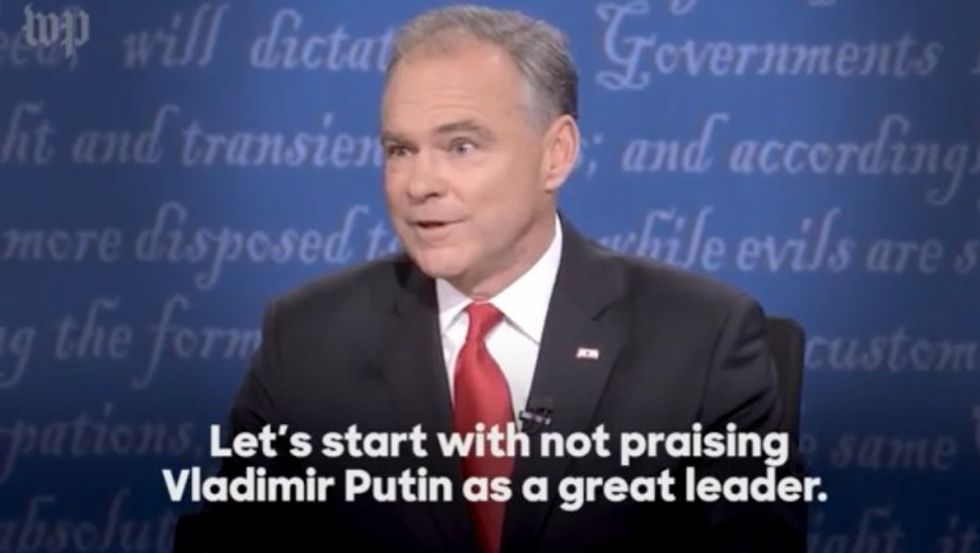 Democratic vice presidential candidate Sen. Tim Kaine (Va.) speaks during the vice presidential debate Tuesday. (Image source: YouTube)
The ad uses clips from the debate showing Clinton running mate Sen. Tim Kaine (Va.) mentioning controversial statements made by Republican presidential nominee Donald Trump and Pence denying that those statements were made.
The ad then shows Trump making those very statements.
Some of the statements in question include Trump's claim that Russian President Vladimir Putin is a "strong leader," his proposed "deportation force" to combat illegal immigration, and his suggestion that Muslims should be banned from immigrating to the United States.
"He's asking everybody to vote for somebody that he cannot defend," Kaine is heard saying at the end of the ad.
—
Follow the author of this story on Twitter and Facebook: