Melissa Joan Hart wasn't going to cast a presidential vote this year.
Discouraged by both Democratic presidential nominee Hillary Clinton and Republican nominee Donald Trump, Hart said she planned on just voting in local races until she found a candidate whose stance on issues more aligned with her own — the Libertarian Party's Gary Johnson.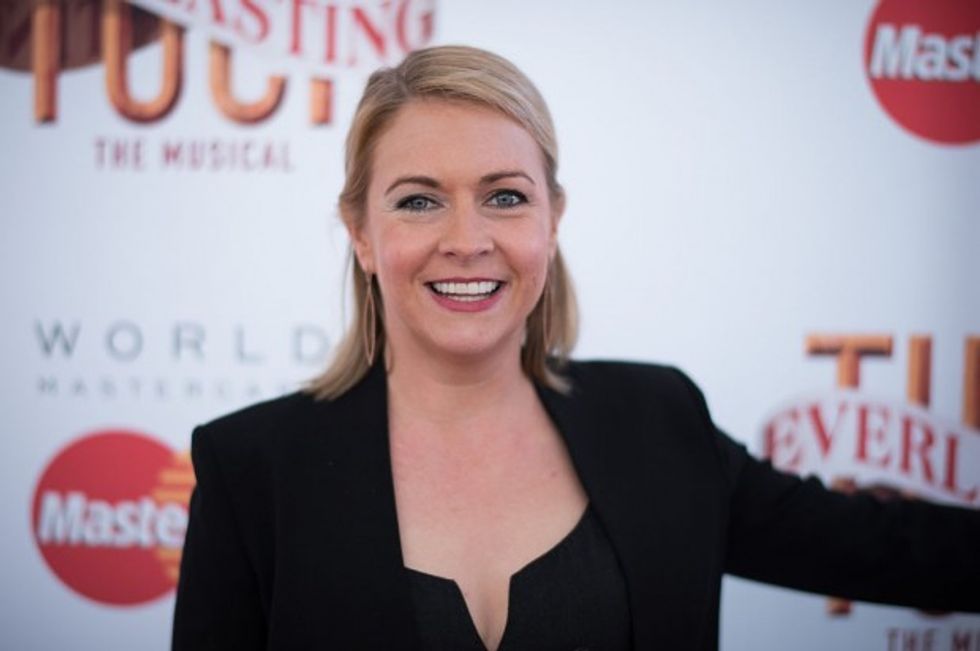 Melissa Joan Hart at 'Tuck Everlasting' Broadway Opening Night at The Broadhurst Theatre on April 26, 2016 in New York City. (Getty Images/Dave Kolinsky)
Hart, a Christian and actress known for her roles in "Sabrina the Teenage Witch" and "God's Not Dead 2," can't tell you exactly when she had that "ah-ha" moment about Johnson, but she did — and now she's his Connecticut state chair.
In the role, Hart works to "get the word out" about the third-party candidate.
"To me, true conservative ideals of just less government interference in our lives, he really stood for that," Hart told TheBlaze in an interview. "He has a good record, he has good temperament and he is someone who will listen to reason and make good decisions."
Hart's passion for Johnson and a third-party option is evident. She expressed frustration as she recalled talking to two women over lunch about the Libertarian Party ticket.
"Oh, if it wasn't a wasted vote, I would totally vote for" Johnson, one of them told Hart.
"I cannot tell you how many people have said that to me," she continued. "And if everybody who said that to me actually voted for him, he would at least win Connecticut. So it's frustrating that everybody thinks it's a wasted vote but everyone wants that vote."
"I just want to feel good about myself when I walk out of the voting place in November," she continued. "I just want to feel good about myself and not like I'm holding my breath and thinking, 'did I do the wrong thing?' I want to walk out of there with my head held high."
[sharequote="center"]"I don't even necessarily believe [Trump] is [pro-life]."[/sharequote]
After she endorsed Republican Gov. Mitt Romney for president in 2012, Hart received intense backlash — especially on social media. Now, she said, people still tell her she's a "moron" either because she's a woman and not voting for Clinton or because she's a Christian and not voting for Trump.
"That one is the one that really gets me because as a Christian woman, I don't think my vote lies with Trump," Hart said. "I think the only people who are saying that are people who are saying he's pro-life, which I don't even necessarily believe he is."
Hart added that she "loves" how Johnson continues to be criticized for not knowing what Aleppo is — a hotbed in the Syrian crisis — yet Trump referred to a book in the New Testament as "Two Corinthians."
"All those people who want to say he is the Christian choice, but I don't think he is for me," she said.
And there is one issue in particular that Hart sees as an opportunity for Johnson to champion a great "bipartisan" effort.
The mother of three is passionate about eradicating gun violence and ensuring the safety of children — especially in homes with firearms. A member of Everytown For Gun Safety and Mom's Demand Action, Hart said that she isn't a "single-issue voter" but puts a great emphasis on gun safety.
"I think there is room to discuss and negotiate and be bipartisan on these issues and protect the Second Amendment while also making sure children and domestic violence victims are safe from gun violence," Hart said.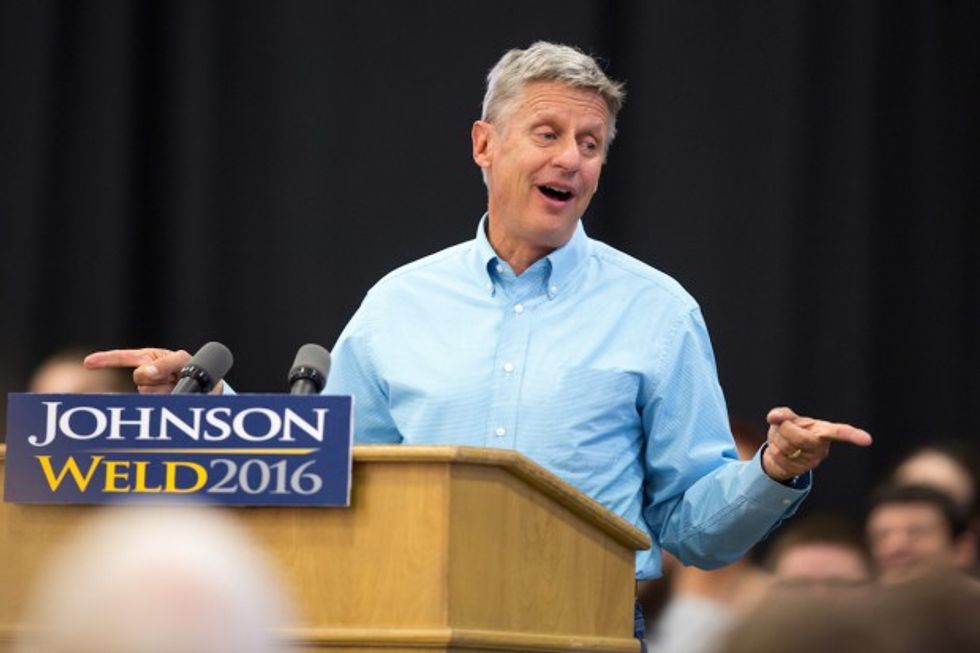 (AP Photo/Scott Morgan)
She admitted that she and Johnson may not see eye-to-eye specifically on the issue, but she applauded the Libertarian for sticking to his guns when it comes to government intervention.
"I think the fact that [Johnson] thinks that government should be out of our lives — whether that's our bodies, our guns, our drugs — I think there is common sense in the fact that it's going to be across the board," Hart said. "He's not going to pick and choose."
Hart also praised Johnson for his consistency on issues, especially that his 2016 platform greatly mirrors his 2012 platform — something she contended couldn't be said about Clinton or Trump.
"I think it's amazing that the man after four years has only changed his position on a few issues, and he can tell you exactly why he's changed his position on those few things," she said. "But everything else remains the same. He hasn't been swayed by money or party to have to say things or do things a different way."
She added, "He believes what he believes, and I back him for that reason."
—