Jerry Falwell Jr., the president of Liberty University and a supporter of Republican presidential nominee Donald Trump, claimed in a radio interview that "establishment Republicans" intentionally leaked a video of the candidate making lewd remarks about women in an effort to torpedo Trump's campaign.
Falwell argued during an interview with WABC-AM Host Rita Cosby on Sunday that the "video tape thing" was "planned" by Trump's Republican detractors.
"I think it was timed, I think it might have even been a conspiracy among establishment Republicans who have known about it for weeks and who tried to time it to do the maximum damage to Donald Trump, and I just ... I just think it just backfired on them," Falwell said.
The evangelical leader also alleged that he's hearing from "sources that I believe are reliable" that it "wasn't a coincidence" the tape became public right before Trump was supposed to campaign with House Speaker Rep. Paul Ryan (R-Wis.).
"It conveniently gave Paul Ryan a way to disinvite Trump," Falwell said.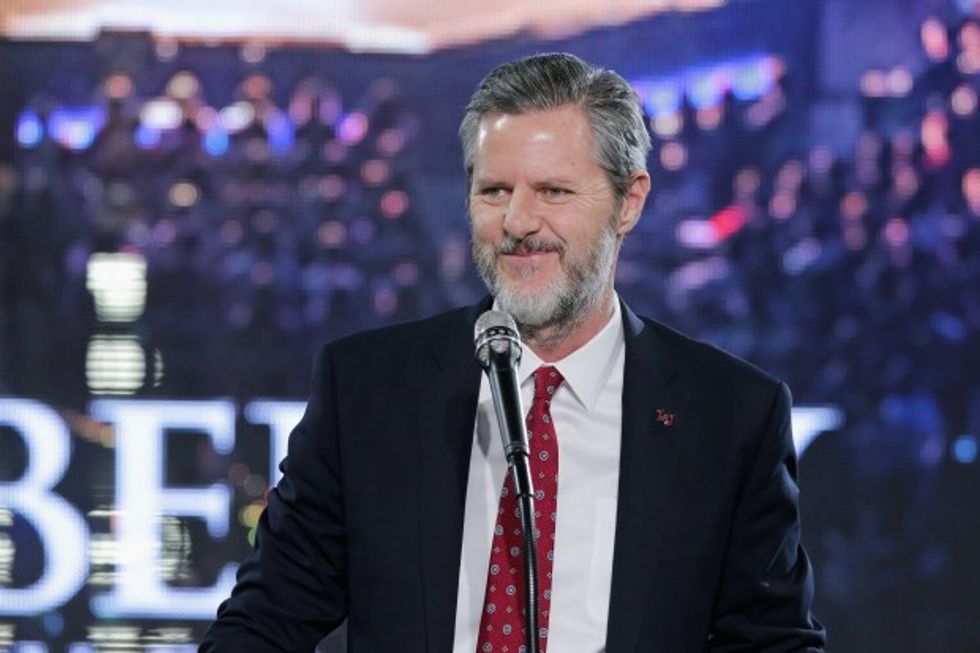 Liberty University President Jerry Falwell Jr. introduces Republican presidential candidate Donald Trump with a sports jersey after he delivered the convocation in the university's Vines Center on Jan. 18. (Getty Images/Chip Somodevilla)

In the leaked tape obtained by the Washington Post, Trump can be heard saying that he can "do anything" to women because he's a "star," and he will "grab them by the pussy."
Trump has called his remarks "locker room banter" and argued that former President Bill Clinton "has said far worse to me on the golf course."
Falwell clarified that he wasn't defending Trump's comments: "Nothing [Trump] says on that tape was defensible, and I'm not going to try to defend it."
"It was just a horrible thing," Falwell said. "But he apologized, he was contrite about it, he moved on to the issues, which is what the American people care about."
Falwell said "establishment Republicans have been conspiring together" for a way to end Trump's campaign.
"I think some of the establishment folks who reluctantly endorsed him had this planned all along as a way to slither out of the endorsement, and I think it backfired on them, and I'm glad to see that," he said. "A lot of the establishment Republicans have been conspiring together for the last six weeks or more, and I think this was all a plan."
Falwell declined to "name any names" or reveal his purported source "on the air" but claimed, "I'm hearing something of substance, and it's disappointing."
Later in the interview, Falwell acknowledged that he has "no proof" to back up his claims, adding, "I'm just throwing that out as a possibility."
David Fahrenthold, the Post reporter who published the tape, has not revealed his source. CNN reported that sources at NBC believe someone "inside" the network leaked the tape.
A Liberty University spokesperson did not immediately respond to TheBlaze's request for an interview with Falwell regarding his allegations.
Listen to Falwell's claims:
—
Follow the author of this story on Twitter and Facebook: