Conservative radio host Glenn Beck unloaded Tuesday night on Christian leaders who remain supportive of Donald Trump, saying they have injected "poison" into the church.
Beck told TheBlaze's Dana Loesch that the U.S. can "survive" the potential presidency of Hillary Clinton "because she's an outside source." But he had quite a different thing to say about those in the Christian community who are choosing to stand with the Republican presidential nominee.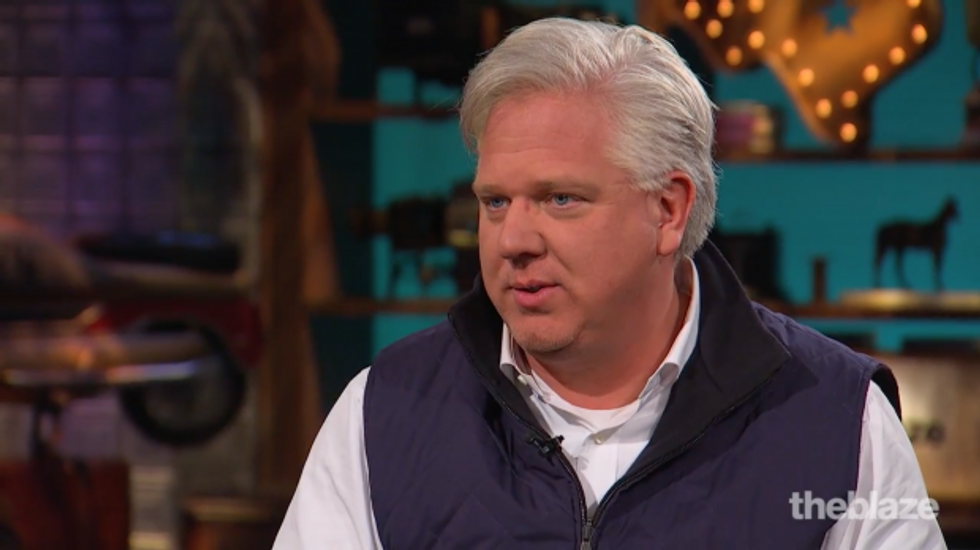 Glenn Beck (TheBlaze TV)
"You don't survive what's happening right now in our churches alone," he said. "Because the poison has come inside our churches. Our churches are saying, 'Dismiss what he just did,' 'Dismiss that,' 'OK, sure, he's never asked for forgiveness,' 'Yes, he calls the sacrament a cracker,' 'Yes, he brags about sleeping with a married woman,' 'Yes, but this is more important.'"
Beck, a Mormon, urged churches to take a stand, even if that means they lose their "tax status" and suffer discrimination.
"Christianity is thriving in China because it's banned," he argued. "Here, it's dying because it's everywhere and it stands for nothing. We survive if the force is outside. We don't survive if the force is in."
The well-known media personality's comments come on the heels of the release of 2005 video footage showing Trump making sexually explicit remarks about women, claiming he can "do anything" because he's famous, including "grab them by the p***y."
While there have been some prominent Christian leaders — including the Southern Baptist Convention's Russell Moore, Southern Baptist Theological Seminary President Al Mohler and Christian author Max Lucado — who have remained opposed to Trump, there are others who seem to stick with the brash billionaire no matter what.
Two of Trump's most unwavering evangelical supporters have been Robert Jeffress, pastor of First Baptist Church of Dallas, and Jerry Falwell, Jr., president of Liberty University. Many have argued Christians must vote for Trump because of issues like abortion, religious liberty and openings on the Supreme Court.
However, for some religious leaders, Trump's decade-old lewd comments were the final straw.
Well-known evangelical theologian Wayne Grudem, who previously endorsed the GOP candidate enthusiastically, withdrew his support in an editorial, writing, "There is no morally good presidential candidate in this election." And James MacDonald, pastor of Harvest Bible Chapel in Chicago, said he will no longer support Trump unless he displays a genuine "change of heart."
"[Trump's comments about women] are truly the kind of misogynistic trash that reveals a man to be lecherous and worthless — not the guy who gets politely ignored, but the guy who gets a punch in the head from worthy men who hear him talk that way about women," MacDonald said.
And in a stunning move Tuesday, the editors of World Magazine, a well-known evangelical publication, determined Trump to be "unfit for power" and called on him to step aside.
Over the weekend, Beck wrote on Facebook that it's a "moral, ethical choice" to not support Trump in November, even if that means electing Clinton president. He plans to vote for Darrell Castle, the Constitution Party's nominee for president, on Election Day.