Democratic presidential nominee Hillary Clinton won Sunday's debate and is leading Republican challenger Donald Trump by a healthy margin in the race for the White House, according to a new national post-debate poll.
The poll, released Tuesday by Politico/Morning Consult, found that with just four weeks before Election Day, Clinton is leading Trump in a four-way race by five points, 42 percent to 37 percent. Libertarian candidate Gary Johnson received 10 percent in the poll while Jill Stein of the Green Party received 3 percent.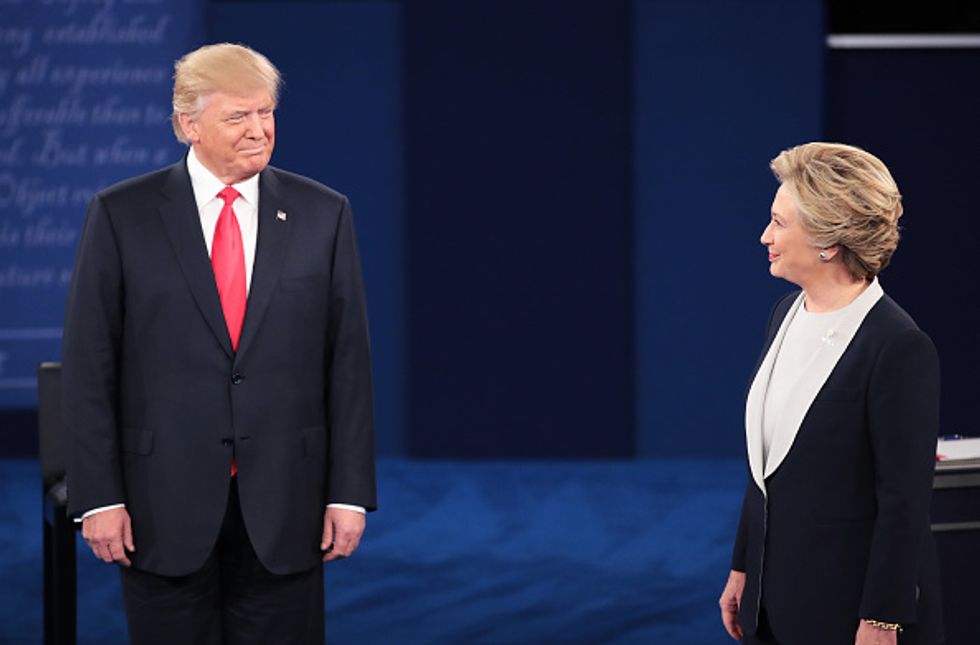 Donald Trump and Hillary Clinton greet each other and the audience at the second presidential debate in St. Louis, Missouri, Sunday. (Getty Images/Scott Olson)
In a head-to-head race, Clinton also leads Trump by five points, the poll found, 46 percent to 41 percent, suggesting that Johnson and Stein are pulling support, and therefore votes, from both Clinton and Trump equally.
What's worse is that the poll found that the majority of voters believe the Republican Party is widely divided. Three-quarters of all voters, including 76 percent of Republicans, said they believe division has run amok in the GOP. Just 10 percent said the party is united.
As far as the debate, 42 percent said that Clinton won Sunday's contest, compared to just 28 percent who said the same of Trump.
Overall, perceptions of both candidates are not positive, the poll found. More than half said that Trump is racist, sexist and out-of-touch with the American people, while a majority also said that Clinton is "overly secretive," corrupt and extremely liberal.
The poll of 2,001 registered voters was conducted on Monday and included 1,757 likely voters with a margin of error of +/- three percentage points.
—
Follow the author of this story on Twitter and Facebook:
[facebook //www.facebook.com/plugins/like.php?href=