President Barack Obama and Democratic presidential nominee Hillary Clinton were interrupted at separate rallies Tuesday by hecklers shouting, "Bill Clinton is a rapist."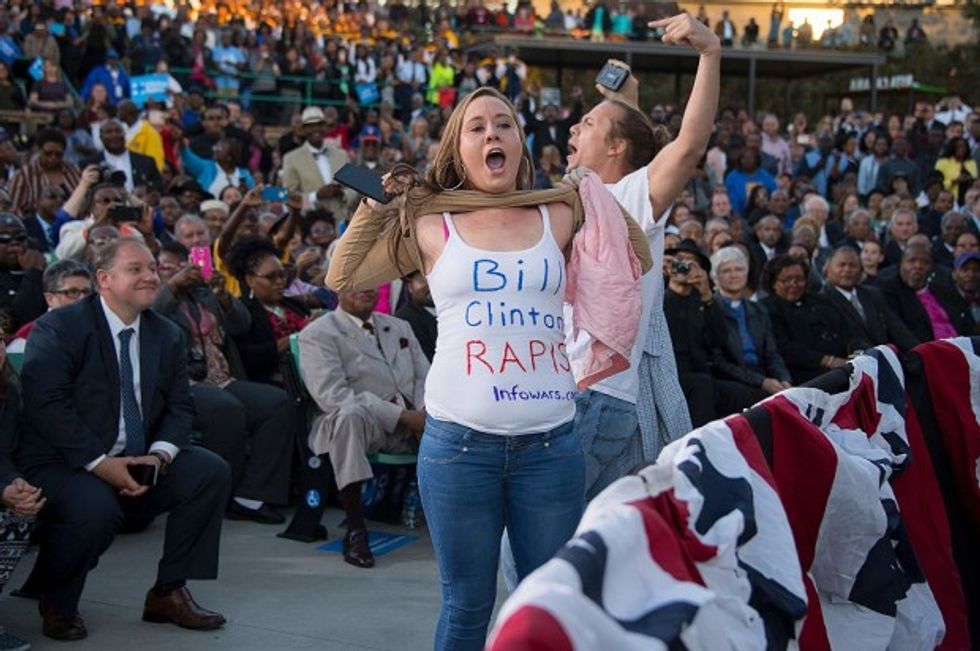 Demonstrators wearing shirts reading "Bill Clinton Rapist" protest as President Barack Obama speaks during a Hillary for America campaign event in Greensboro, North Carolina, Tuesday. (Jim Watson/AFP/Getty Images)
The incidents took place after Infowars founder and conspiracy theorist Alex Jones offered a cash prize to those who carried out the stunt. Jones is a vocal supporter of Republican presidential nominee Donald Trump.
As the hecklers interrupted his speech in Greensboro, North Carolina, Obama told the crowd "Those folks are auditioning for a reality show."
"You know what, here's the deal, try to get your own rally!" Obama said, adding. "See, if you can't get your own rally, don't come mess up somebody else's, right? We've got work to do here."
Simply Obama. @BarackObama giving hecklers a dose of their own heckling. via @ABCPolitics https://t.co/PXnfjZulHR

— PAOTZE☆B.O.STRATEGY☆ (@PAOTZEPG) October 12, 2016
Obama also responded to Jones' recent assertion that he and Clinton "both smell like sulfur" by literally sniffing himself.
This happened. Obama responds to Alex Jones saying he and Hillary are literal demons who smell like sulfur. Then he sniffs himself pic.twitter.com/GSxRsklRDf

— Colin Jones (@colinjones) October 11, 2016
And hecklers at a Clinton rally in Miami were shouted down by her supporters.
"Bill Clinton is a rapist" Protester attempts to disrupt @HillaryClinton rally, is shouted down by supportershttps://t.co/KBLwZjoR84

— CNN Newsroom (@CNNnewsroom) October 11, 2016
The former president was also interrupted at a Saturday rally by a heckler shouting that he is a rapist.
"You gotta feel sorry for him," Clinton replied. "They had a bad day yesterday, so they're trying to make it up. Give him a hand. When other people pour poison down your throat, don't drink it. Give back good."
Trump has sought to highlight the stories of women who accused Clinton of sexual assault after a 2005 video of Trump saying he would grab women "by the pussy" because he is a "star" was published. Many Republicans rescinded their support of Trump following the tape's release.