A new swing state poll released Thursday by Emerson College shows that the road to the White House is becoming increasingly narrow for Republican presidential nominee Donald Trump; however, it also shows that Democrats' chances of winning the Senate are likewise narrowing.
According to the poll, Trump has now fallen behind Democratic nominee Hillary Clinton in Ohio, Virginia and North Carolina, albeit by relatively slim margins. The survey shows Trump trailing Clinton in Ohio 45 percent to 43 percent, in North Carolina 46 percent to 42 percent and in Virginia 46 percent to 43 percent.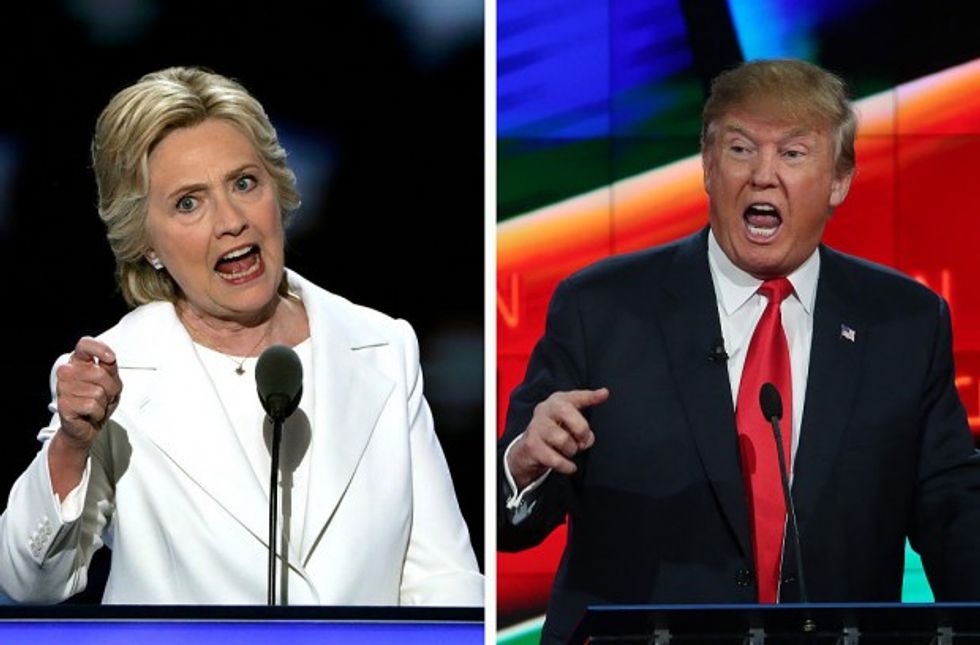 Democratic presidential nominee Hillary Clinton (Alex Wong/Getty Images) and Republican presidential nominee Donald Trump (Justin Sullivan/Getty Images)
Trump has pulled most of his resources out of Virginia and appears to have mostly conceded the state to Clinton; however, he absolutely must win both Ohio and North Carolina (as well as either Michigan or Pennsylvania, and all the other states won by Republican Mitt Romney in 2012) in order to have a feasible path to the 270 Electoral College votes needed to secure the nomination.
Still, the Democrats' path to retaking the Senate also looks more difficult, according to the results of this poll. Republicans currently hold 55 seats in the Senate, meaning that Democrats would have to win five seats from Republicans (if Hillary Clinton wins the presidency and her running mate, Tim Kaine, in his role as vice president, becomes the president of the Senate) to retake the Senate. Democrats are currently considered slight favorites to defeat incumbent Sens. Mark Kirk (R-Ill.) and Ron Johnson (R-Wis.), which means they need to win three additional seats from Republicans.
Sen. Rob Portman (R-Ohio) was an early prime target of Democrats, who successfully recruited former Gov. Ted Strickland to run against him; however, Portman seems to have all but salted away his Senate race and, according to the Emerson poll, is leading Strickland by 17 points. Another prime Democrat target this year is incumbent Sen. Richard Burr (R-N.C.), but according to the Emerson poll, Burr leads Democratic challenger Deborah Ross, 45 percent to 43 percent. Incumbent Marco Rubio (R-Fla.) was also a target this year, but he has established a relatively stable (albeit small) lead over Democratic challenger Patrick Murphy in recent polls.
If these Republicans are able to hang on to their seats, Democrats will have to knock off three of the four remaining vulnerable Republican seats, including the seats currently held by Sens. Kelly Ayotte (R-N.H.), Pat Toomey (R-Pa.), Roy Blunt (R-Mo.) and the retiring Dan Coats (R-Ind.).