As recent Nobel Prize winner Bob Dylan once wrote, "times, they are a-changin'."
According to a new study by the Victims of Communism Memorial Foundation, there is a wide schism between millennials and older Americans when it comes perspectives on communism, socialism and the number of deaths that occurred under President George W. Bush's administration.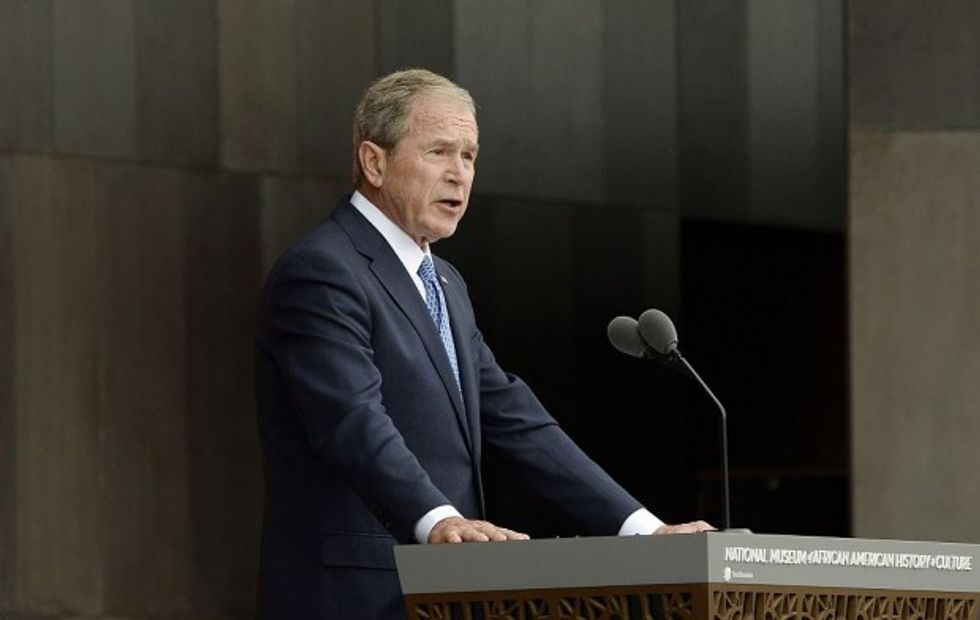 President George W. Bush speaks at the opening ceremony of the Smithsonian National Museum of African American History and Culture on Sept. 24, 2016 in Washington, DC. (Olivier Douliery-Pool/Getty Images)
In the minds of 80 percent of baby boomers and 91 percent of elderly Americans, communism was a major problem in years past and remains a significant concern today. But millennials, aged 16 to 20 years, see it differently. Only 55 percent of the younger generation take issue with communism, 45 percent say they would vote for a socialist and 21 percent say they'd vote for a communist.
And millennials made all that clear during the Democratic presidential primary, when many of them cast their vote for Vermont Sen. Bernie Sanders, a self-avowed socialist. In fact, the report credits the New England lawmaker with a "bounce" that led to less than half of millennials — 42 percent — having a favorable view of capitalism.
By contrast, 64 percent of Americans aged 65 and older hold a favorable view of the capitalist structure.
In addition to the dramatic turn in political ideology, the study revealed an alarming lack of historical knowledge among millennials — a realization that might be impacting their political leanings.
According to the report, 32 percent — one-third — of millennials believe more people were killed under Bush's presidency than Soviet dictator Joseph Stalin. The study also finds that a majority of respondents "grossly underestimated" the number of deaths associated with communism.
A mere 25 percent correctly identified that communism led to the deaths of "over 100 million people."
"It is because of such widespread ignorance about communism that we formed the Victims of Communism Memorial Foundation, which is dedicated to telling the truth, the whole truth, and nothing but the truth," Lee Edwards, co-founder of the Foundation, told the Daily Signal of the study.
Edwards went on to say it is the current generation's "solemn obligation" to teach future generations about the history of communism, which he described as "the deadliest ism of the last 100 years."
See the full study below: