Over the course of the last century, the United States and Russia have often had a contentious and problematic relationship. In particular, the global superpowers have waged a more or less constant struggle over their global spheres of influence since the end of World War II. However, since the dawn of the nuclear age, the two powers have operated under a tacit agreement that disputes over nuclear policy were separate from other foreign policy disputes and would be negotiated separately.
However, an emboldened Vladimir Putin has of late shown an increasing willingness to tie disputes over nuclear policy to other, unrelated disputes, a move that alarms many national security experts on both ends of the political spectrum, some of whom believe that Russia is attempting to intentionally provoke a conflict with the United States. As reported by ForeignPolicy.com, advisors to the current administration are sounding the alarm, and Democratic presidential nominee Hillary Clinton is taking their cues:
"It very much feels like we are entering a very troubled and dangerous phase in this bilateral relationship," said Julianne Smith, a former senior Pentagon official who oversaw NATO policy and a former senior advisor to Vice President Joe Biden. "The next president will face some big strategic choices," said Smith, who now advises Democratic presidential candidate Hillary Clinton on Europe and Russia. . .

Following the failure of the Obama administration's bid to "reset" policy with the Kremlin and capped by Putin's return to the presidency in 2012, Russia has increasingly insisted on linking disparate issues, refusing to cooperate even on areas of common interest in order to pressure Washington on other disputes. That's the opposite of how things worked in the era of superpower detente in the 1970s, when both countries obeyed clear boundaries and unwritten rules. Decisions on nuclear weapons, in particular, were kept apart from other issues and disputes around the globe.

The Kremlin jettisoned that approach after its annexation of Crimea in 2014 and its intervention in Syria in 2015, marking a definitive departure for Moscow and Washington, which had managed to wall off areas of disagreement from arms control cooperation.
Conservative talk-radio personality and former CIA officer Buck Sexton agrees that Russia is intentionally brandishing its nuclear arsenal in an attempt to bolster its global influence. When reached for comment, Sexton told TheBlaze:
Putin is trying to alter global perceptions of his country's influence, on the Russian periphery as well as in the Middle East. By pushing up against U.S. and international community redlines, and brandishing his still formidable nuclear arsenal, Putin is sending a clear message, at home and abroad: Russia is a player again.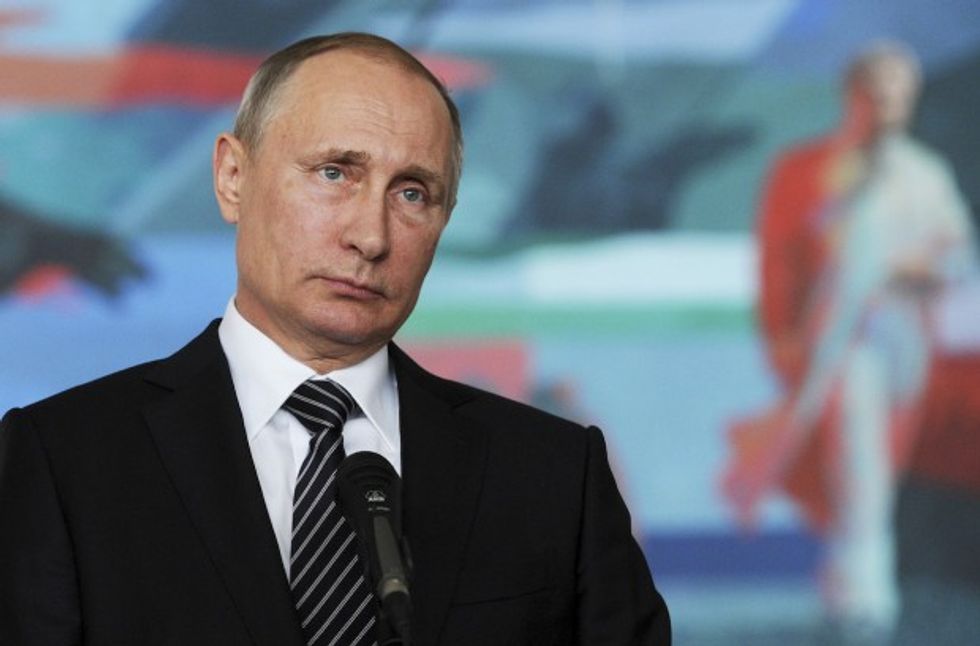 Russian President Vladimir Putin, Sept. 17 (Mikhail Klimentyev/Sputnik, Kremlin Pool Photo via AP)
Russia's aggressive nuclear posture has complicated America's response to a number of foreign policy issues, including the current conflict in Syria, Russia's annexation of the Crimean peninsula, and the Obama administration's claim that Russian hackers are behind the recent Wikileaks dumps that have dogged the Hillary Clinton campaign.
Security experts warn that whoever wins the White House in November will inherit a global rival that will be immediately prepared to press the envelope of confrontation to see how the new president will respond:
Russia in recent years has adopted a more aggressive doctrine on nuclear weapons, expanding the scenarios in which the arsenal could be used and employing threatening language when referring to its nuclear force. While running for election in 2012, Putin elevated the role of nuclear weapons in Russia's strategic doctrine in an op-ed for the state-run Rossiyskaya Gazetanewspaper, even implying that they could be used in a conventional war. After taking office again as president, Putin announced a plan to modernize all three legs of Russia's strategic nuclear forces.

In March, Putin said he had been ready to place nuclear forces on alert over the fate of the Crimean peninsula in Ukraine. Asked if Russia was prepared to bring its nuclear weapons into the conflict, Putin told state television: "We were ready to do it. I talked with colleagues and told them that this (Crimea) is our historic territory. Russian people live there, they are in danger, we cannot leave them."
In recent speeches, Clinton has favored a more hawkish approach toward Russia on the stump, while Republican presidential nominee Donald Trump has encouraged a position of increased cooperation.