Florida Republican Sen. Marco Rubio's path to re-election may have just become substantially easier.
The Democratic Senatorial Campaign Committee has announced that it is pulling all remaining ad reservations from Florida, meaning that Democratic challenger Patrick Murphy will have to finish the rest of the campaign on the strength of his own fundraising.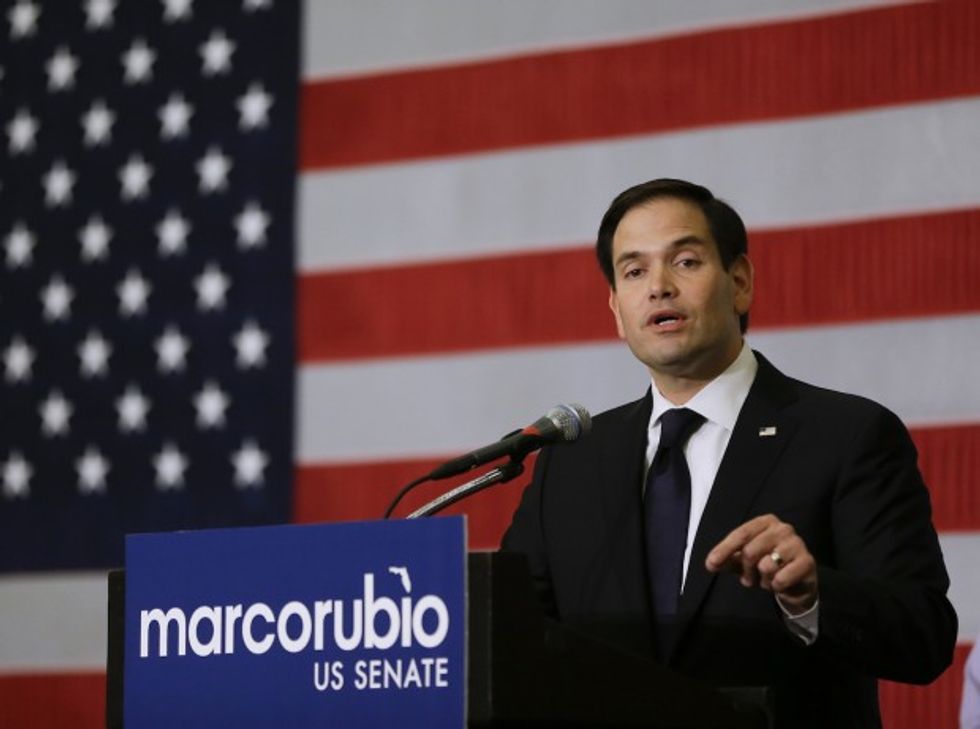 Sen. Marco Rubio (R-Fla.) speaks to supporters in Kissimmee, Florida. (AP Photo/John Raoux)
According to Politico, the decision was made prior to Monday's debate, in which Rubio was widely perceived to have scored a decisive victory:
The decision to slash the final remaining week of reservations in Florida by the Democratic Senatorial Campaign Committee came before Monday night's debate between Murphy (D) and Rubio (R), according to a source familiar with party strategy. The party's campaign arm initially reserved $10 million in ads there, but that came before Rubio's reversal on his plans to retire. Senate Majority PAC also pulled $6 million in remaining ads this month after spending about $3 million on the race.

While the DSCC and Senate Majority PAC have been trimming back on ad buys for weeks, their latest move zeroes out their commitment over the last 3 weeks of the election, even as polls show the race tightening.
During the course of Monday night's debate, Rubio highlighted exaggerations in Murphy's resume, which have dogged the Democrat's campaign in recent days.
The DSCC denied that the decision to pull the remaining ads was related to Murphy's debate performance and characterized the reallocation of resources as a strategic decision designed to give Democrats the best possible chance at retaking the Senate.