People magazine said Tuesday that it has has six witnesses who can corroborate a former writer's "account of being attacked" by Republican presidential nominee Donald Trump.
Natasha Stoynoff accused Trump of sexual misconduct during an interview in 2005.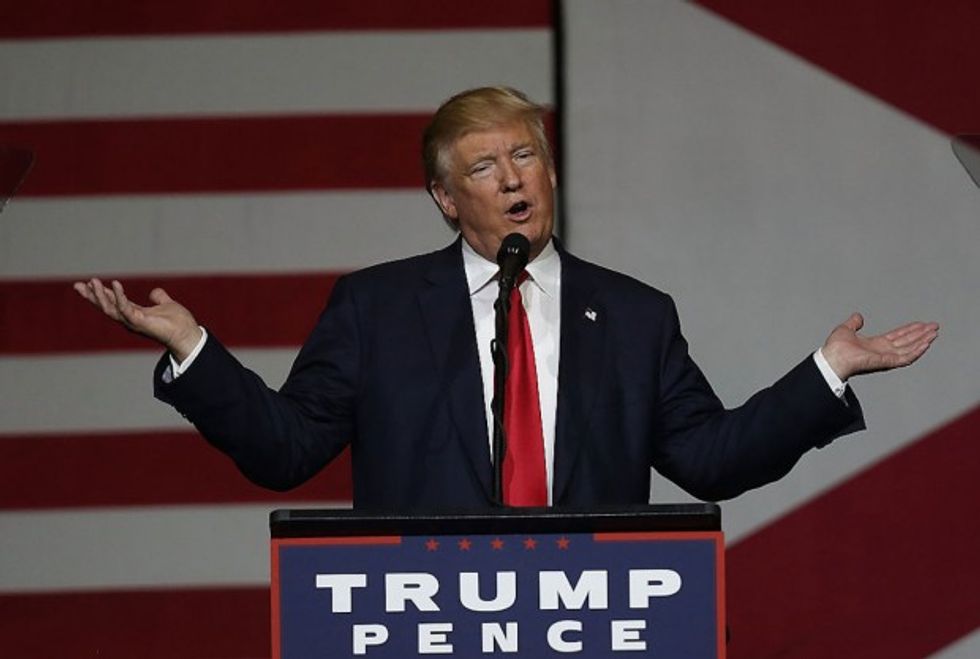 Republican presidential candidate Donald Trump speaks during a campaign rally at the South Florida Fair Expo Center on October 13, 2016 in West Palm Beach, Florida. In his remarks Trump vehemently denied recent allegations of past sexual assault and railed against mainstream media corruption and the 'Clinton machine'. (Joe Raedle/Getty Images)
"We walked into that room alone, and Trump shut the door behind us. I turned around, and within seconds he was pushing me against the wall and forcing his tongue down my throat," she wrote.
Stoynoff also wrote that she ran into Melania Trump in New York after the incident. Melania Trump purportedly hugged her and asked, "Natasha, why don't we see you anymore?"
Trump has denied Stoynoff's account, and Melania Trump has threatened the publication with a lawsuit, denying that the encounter Stoynoff described with her took place.
Stoynoff's friend Liza Herz told People that she was there when Stoynoff ran into Melania Trump.
"They chatted in a friendly way," Herz said. "And what struck me most was that Melania was carrying a child and wearing heels."
Marina Grasic, another of Stoynoff's friends, said that she called her after the alleged attack.
"Beyond just the attack, she was horrified by the vulgar circumstances under which she was attacked and propositioned to have an affair," Grasic said. "She was there in a professional capacity, writing an article about their happy marriage, and after the incident, Trump acted like nothing happened."
Stoynoff's former journalism professor, Paul McLaughlin, said she sought his advice after the alleged attack.
In 2005, Natasha Stoynoff phoned me, distraught, crying. Said Trump assaulted her. She is telling truth. #natashastoynoff

— Paul McLaughlin (@paulmcl) October 13, 2016
It was tough decision but in a he said/she said we believed she would lose. He seemed rather nasty at the time.

— Paul McLaughlin (@paulmcl) October 14, 2016
Other witnesses include People's East Coast editor Liz McNeil, People's deputy East Coast news editor Mary Green and Liza Hamm, another People collegue.
Stoynoff told People that she is "doing okay" since coming forward with her allegations.
"It's possible he just doesn't remember it," Stoynoff of Trump's denial that the incident took place. "It was over 10 years ago and I assume I am one of many, many women."