Talk radio host Laura Ingraham accused "Never Trump" conservatives of supporting partial-birth abortion during an interview on Fox News early Thursday morning following the presidential debate.
Ingraham, a vocal supporter of Republican presidential nominee Donald Trump, took aim at conservatives who have qualms about his candidacy.
"They're standing with the woman who stood up there today and said, 'I'm a hundred percent for Roe vs. Wade and partial-birth abortion,'" Ingraham said.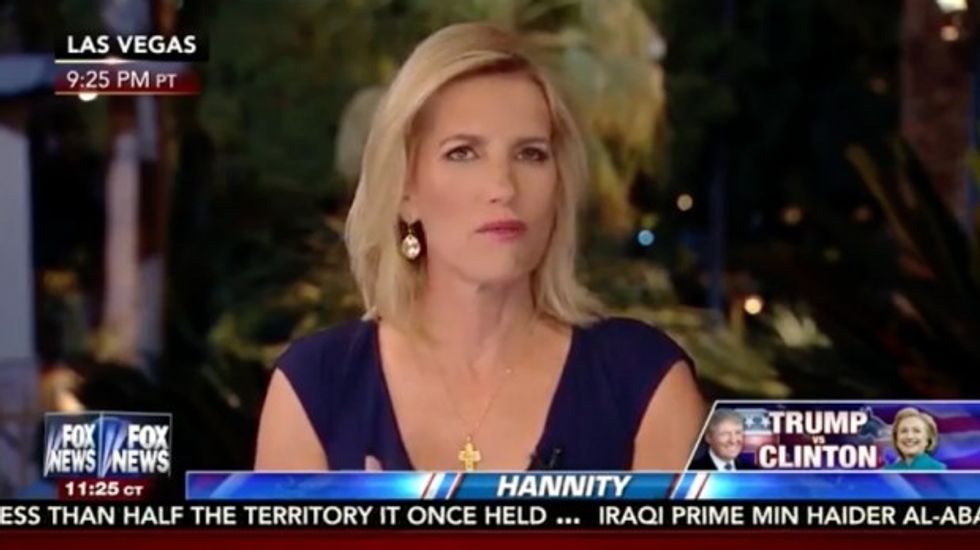 Image source: YouTube
During the debate, Democratic presidential nominee Hillary Clinton reiterated her support for Roe vs. Wade and did not specify what restrictions she would support on abortion.
"That's what 'Never Trump' stands for, I guess," Ingraham said. "Roe vs. Wade and partial birth-abortion. Fantastic."
Ingraham's remarks followed former Arkansas Gov. Mike Huckabee's assertion that "Donald Trump boldly took a stand for life tonight."
"And for all these 'Never Trumpers' out there, they need to get off their keister, if you will, just stand up and recognize—" Huckabee said.
"Get off their ass!" Fox News' Sean Hannity interjected. "Just say it. Tell them to get off their ass and stop being a bunch of crybabies."
Hannity said that "Never Trump" conservatives "don't deserve any more discussion until the day after election."
"Then I got a lot to say about Paul Ryan and the rest of them," Hannity said as Ingraham nodded.
Though Trump called himself pro-life both on the debate stage and during his campaign, many pro-life activists have questioned his sincerity on the issue. Prior to his campaign, he called himself "pro-choice in every respect."
During a 1999 interview on NBC's "Meet the Press," Trump said that a President Trump administration would not work to implement a ban on partial-birth abortion.
"I'm very pro-choice," he said at the time.
During his campaign, defended taxpayer funding for Planned Parenthood, the nation's largest abortion provider, by arguing that the organization does "wonderful things."
Trump has pledged to appoint pro-life justices to the Supreme Court and revealed a list of appointees he would consider, but has referred to the list as a "guide."
Many prominent "Never Trump" conservatives have said that they refuse to support either Clinton or Trump for president and will offer their support to a third option, such as Libertarian Gov. Gary Johnson, independent conservative Evan McMullin or a write-in option of their choice.
During the debate, McMullin took to Twitter to call himself "the only pro-life candidate in the race."
The way we protect the lives of the unborn is a true test of our humanity, and of our commitment to the universal right to life. #debates

— Evan McMullin (@Evan_McMullin) October 20, 2016
.@realDonaldTrump only feigned to be pro-life when he decided to run for president. Previously, he supported late-term abortions. #debates

— Evan McMullin (@Evan_McMullin) October 20, 2016
Why can't @RealDonaldTrump actually say the words "I want Roe v Wade overturned?" I'm the only pro-life candidate in the race #Debates2016

— Evan McMullin (@Evan_McMullin) October 20, 2016
Some Trump supporters have made it clear that ending abortion is not their first priority:
I don't care if @realDonaldTrump wants to perform abortions in White House after this immigration policy paper. http://t.co/l7nq8gN7i5

— Ann Coulter (@AnnCoulter) August 16, 2015
(H/T: Washington Examiner)