The final debate between Donald Trump and Hillary Clinton took place last Wednesday. So it was only natural for "Saturday Night Live" to begin Saturday's show satirically recreating the debate.
Fox News host Chris Wallace moderated last Wednesday's debate and was portrayed by Hollywood legend Tom Hanks.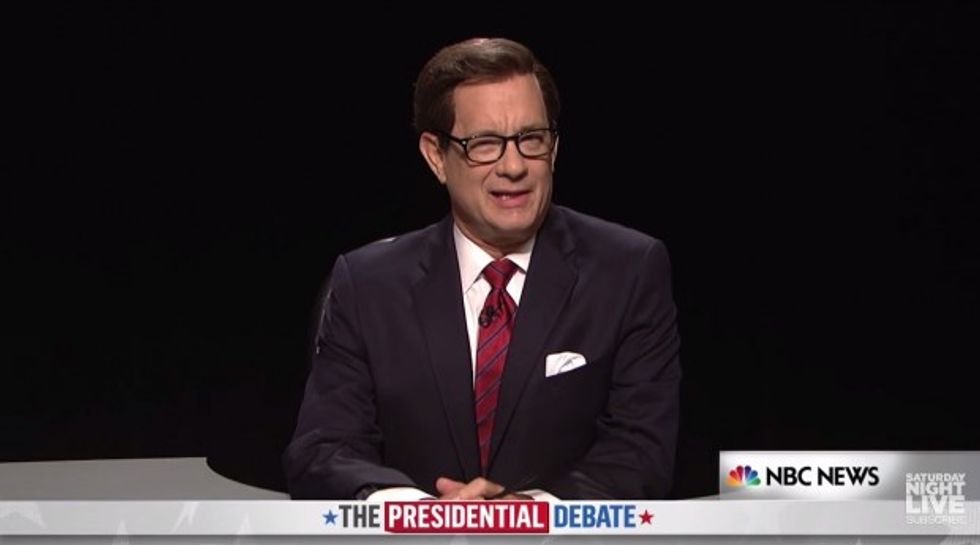 Image source: YouTube
Kate McKinnon, who portrays Clinton on the show, came out swinging.
"Look, Chris, I'm glad you raised this topic because what two better people are there to talk about women's issues," she said in reply to the first question, which was about abortion. "Me, a woman who has had a child and who has taken birth control and him, a man who is a child and whose face is birth control."
McKinnon also mocked Clinton's remarks about Russia and WikiLeaks as well as Trump's remark "bad hombres." When Adam Baldwin, who portrays Trump, made the comment, McKinnon yelled "bingo" and pulled out a bingo card. Apparently, "bad hombres" completed a row on McKinnon's "Trump bingo" card.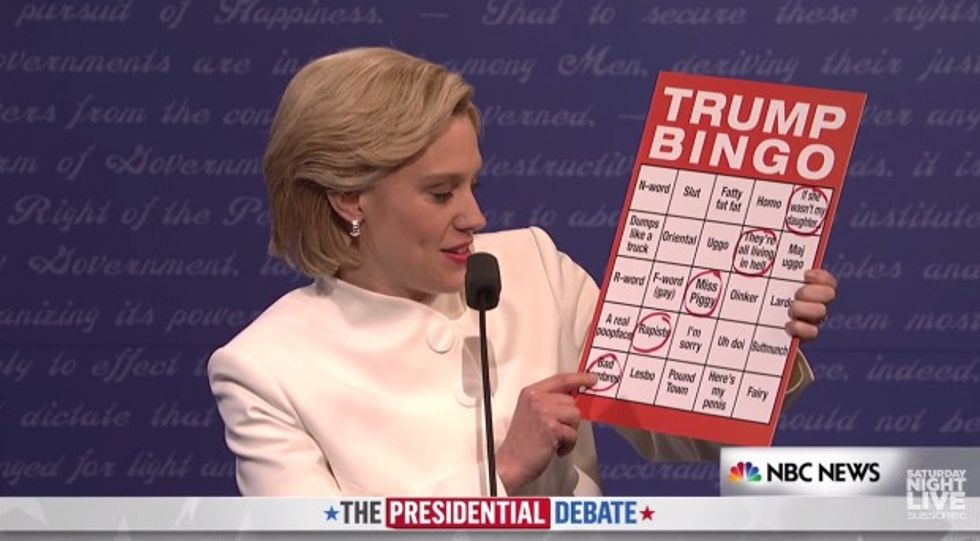 Image source: YouTube
But when "Wallace" attempted to question "Clinton" about the WikiLeaks emails, which centers around the gmail account of her campaign chairman John Podesta, "Clinton" pivoted away.
"No, but it was very cute to watch you try," she said when "Wallace" asked if she would ever answer a question about her emails.
"Wallace" went on to question "Trump" about the 11 women who have accused him of sexual misconduct, to which "Trump" replied that no one has more respect for women than him. That response received mocking laughs from different crowd all across the world.
"Wallace" also asked "Trump" if he would accept the results of November's election and even extended a helping hand.
"Donald, Donald, listen, I'm trying to help you buddy. So repeat after me: 'I, Donald Trump, promise to accept...the promises of this election," "Wallace" said.
Of course, "Trump" had a difficult time repeating word-for-word what "Wallace" suggested.
At the end of the skit, "Trump" addressed the rumors that after the election he planned to start his own media network.
"Watch Trump TV starting November 9th!" he said. "You're gonna hate it."
Watch the entire skit below: