Hillary Clinton's foreign policy stances increase the threat of a conflict with Russia over how to intervene in Syria, Republican presidential nominee Donald Trump said in an exclusive interview with Reuters.
The Manhattan billionaire said the U.S. should focus more on defeating the Islamic State than trying to force Syrian President Bashar Assad to step down.
"What we should do is focus on ISIS. We should not be focusing on Syria," Trump said during the interview at his Trump National Doral golf resort. "You're going to end up in World War Three over Syria if we listen to Hillary Clinton."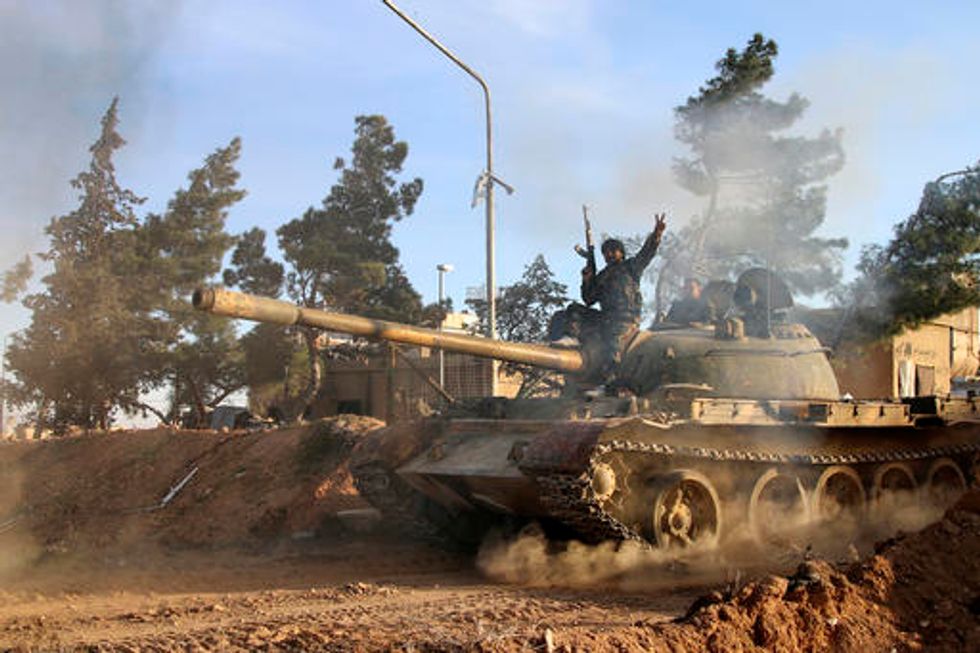 In this file photo taken Feb. 17, a volunteer fighter with the Syrian government forces sits atop a tank in the province of Raqqa, Syria. (Alexander Kots/Komsomolskaya Pravda via AP, File)
Many foreign policy watchers have warned of the U.S. and Russia becoming embroiled in a proxy war in Syria — a concern Trump said he shares, especially given Russia's nuclear capability.
"You're not fighting Syria any more, you're fighting Syria, Russia and Iran, all right? Russia is a nuclear country, but a country where the nukes work as opposed to other countries that talk," he said.
More from Reuters:
On Russia, Trump again knocked Clinton's handling of U.S.-Russian relations while secretary of state and said her harsh criticism of Putin raised questions about "how she is going to go back and negotiate with this man who she has made to be so evil," if she wins the presidency.
Trump also blamed the Republican establishment's resistance to his candidacy for Clinton's lead in polls.
"If we had party unity, we couldn't lose this election to Hillary Clinton," he said.