In the wake of another woman accusing Supreme Court Justice Clarence Thomas of sexual misconduct, at least one former female law clerk is actively working to dispel the allegations.
Moira Smith, vice president and general counsel at Enstar Natural Gas, detailed an alleged encounter with Thomas in a now-deleted Facebook post earlier this month. In her post, she accused Thomas of inappropriately touching her without permission during a dinner party in 1999.
"He groped me while I was setting the table, suggesting I should sit 'right next to him,'" Smith said in the Facebook post obtained by National Law Journal.
Thomas was also accused of sexual harassment while he was a Supreme Court nominee in 1991 by Anita Hill, who worked for him at the Department of Education. Thomas denied the allegations then — and denies the current accusations, as well.
"This claim is preposterous, and it never happened," Thomas, who is marking his 25th anniversary on the court, said in a statement through his office.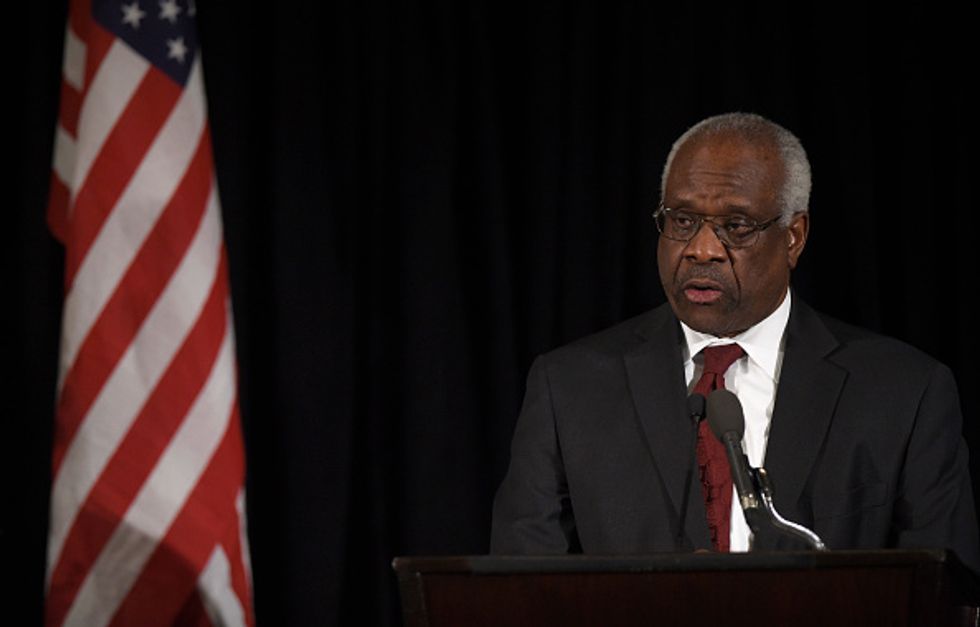 Supreme Court Justice Clarence Thomas (Getty Images/Susan Walsh)
Carrie Severino served as a law clerk for Thomas from 2007-08. During an interview with TheBlaze Thursday night, she painted a work environment where Thomas "loves and cares for his clerks very strongly" and continues to mentor clerks long after they've left his office.
"He is adamant that his clerks maintain a family feel afterward," Severino, now the chief counsel and policy director for the conservative Judicial Crisis Network, said. "So we get together regularly for lunch with the justice — any clerks that are in town – and you really have a lot of mentorship and friendships that develop within the group."
Severino adamantly stressed that Smith's claims are "so out of character" for the justice with whom she worked that she at first thought there must have been some way Smith "wildly misinterpreted" the events of the night. However, now she said it "looks more like a Democratic hack job."
"If you look at the people involved ... and the way her story is timed politically, all the people who were involved were Democratic operatives, so I'm beginning to think this looks more like it was a coordinated hit piece," she said.
In a piece for National Review, Severino listed multiple bullet points in which she described Smith as a "registered Democrat" who has been "publicly critical of Republicans on many occasions."
Severino added that she and other female clerks "have unmitigated respect for the justice and this is just totally out of character and not the Justice Thomas" they know.
Smith, who was 23-years-old at the time of the alleged incident, said she decided to go public with her accusations in the wake of Republican presidential nominee Donald Trump's own allegations of sexual misconduct and in order to be a catalyst to help young girls like her own 8-year-old daughter.
"Before last weekend, I had subconsciously convinced myself she would never go through this, and now I know she almost certainly will," Smith told the journal. "I am responsible to help minimize the risks and help her to understand what to do if she does and to model behavior that it's not okay."
"It has changed my worldview as a mother," she added.