With only 12 days remaining before the election, Republican presidential nominee Donald Trump sat down with the Catholic television network EWTN Thursday night to reiterate his pro-life transformation. He has faced questions from some Catholics and pro-life activists about his commitment to the pro-life cause due to statements he made prior to his candidacy in support of abortion.
The Manhattan billionaire shared the story of what he said led him to change his thinking on the issue, telling EWTN that a couple he knows who faced an unexpected pregnancy led him to change his mind on the issue of abortion.
Trump, who declined to offer specifics regarding the couple's identity, said that their child is a "magnificent person."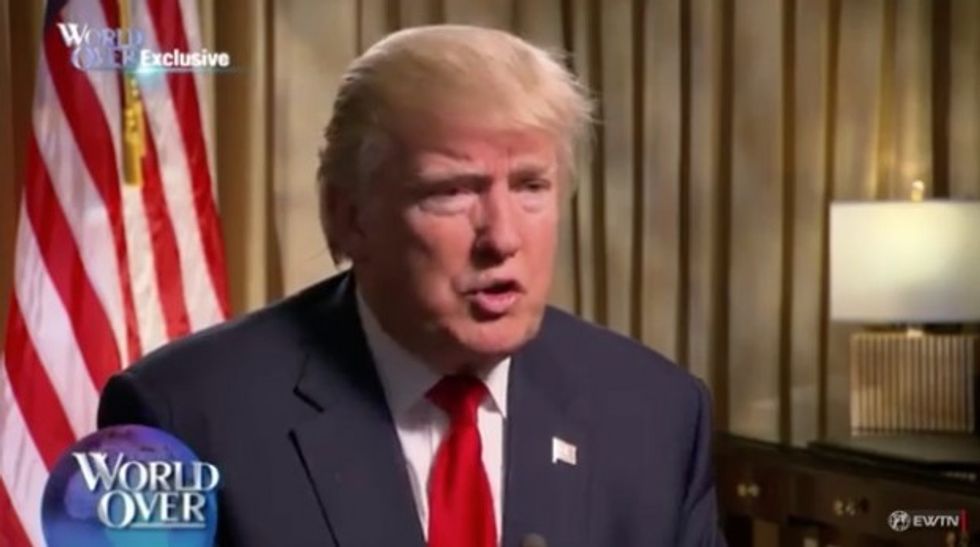 Image source: YouTube
Raymond Arroyo, lead anchor for EWTN, noted that Trump wasn't always pro-life, but he replied that he is now.
"I am pro-life," Trump said, adding that a "number of moments" led him to change his mind:
One was a couple that I know very, very well. And you had a strong pro-life and you had a strong pro-choice, and they argued over — the mother was pregnant — they argued over the child.

One — I won't get into the specifics — but one wanted to abort and the other said we can't do that, we're not going to do that. Anyway, they had the baby — it was a long time ago — and the baby is such a magnificent person, who I know, a magnificent person.

And the person that was actually pro-choice is now pro-life because of it, and it had an effect on me.
"But I've seen other examples similar to that," Trump said, adding that even President Ronald Reagan famously changed his mind on the issue.
In a 1999 interview with NBC's "Meet the Press," Trump called himself "pro-choice in every respect" and said that a President Trump would not work to implement a ban on partial-birth abortion. During his campaign, he has struggled to earn the support of some pro-life activists, who question the sincerity of his more recent statements on the issue of abortion.
During his interview with the Catholic network, Trump, who has said he is a Presbyterian, was asked if he has a favorite saint. He named Pope St. John Paul II and Saint Teresa of Calcutta, who was recently canonized.