A historically black Mississippi church burned Tuesday night — and vandals left behind a command.
"Vote Trump" was spray painted in white on the side of the scorched Hopewell Missionary Baptist Church building in Greenville.
It is not clear at this time if the people who left behind the political message are also responsible for burning the church, which has stood at its location for more than 100 years.
Greenville Mayor Errick Simmons said Wednesday afternoon that the "cowardly, hateful" incident is being investigated as a "hate crime."
"This is a direct assault on people's right to freely worship," Simmons said during a press conference.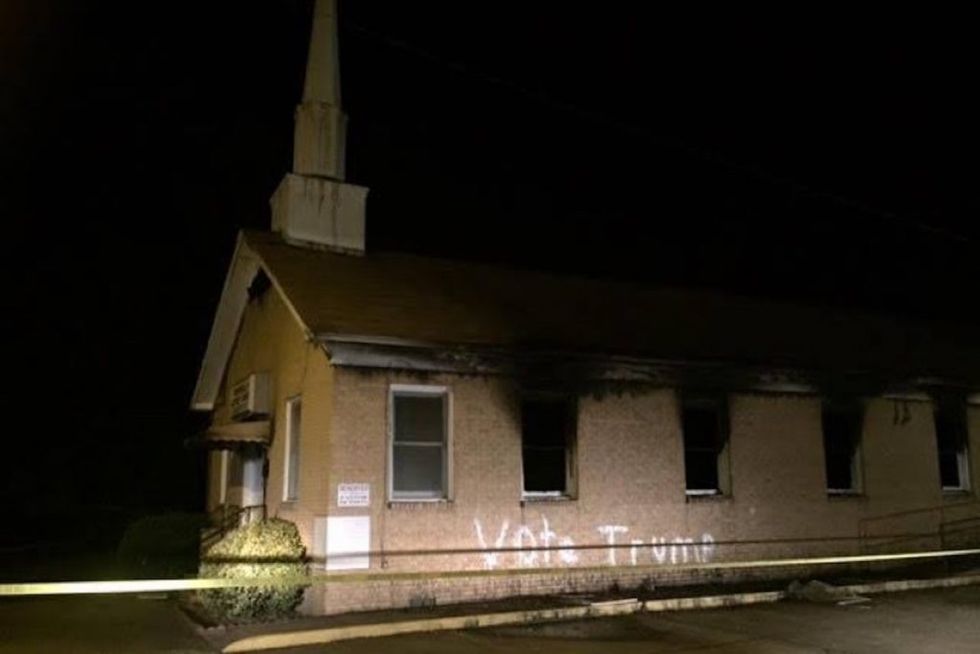 Hopewell Baptist Church in Greenville, Mississippi. (Delta Daily News/Angie Quezada)
The FBI confirmed Wednesday that it is aware of the incident and is investigating.
"The FBI Jackson Division is aware of the situation in Greenville, and we are working with our local, state and federal law enforcement partners to determine if any civil rights crimes were committed," a spokesperson told the Clarion Ledger.
The Greenville Police Department directed questions about the church to the Greenville mayor's office. A message left for the mayor by TheBlaze went unreturned Wednesday morning.
Bishop Clarence Green told Angie Quezada of the Delta Daily News that he was "stunned" when he heard the news about his church.
"Not only I, but members of the church, people of the community were affected," the soft-spoken bishop said.
Green declined to "speculate" on the political message spray painted on the side of his church, saying he wished to wait until the results of the investigation. He did, though, encourage his congregation to "keep their faith in God."
"When you believe God, things are not as bad as you think they are," Green said smiling. "We know God is still working on our behalf. It's not even a setback. It's just a delay, but we will rebuild, we will come back stronger, better and wiser."
Marshall Wilson, a member of the church for nearly 38 years, said even though his initial reaction was to ask "why," he, too, trusts that God will handle what is to come for Hopewell.
"He's got it, and everything will be taken care of," Wilson said.
Greenville Fire Chief Ruben Brown said Wednesday that officials received a call regarding the church burning at 9:16 p.m. Tuesday. The fire, he said, was extinguished in approximately 12 minutes although firefighters worked for an additional hour and a half on salvage and overhaul.
The fire department's arson team is investigating the fire, Brown said.
Police Chief Delando Wilson declined to name any suspects at this time but did reveal officials were talking to a person of interest.
A GoFundMe account has been set up to help with costs the predominantly black Baptist church will face in the aftermath of the destruction.
"The animus of this election cycle combined with the potential racial history of burning black churches as a political symbol makes this event something we must not ignore," the fundraising page states.
It adds, "Can we do this? Can we show the world, the country and most importantly, the churchgoers of Hopewell Baptist that we, as a society, are better than this?"
While many supporters of Republican presidential nominee Donald Trump have been deemed racist this election cycle, it's unclear if whoever committed the crime wished to perpetuate the stereotype or actually is, in fact, a supporter of the bombastic candidate.
In Mississippi, Trump leads Democratic presidential nominee Hillary Clinton by 15 points.
Hopewell's pastor assured reporters Wednesday that the church had not made any type of political statement recently.
As of Wednesday morning, Greenville residents were already coming together to pray in front of the visibly burnt church, as seen in a video uploaded by Quezada.
Simmons said Wednesday that if anyone had any information regarding the fire, to please call 662-378-1616 or 662-378-8477.