When Republican Sen. Bob Corker took a stroll by his lonesome along Stringer's Ridge in his home state of Tennessee Sunday, the Senate Foreign Relations Committee Chairman probably wasn't shocked that at least one fellow hiker on the trail recognized him.
But what proceeded through the lips of biology professor David George Haskell was anything but friendly.
The Corker camp said Haskell — who teaches at Sewanee: University of the South and had three people with him — "aggressively approached" and "began shouting at Senator Corker in a profanity-laced tirade while pointing a finger in his face and told the senator that he was embarrassed to live in a state where the citizens voted to overwhelmingly elect Donald Trump," spokeswoman Micah Johnson told the Chattanooga Times Free Press in a statement.
"Senator Corker calmly suggested to the professor that he did not have to live in Tennessee if he did not wish to do so," Johnson's statement noted, adding that Corker "believes that if the leadership of Sewanee witnessed the exchange, they would be sorely disappointed in the behavior of someone tasked with leading students."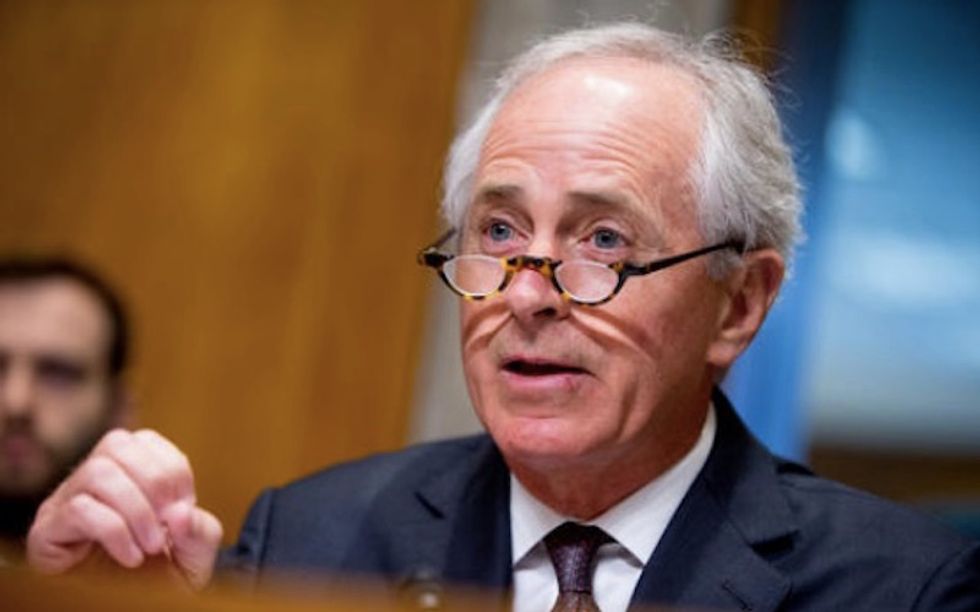 Chairman Bob Corker, R-Tenn., questions State Department Under Secretary for Political Affairs Thomas Shannon, Jr., as he testifies at a Senate Foreign Relations Committee hearing on Capitol Hill in Washington, Tuesday, April 5, 2016, on recent Iranian actions and implementation of the nuclear deal. (AP Photo/Andrew Harnik)
Haskell, in a blog post, said he told Corker "how deeply ashamed I was to be from a state where our senator will not denounce Trump for boasting of sexual assault. Corker has been silent on this matter and on the racism and hate that the T-monster has spewed into our country these last months ... I told him that as a Tennessean I was deeply ashamed of his silence."
Haskell added that Corker suggested he leave the state if he "doesn't like it."
"It's people like you who won't accept the results of the election who are deeply dividing this country," Haskell recalled Corker saying. "What have you ever done to contribute to this state?"
Haskell said he asked Corker, "Why have you not, Senator Corker, denounced Trumps' boasts of sexual assault?"
Actually Corker called Trump's 2005 audio about groping women that surfaced last month "obviously very inappropriate and offensive" and noted Trump's "apology was absolutely necessary." Corker — who was named to Trump's national security advisory council — didn't pull back his support for Trump over the audio, the Times Free Press reported.
Corker also was considered for Trump's vice president spot but bowed out of the running.
The Knoxville News Sentinel named Haskell's fellow hikers — Katherine Lehman, former music professor at the University of the South; Cesar Leal, assistant professor of music at the school; and Troy Johnson, a Chattanooga social worker. The paper said the trio corroborated Haskell's story.
"It was so elitist, as if it was a powerful person talking down to someone who disagreed with him politically and he could say whatever he wanted," Lehman told the News Sentinel. "He just had a smirk on his face."
More from Haskell:
No, Senator, if you don't like your constituents using their First Amendment rights to express their deep dismay and disgust at your failure to take a stand against odious statements, then maybe you're the one who needs to book the U-Haul van. Pack your bags and leave Washington. Take your silence in the face of Trump's vile words back to your Chattanooga mansion and ponder why a group of hikers — immigrants, women, LGBTQ, and Latinos — would be so distraught to see your smirking countenance sauntering through the woods.

Yes, we are ashamed of you. No, we are not leaving.
In his blog, Haskell also disputed Corker's assertion that the professor said he was ashamed to be from a state that voted for Trump, saying instead he was ashamed to be from a state with a senator who wouldn't denounce Trump's words and actions.
Haskell added to the News Sentinel that he was shaken up and had trouble sleeping Sunday night after the encounter with Corker.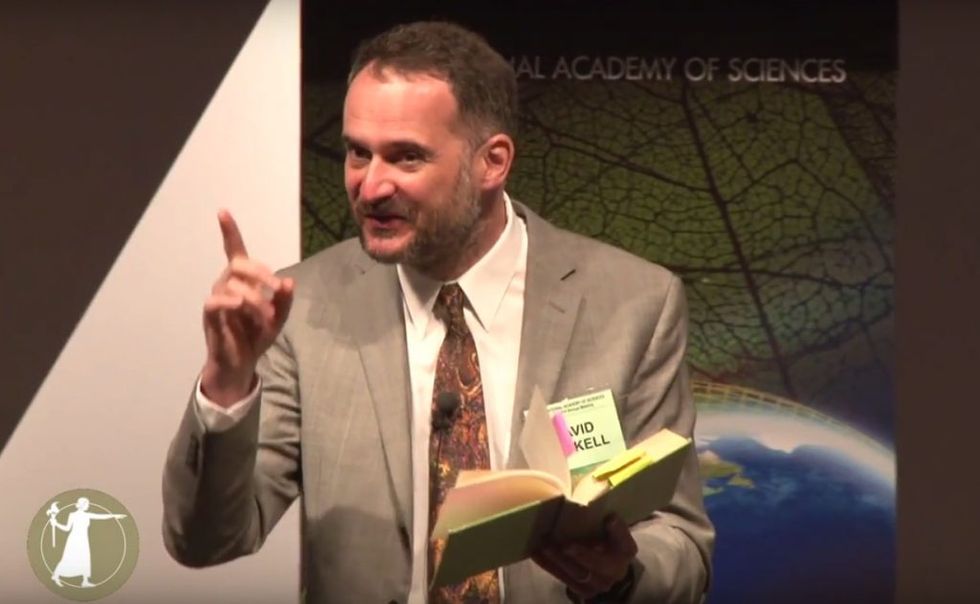 David George Haskell speaking in 2014 (Image source: YouTube)
As for cursing out the senator, Haskell only said "my profanity was no match for that of Mr. Trump and I showed no aggression. Anger, for sure, but I stood at a respectful distance and listened to Corker. First Amendment speech is not aggression, it's a right. Grabbing women, punishing them for abortions, egging on rallies toward violence: now that's aggression."
(H/T: Todd Starnes)