Philadelphia's Republican Party chairman blasted what he saw on police surveillance video as "perhaps the most bourgeois sight imaginable."
It's hard to disagree.
Just a few minutes after Thanksgiving night ended, a pair of men were seen on the surveillance tape walking down a street in the upscale Chestnut Hill section of the city. One was hooded and non-distinctive. The other guy? Anything but.
Clad in a blue blazer and khaki pants, topped off with an aristocratically fastened scarf, he also was clutching a wine glass in his left hand.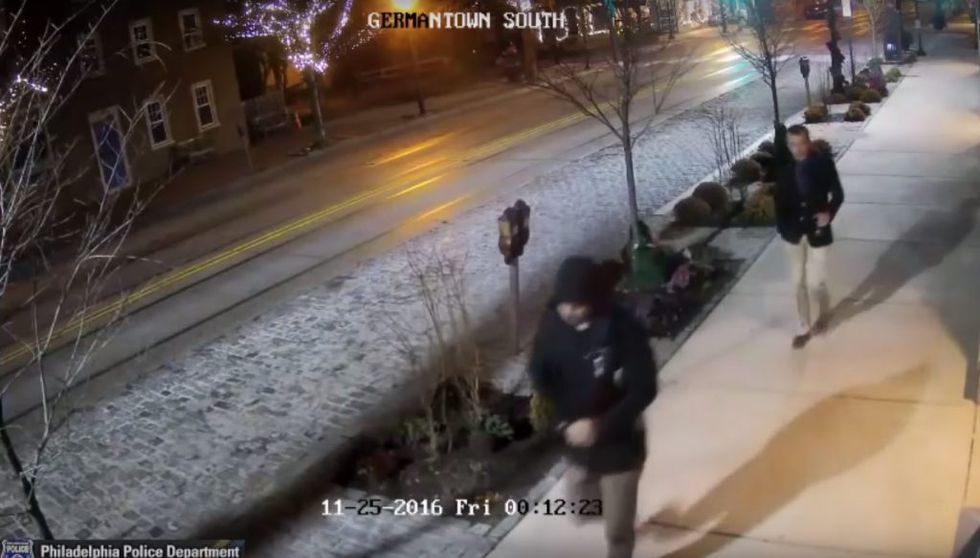 Image source: Philadelphia police/YouTube
If the pair had just concluded holiday festivities, what was about to transpire didn't exactly befit the spirit of the season.
The hooded man was seen in a second surveillance clip spray painting a store front. The graffiti exclaimed, "F*** Trump."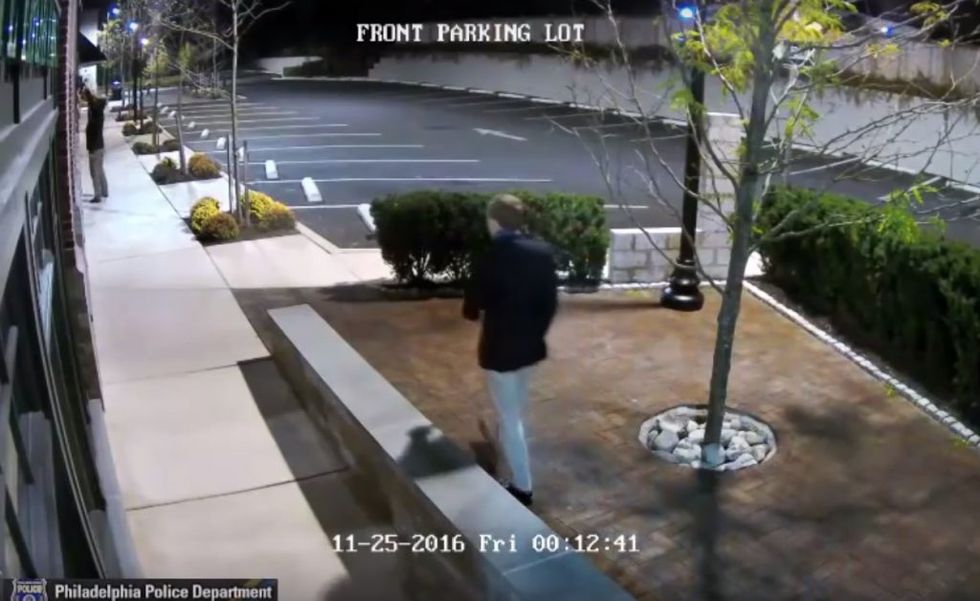 Image source: Philadelphia police/YouTube
The wine glass-clutching fellow followed behind, and police said he appeared to take photos or video of his companion's handiwork. Then they split.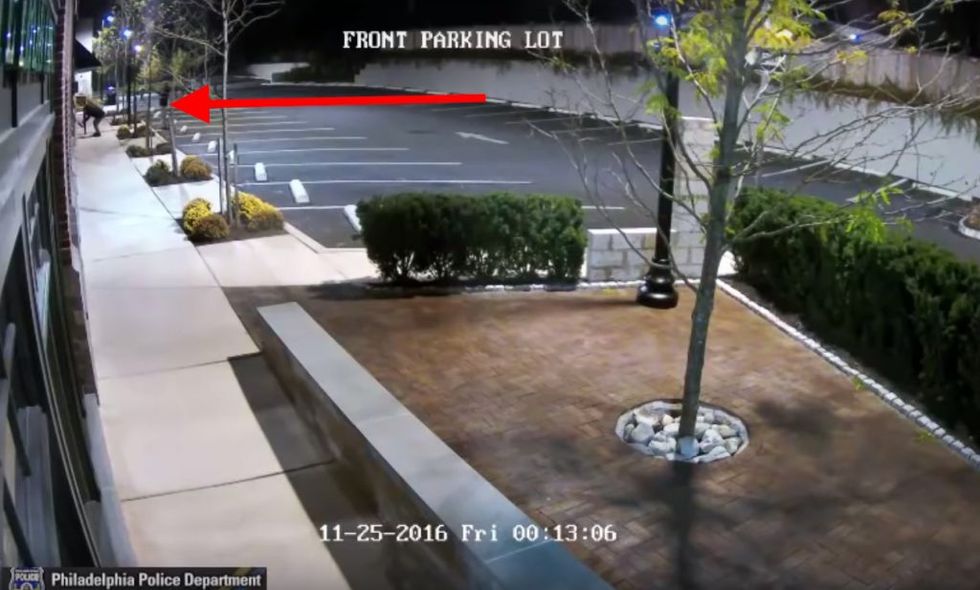 Image source: Philadelphia police/YouTube
Cops haven't figured out who the spray painter is, but the apparent wine connoisseur has been identified as Assistant City Solicitor Duncan Lloyd, PhillyNews reported.
The outlet said no charges have been filed, and Lloyd didn't return calls for comment — but First Deputy City Solicitor Craig Straw confirmed with PhillyNews that Lloyd is in the video.
"We do not condone this type of behavior from our employees," Straw told the outlet. "To my knowledge, Mr. Lloyd has already contacted the Philadelphia police and is cooperating with them. We will decide on a course of action once we obtain more information about the investigation."
Lloyd, 32, has worked for the city's Law Department since 2011 and earns a $63,207 salary, PhillyNews said. He attended the posh private school Germantown Friends in the city and graduated from the University of Pennsylvania and Temple University's Beasley School of Law, the outlet added, citing Llyod's LinkedIn page.
Police estimated the vandalism damage at between $3,000 and $10,000, PhillyNews said — and they told BillyPenn.com that they don't typically see surveillance clips involving subjects holding glasses of wine.
"We currently do not keep track of wine appearances in surveillance footage, for vandals or other crimes," a police spokesman told Billy Penn. "However, I feel safe giving 'not many' as an answer."
Here's the full rip-roarin' reaction from Joe DeFelice, chairman of the Philadelphia Republican Party, via Billy Penn:
If the image of an upper-middle class city attorney clad in a blazer and sipping wine while vandalizing an upscale grocery store with an anti-Trump message strikes you as perhaps the most bourgeois sight imaginable, that's because it is. Nothing can better represent the hysterical pearl-clutching of the "progressive" elite in response to this earth-shattering election, when residents of Chestnut Hill and similar neighborhoods across the country discovered — gasp — that other people have a voice too. The assistant city solicitor in question had ostensibly taken the law into his own hands, since a democratic election didn't yield his preferred outcome.

For somebody with extensive legal training to feel entitled to vandalize a newly opened super-market strikes us at the Philadelphia Republican Party as an astonishing feat of idiocy. Did the extra glass of Shiraz give him some sort of delusional confidence that there are no cameras on Germantown Ave? The taxpayers should be entrusting exactly none of our faith into this man. He should be fired from our city's law department immediately.