As further proof that the main thing feminists have in common is too much time on their hands, artist Natalie Baxter has created a series of sculptures that tackle the fake problem of "toxic masculinity." Baxter's sculptures accomplish this important task by portraying guns as "soft, impotent" objects.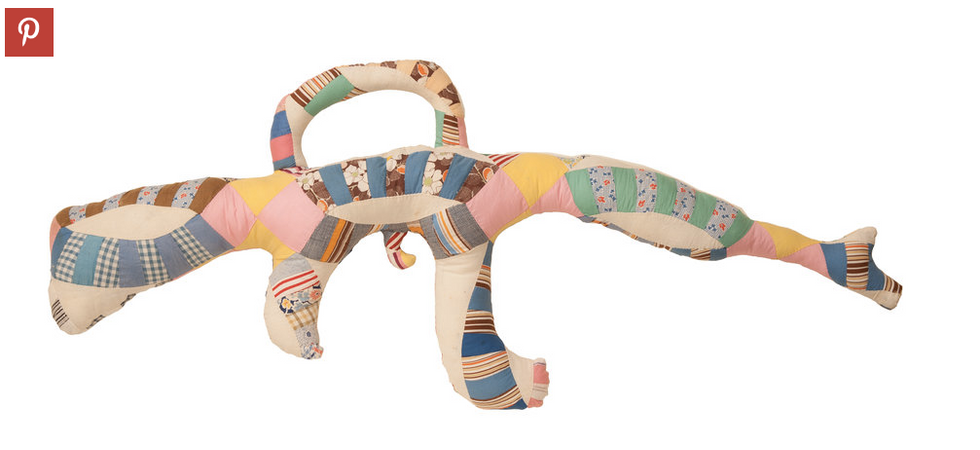 A casual observer might look at Baxter's work and conclude that she is bizarrely seeking artistic credit for creating a bunch of poorly-constructed stuffed guns out of quilting material, but in fact people are treating this exercise in liberal intellectual self-stimulation as a serious societal statement. Per the Huffington Post:
"As many of these tragic mass shootings were taking place at the hands of men, I started to speculate on the relationship between masculinity and gun ownership," Baxter explained. She mentioned the recent strides we've made as a culture in regards to feminism, LGBTQ rights and the sad reality that some people see liberation of others as a threat to themselves.
"I felt like there was some relationship with these changes and male gun ownership but couldn't put any facts behind it," Baxter said. "Then I came across an article written by Elizabeth Winkler for Quartz that explains it really well called 'America's gun problem has everything to do with America's masculinity problem.' She quotes sociologist Jennifer Carlson: 'As men doubt their ability to provide, their desire to protect becomes all the more important. They see carrying a gun as a masculine duty.'"
Baxter has no problem with women owning guns; in fact, she lauds the protection provided to her by her grandmother who had several guns arrayed on her wall at home. To Baxter, the problem isn't guns, it's men owning guns. So how does she plan to encourage men not to own guns? In her own words, according again to Huffington Post:
Baxter's response to all this toxic masculinity? More sparkles, more shine, and lots more sagging. "I am using the traditionally feminine craft of sewing and quilting to emasculate these objects of power and destruction into droopy, impotent, soft sculptures."
The artist hopes her benevolent rifles, revolvers, handguns and pistols will bring both left- and right-wing viewers a moment of pause, providing a potential space of mutual understanding for what's most often an extremely heated issue. "Soft sculpture work is really approachable," she said. "It's hard not to smile when you see a recognizable object in an altered soft state, especially when made from brightly colored fabrics."

As with many similar ideas, there's an underpants-gnomes style magical thinking quality to Baxter's train of thought. She isn't changing any of the guns people are actually buying so it's unclear how men who are entering an actual gun store to purchase an actual gun will see their own potential purchase being emasculated.
Moreover, her work flies in the face of decades of liberal hysteria about the dangers of making guns approachable to children or treating them like toys; a point that appears lost on the Huffington Post and other liberals who are praising Baxter's work.