Americans trust The Onion, a satirical news site, slightly more than they do InfoWars, a far-right website helmed by conspiracy theorist Alex Jones. And they trust Breitbart News only a little bit more than The Onion.
Overall, according to a new survey by the online polling agency Morning Consult, Americans overwhelmingly trust the major television networks for their news.
ABC News earned the highest credibility rating, with 67 percent of respondents calling the network "very credible" or "credible." CNN — which was often referred to as the "Clinton News Network" by conservatives aligned with President-elect Donald Trump during the campaign — slightly beat out Fox News, but both networks wound up in the middle of the credibility chart.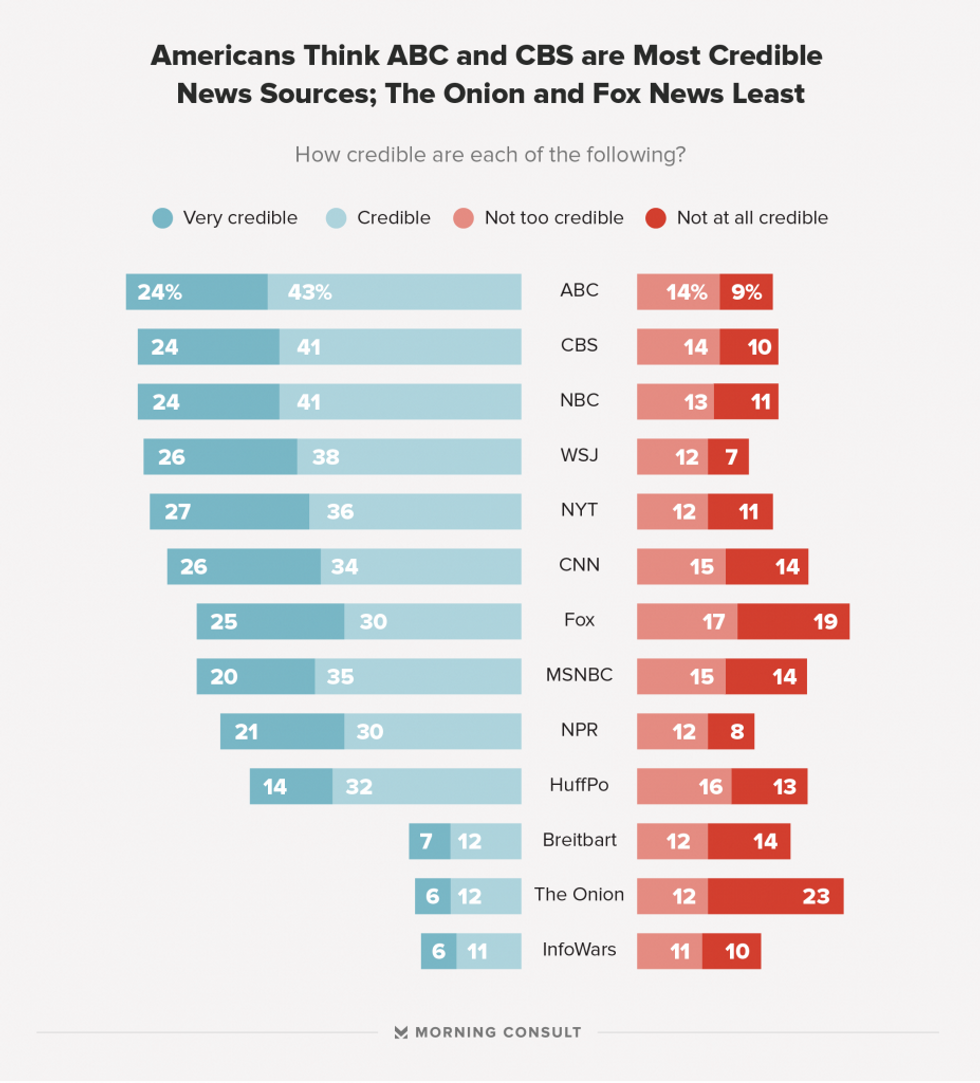 Morning Consult
Of course, trustworthy numbers shift when Republicans and Democrats are separated. While Democrats keep the major television networks at the top of the credibility chart, Republicans move them more to the center. Fox takes the cake for conservatives, with 73 percent calling the channel "very credible" or "somewhat credible."
As for newspapers, the Wall Street Journal is the leader of the pack, barely edging out the New York Times 64 percent to 63 percent, respectively, calling the publications "very credible" or "credible."
Breitbart — which was run by Steve Bannon, who eventually became Trump's campaign CEO and then his chief strategist — along with InfoWars and The Onion finished out the list. It is worth noting, as Morning Consult did, that lack of name recognition likely played a role in the right-wing sites' poor performance:
Credibility was significantly lower for far-right sites such as Breitbart and InfoWars, but both were also hampered by being largely unknown. Forty-two percent of people said they "never heard of" Breitbart, and 49 percent said the same about InfoWars.
The poll was conducted between Dec. 1-2 and consisted of 1,605 adults with a margin of error of +/- two percentage points.