German Defense Minister Ursula von der Leyen did not wear the traditional veil, called a hijab, during her visit to Saudi Arabia last week, and the move is making international waves.
"No woman in my delegation will be required to wear the abaya, as the right to choose one's attire is a right shared by men and women equally," she said at the time, according to the Express.
#German Left criticised their defence minister's trip to Saudi but Y not applaud her for not wearing a Hijab? https://t.co/5z8WJZUxHp

— Potkin Azarmehr (@Potkin Azarmehr) 1481673902.0
Von der Leyen's decision not to wear a hijab or the abaya, a loose-fitting garment, during her meeting with Deputy Crown Prince Mohammed bin Salman al Saud was not roundly praised. In fact, some Saudis took to Twitter to express their anger over the German politician's tailored pantsuit, according to Middle Eastern news source Al Bawaba.
One translated tweet read: "The German Defense Minister: not wearing the hijab in Saudi was deliberate. This is an insult to Saudi Arabia."
"Ok so why didn't they arrest her? The hypocrisy and double standards," read another.
First lady Michelle Obama earned similar criticism when she refused to wear the head covering during a visit to Saudi Arabia last year. The hashtags #MichelleObamaImmodest and #MichelleObamaNotVeiled trended on Twitter for a short time, the Express reported.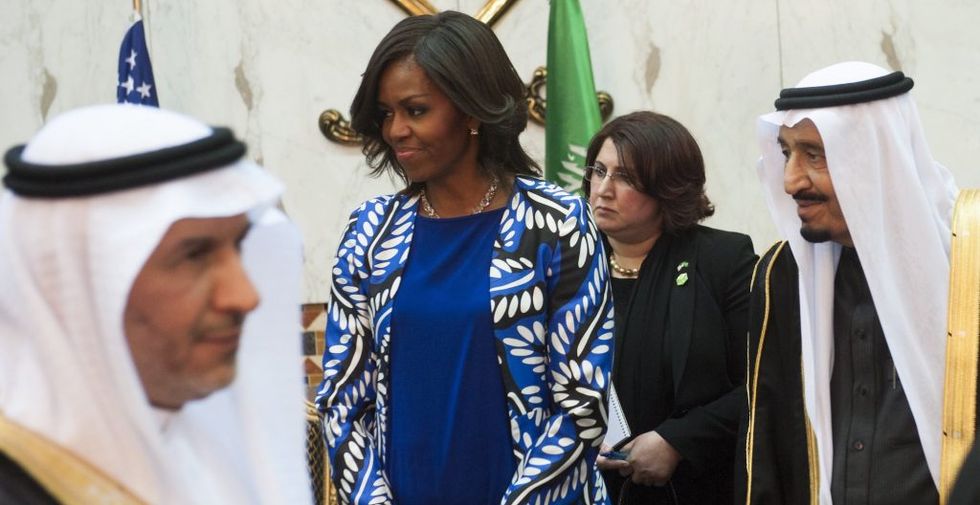 Saudi new King Salman and first lady Michelle Obama hold a receiving line for delegation members at the Erga Palace in the capital Riyadh on Jan. 27, 2015. (Saul Loeb/AFP/Getty Images)
German Chancellor Angela Merkel, Democratic presidential candidate Hillary Clinton, former Secretary of State Condoleezza Rice and former first lady Laura Bush also refused to don a hijab during their trips to the Muslim-dominated country.
Von der Leyen's decision comes on the heels of Merkel's call for a ban on the burqa in Germany, arguing the Muslim dress is "not appropriate here."
"With us, the rule is: Show your face, that's why the full veil is not appropriate, it should be banned," she said earlier this month.
While the rules are relaxed for visiting diplomats, the fundamental Muslim dress code is rigidly enforced for locals. According to reports Tuesday, Saudi police arrested — and will likely lash — a woman who tweeted a protest photo of herself not wearing a hijab in the nation's capital city, Riyadh.