A contributor to Politico was fired Wednesday for posting an obscene tweet asking if Trump was committing incest with his daughter Ivanka.
Julia Ioffe posted the comment alongside a link to an article about the plans for Ivanka to inhabit office space usually reserved for the First Lady.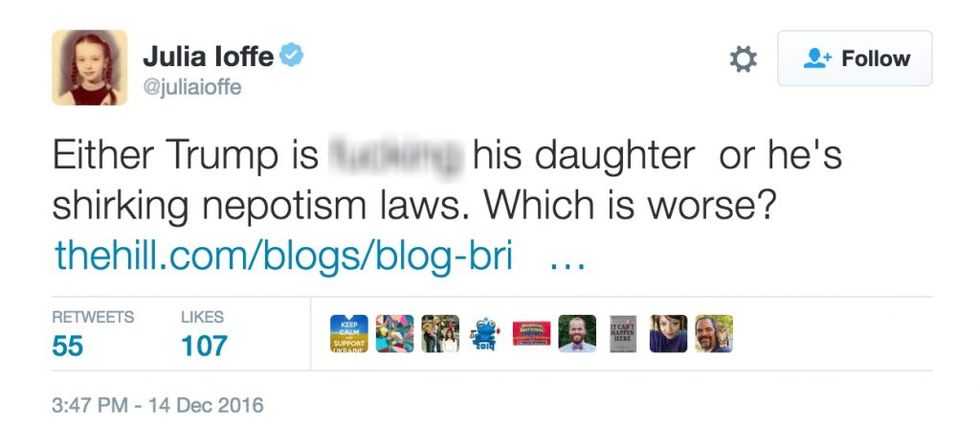 Image source: Twitter
Ioffe has since deleted the post, but not before a social media furor excoriated her for the bias against Trump and obscene insinuation. Ioffe had been transitioning from Politico to The Atlantic, but after the controversy, they fired her immediately. She addressed the anger afterward:
We have a president-elect who popularized "saying what everyone is thinking," but I guess my phrasing should've been more delicate.

— Julia Ioffe (@Julia Ioffe) 1481752848.0
She compared it to how social censorship operates in Russia where freedom of speech isn't respected much:
In Russia, the Kremlin rarely has to make the call to media organizations. The media bosses anticipate and do the censoring themselves.

— Julia Ioffe (@Julia Ioffe) 1481756377.0
All that said, I do regret my phrasing and apologize for it. It was a crass joke that I genuinely regret.

— Julia Ioffe (@Julia Ioffe) 1481757606.0
It was a tasteless, offensive tweet that I regret and have deleted. I am truly and deeply sorry. It won't happen again.

— Julia Ioffe (@Julia Ioffe) 1481758660.0
The Daily Caller pointed out that this isn't the first public controversy she's gotten into over a Trump family member:
Ioffe was presently in the news for a tiff with Melania Trump. The Politico writer faced a barrage of anti-Semitic tweets in April after posting a negative profile of Melania. The incoming first lady responded to the incident by saying Ioffe could have "provoked" the tweets.
The firing from Politico inspired a firestorm on social media as some figures came to the defense of Ioffe, saying a joke should not be reason enough to fire a reporter, while others say every publication has the right to defend and preserve their public image.
Just another public outrage victim in the social media highway of online life.