Editor's note: Photos contained in this post may be disturbing to some readers.
Literally staring evil down, Associated Press photographer Burhan Ozbilici was unflinching, capturing instantly iconic images of the gunman who assassinated Andrei Karlov, Russia's ambassador to Turkey, in Ankara Monday.
At first, Ozbilici wrote in a firsthand account, he thought the scene was some sort of artistic display. It was only seconds later that the AP photojournalist realized a nightmare was unfolding right in front of him, and he felt an obligation to document it.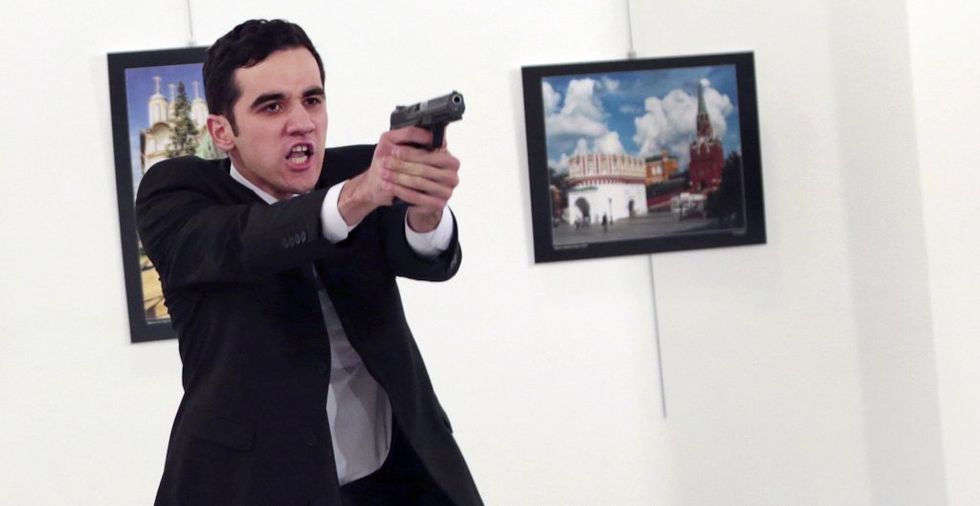 A man identified as Mevlut Mert Altintas holds up a gun after shooting Andrei Karlov, the Russian ambassador to Turkey, at a photo gallery in Ankara, Turkey, Monday. (AP Photo/Burhan Ozbilici)
"The event was routine enough — the opening of an exhibit of photographs of Russia — and when a man on stage pulled out a gun, I thought it was a theatrical flourish," he wrote. "It was anything but. Moments later the Russian ambassador was sprawled on the floor and the attacker was waving his gun at the rest of us, shouting slogans."
Almost as if on autopilot, Ozbilici continued snapping photos as the horror unfolded:
He shot the ambassador at least once more at close range and smashed some of the framed photos on the wall. In all there were at least eight shots.

Guests ran for cover, hiding behind columns and under tables. I composed myself enough to shoot pictures.

"Don't forget Aleppo. Don't forget Syria!" the gunman shouted in Turkish, referring to the Syrian city where Russian bombardments have helped drive rebels from areas they had occupied for years during the war. He also shouted "Allahu akbar" but I couldn't understand the rest of what he said in Arabic.
The ambassador, who was rushed to a nearby hospital, died shortly after being shot by the gunman, who was later identified as police officer Mevlut Mert Altintas. He was killed after a 15-minute shootout.
As for Ozbilici, who sustained no injuries from the shooting, he has been widely praised on social media for the photos he took of the assailant.
Awed by the courage of the photographer who captured this terrifying shot https://t.co/7ux2Z5rU8c (Credit: Burhan O… https://t.co/Cf0OTi2zTp

— Hiroko Tabuchi (@Hiroko Tabuchi)1482172907.0
What a photo. https://t.co/1yfaORx0cF

— Julia Ioffe (@Julia Ioffe)1482169422.0
AP photographer Burhan Ozbilici with a late entry for photo of the year. The courage to take this simply remarkable. https://t.co/N8PvCzh9DR

— Dan Stewart (@Dan Stewart)1482171229.0