In a super funny video that is generating a lot of attention on Saturday, a North Carolina man pretends to be a news reporter while satirically mocking the reaction southerners have to snow and winter weather.
A winter storm moved through parts of the deep south and mid-Atlantic late this week and into Saturday, dropping sleet, freezing rain and lots of snow in many locations. Parts of Mississippi, Alabama, Georgia, South Carolina, North Carolina, Virginia and up the eastern seaboard were areas hit the hardest by the storm.
But as per usual, South Charlotte didn't see much snow. Rather, they saw a mixed bag of sleet and freezing rain and just a little snow.
That's what made Stehpen Wilfong's video so funny. Because as he is talking about the "white blanket of death" that ravaged his neighborhood, barely any snow accumulation can be seen in the background.
"People are waking up this morning and saying, 'Oh my god. We had no idea it would be this bad in Charlotte,'" Wilfong said, pointing to brown grass and damp roads. "You can see back here on the streets — I don't know you could even get a snowmobile through this nonetheless a car."
"We're getting reports right now that people got trapped in their cars in this white blanket of death," he hilariously added. "My source at the weather station said they didn't know it could even get this bad."
But the comedy was taken a step further. One of the staples of living in the south and anticipating winter weather is running to the grocery store to buy bread and milk. Why? People don't really know, but if you live in the south and winter weather is impending, then you know that the grocery stores will be nearly empty as the storm approaches.
Wilfong poked fun at this tradition, saying that when the city of Charlotte "ran out of salt" on Friday, what they did to rectify the situation was quite "brilliant," while pointing behind him to a "survival station," which had several loaves of bread and half gallons of milk on it.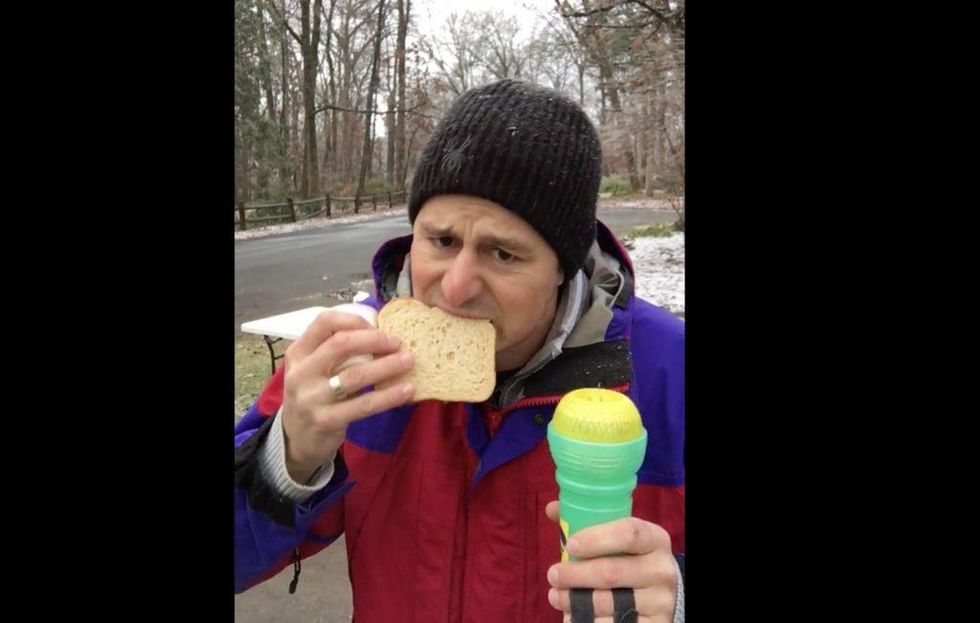 Image via Facebook/Stephen Wilfong
"If you can make your way to one of these...you can get your daily ration of milk and bread to help keep you alive for as long as possible," he joked.
"And like I said before, we talked to these people at the weather station, one of my closest friends who's been doing this for 38 years, told me, 'Hey Steve, it hasn't been this bad since the last time it did nothing.'"
What made the video even funnier? Wilfong was speaking into a plastic, toy microphone.
And it's clear people are finding the video extremely funny. In the five hours that it's been on Facebook, it has already been viewed nearly 400,000 times and shared nearly 11,000 times.
Watch the full video below: