A controversial painting hung at Capitol Hill display is the reason that Democrat Rep. William Lacy Clay (D-Mo.) is calling on police to press charges of theft against Republican Rep. Duncan Hunter (R-Calif.).
Hunter decided to take down the painting Friday because the depiction of a policeman as a pig was offensive to law enforcement officials, and Clay is demanding that he be charged with theft. Capitol police have denied the request, likely because Hunter took the painting down but promptly returned it to Clay's possession soon after.
Clay's chief of staff demanded to know why their request was denied in an email to Matthew Verderosa, the Capitol Police Chief:
Our office was informed an hour ago that you personally declined to take an official complaint from U.S. Rep. Wm. Lacy Clay regarding the theft of his district painting on loan to the US House for display.

There is a clear D.C. statute that defines theft — it is a taking and carrying away of the property of another without right. If you have a different perspective please explain. Further, please explain why Congressman Duncan Hunter appears to be above the law.
CBS News offered this description of the offensive painting:
The painting showed a police officer taking aim at protesters with signs saying "history" and "stop kill." The police officer has an elongated face with tusks, much like a razorback pig. The background includes the Gateway Arch in St. Louis and a young black man looking out from prison bars. One of the figures also appears to show a protester as a wolf.

Clay's website gives the following description of the artwork: "The painting portrays a colorful landscape of symbolic characters representing social injustice, the tragic events in Ferguson, Missouri, and the lingering elements of inequality in modern American society."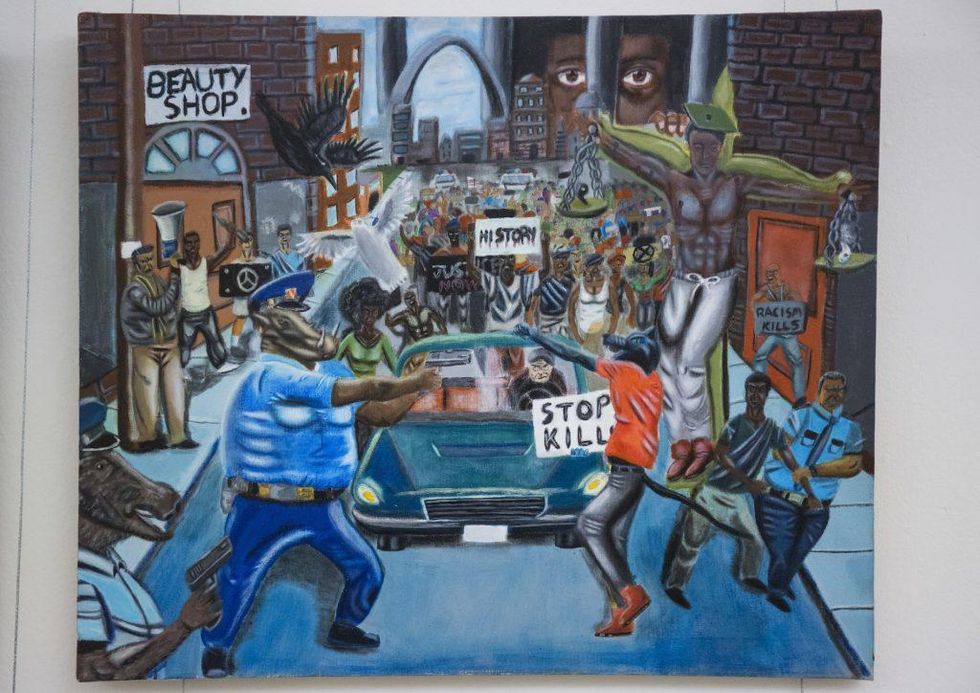 In this Jan. 5, 2017, photo, a painting by David Pulphus hangs in a hallway displaying paintings by high school students selected by their member of congress on Capitol Hill in Washington. Rep. Duncan Hunter, R-Calif., has removed a painting that showed a pig in a police uniform, one of hundreds of artworks on display at the Capitol and sponsored by a member of Congress. Joe Kasper, a spokesman forHunter, says the lawmaker unscrewed the artwork from the display and returned it to the office of Missouri Democratic Rep. William Lacy Clay. (AP Photo/Zach Gibson)
The painting caused a lot of furor among law enforcement advocates, and equal anger among police abuse critics when it was taken down by Duncan Hunter. The Republican was recently dinged for using $600 of campaign money for travel expenses for his pet rabbit.