Parents are criticizing school administrators at Highland Hills Middle School in Georgetown, Indiana, after a school-issued worksheet intentionally put a positive spin on the militant — and oftentimes violent — idea of Sharia law.
School teachers handed the worksheet out to seventh-graders at the middle school, which depicts a 20-year-old woman named Ahlima who says she feels "very fortunate" to live under Sharia law, which historically oppresses women and members of the LGBT community and encourages violence against those who stray from the strict religious code.
TheBlaze obtained a copy of the worksheet in question from concerned parents in the district, and some of the worksheet's contents openly defend polygamy, female subjugation, and Sharia law. In one passage, Ahlima says that she knows that Westerners who oppose polygamy are wrong:

 The sheet explained that Ahlima will "soon become a man's second wife," as a result of a marriage arranged by her parents, an arrangement with which she professed to be happy:


The worksheet also defended Sharia law's strict dress codes for women:

The worksheet also flatly denied that women are oppressed under Sharia law: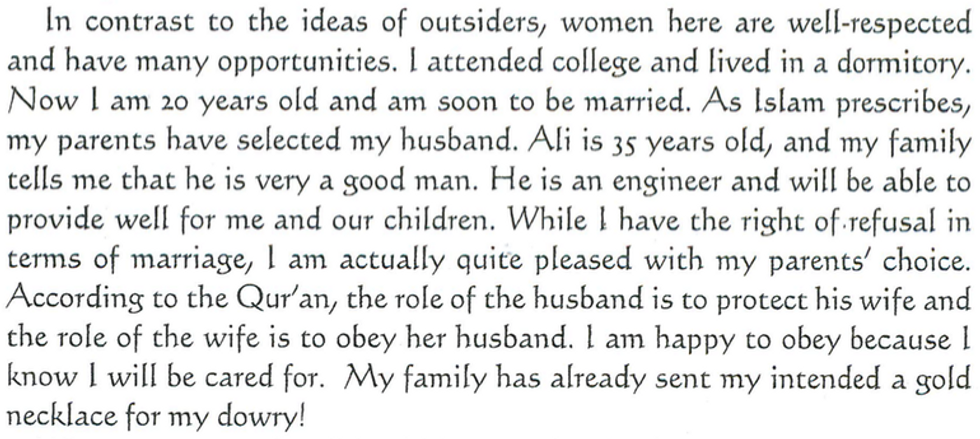 Ahlima concluded her reflections in the worksheet by claiming that she was "lucky" to live under Sharia law:

Many parents spoke out against the lesson during a county school board meeting, expressing outrage at the school's decision. "The way that the worksheet is left would be like describing how effective Hitler was at nationalizing Germany and creating patriotism but leaving out that he slaughtered 6 million Jews," said Dean Hohl, one of the parents in attendance, according to the Courier-Journal. "I'm just not okay with my daughter – or any child that age – leaving class with the understanding that anything about Sharia law is okay."
"That document by itself, it's almost propaganda," Jon Baker, another concerned parent, said. "If you read that, you would think everything's wonderful in that world."
The creator of the worksheet and president of the InspirEd Educators curriculum Sharon Coletti said the worksheet is far from an indoctrination attempt, but is instead supposed to help students independently identify stereotypes and developed the worksheet 20 years ago based on an interview she saw of a Muslim woman who voiced a positive outlook on Sharia law. "If I can shape something so that kids have to decide for themselves, once I get them involved in the situation, they never forget it," she said.
She also told the Courier-Journal she has received death threats in the past for the controversial worksheet when it caused parental concerns in 2011 at a middle school in Georgia.  Despite her defense of the worksheet, Coletti also said she will remove the lesson from the InspirEd Educators curriculum in light of the negative attention it has received.
Hohl told TheBlaze the school district informed him Monday it would no longer use the lesson in its teachings. He also said the school's worksheet forced him to have a conversation with his daughter about the truth of Sharia law. "She was ignorant about it and thought all was 'ok' living under Sharia law.....until I explained honor killings, beatings, & rape. Then she realized the assignment left A LOT of the truth about Sharia law out of the text," he told TheBlaze.
Sharia law, which is the same law that the Islamic State terrorist group abides by, states that anyone who does not adhere to the strict religious code should be physically punished, and oftentimes the punishment is death. According to the Washington Times, Muslim cleric Sheikh Khalid Yasin stated in a YouTube video, "God is very straightforward about this — not we Muslims, not subjective, the Sharia is very clear about it, the punishment for homosexuality, bestiality or anything like that is death."
Another Islamic scholar, Sheikh Farrokh Sekaleshfar, told fellow Muslims at the Husseini Islamic Center in Orlando in 2013 that gay people should be killed out of compassion. "Death is the sentence. We know. There's nothing to be embarrassed about this. Death is the sentence," he said. "We have to have that compassion for people. With homosexuals, it's the same. Out of compassion, let's get rid of them now."