UPDATE 6:58 a.m. Thursday: Police charged Jason Dion Bews with assault. Check out TheBlaze's follow-up story.
Original story below
Police are looking into an allegation by a conservative Canadian news outlet that a man assaulted one its female reporters during the Women's March in Edmonton, Alberta, the Huffington Post reported — an incident that was caught on video.
Sheila Gunn Reid, Alberta bureau chief for Rebel Media, was covering the Saturday march and said when she tried to interview one of the men there, he became indignant — and soon violent.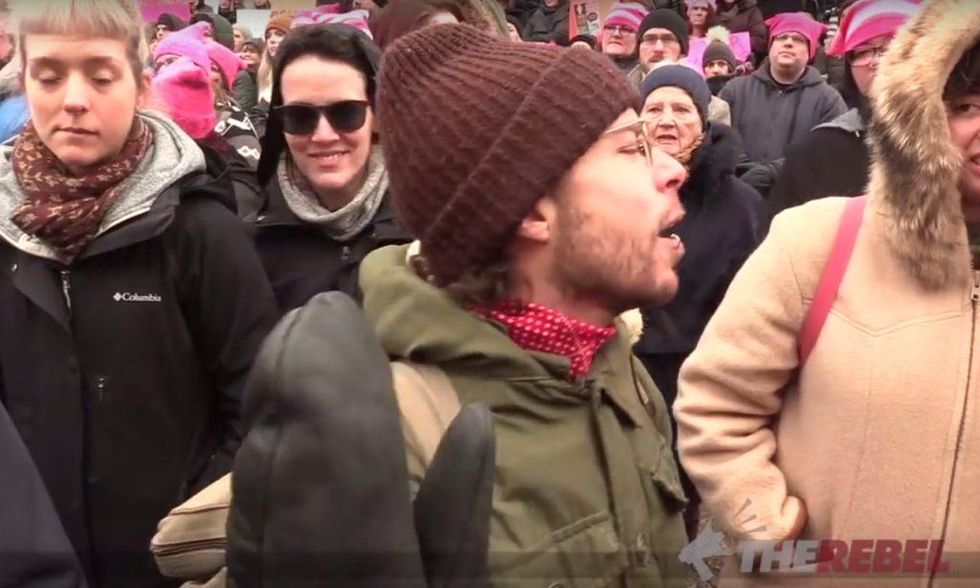 Image source: YouTube
"Ezra Levant, f*** you," the man on the video said to Reid, invoking the Rebel's head honcho as he raised a middle finger.
As Reid tried to engage the man further, he turned his back to the camera, appeared to wave at someone to his right, then turned back around — with his left-hand glove now off.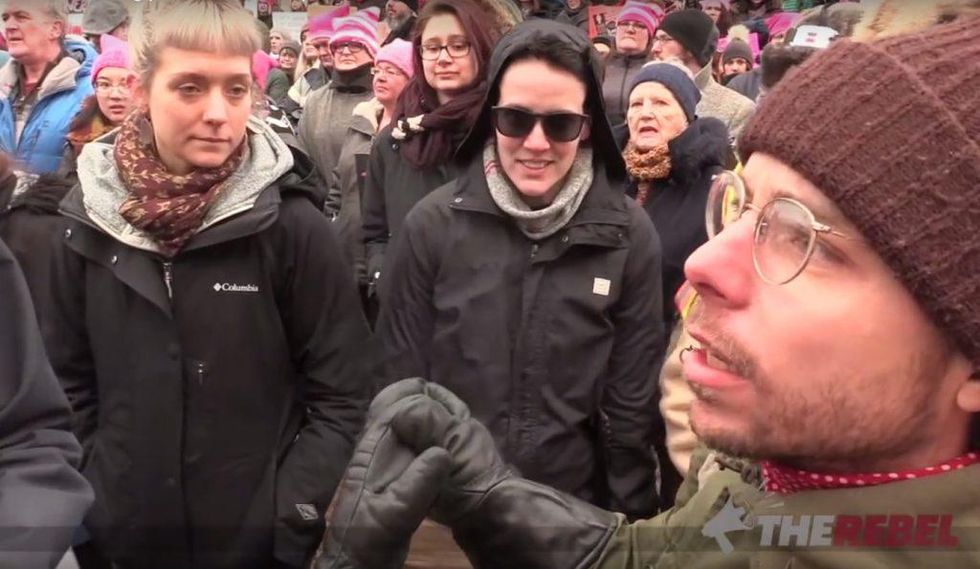 Image source: YouTube
"Go away," he said to Reid. "Get out of my f***ing face. I will break your f***ing camera."
With that the man appeared to throw a punch that connected with the video camera — and according to Reid, her face as well.
A few women there attempted to calm things and apparently blocked Reid as the man walked away.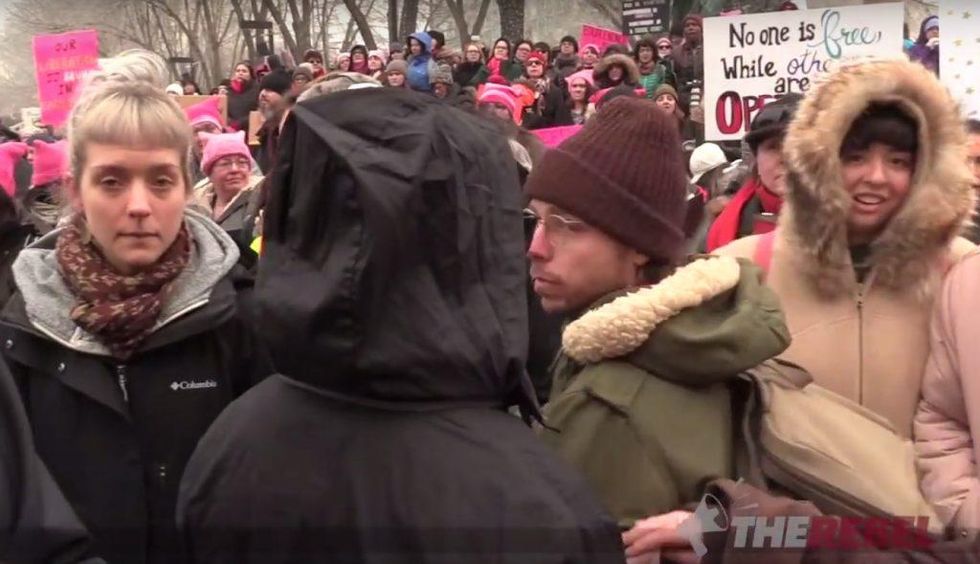 Image source: YouTube
But the journalist was furious: "Hey, don't tell me to calm down! That guy just hit me in the face!"
One woman told Reid, "You deserve to be angry. You deserve to be angry. But I'm trying to make sure nothing else happens."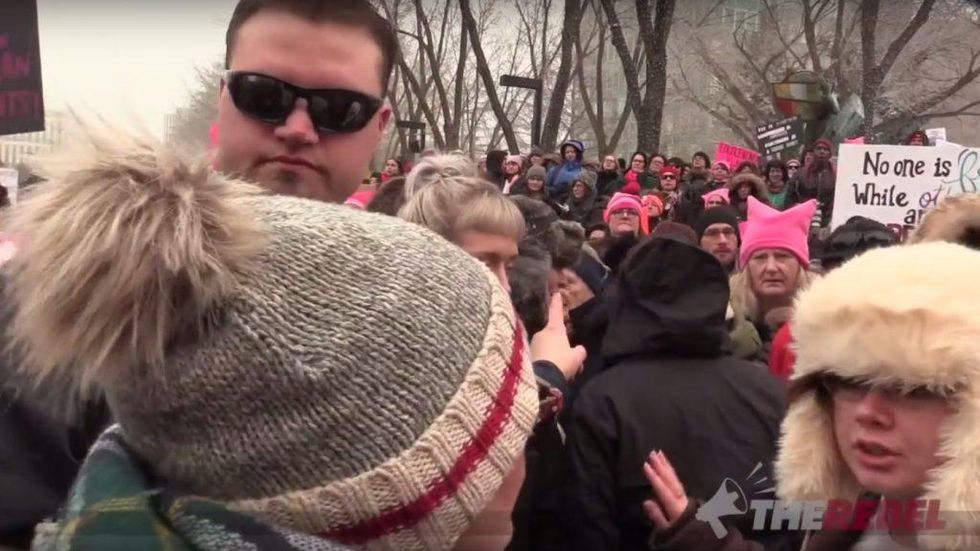 Image source: YouTube
Here's the raw clip. (Content warning: Strong language and hipster muscle):
On a separate video featuring Reid discussing the event in more detail, she recalled that "with all the strength his weak little beta arms can muster up, he winds up and bashes [the camera] into my face."
Reid added that afterward, she was still targeted.
"The left-wing women there helped him get away," she said.
"There was one woman there who said I was the problem," she continued. "There was another man who said I provoked it all. There was another who said I incited it. One woman even blocked my camera with her sign so I couldn't film the little puke coward running way."
"Yeah, I'm the problem you victim-blamer!" Reid told those protecting the man. "That guy just hit me in the face!"
Content warning: More nasty language
Jason Kenney, campaigning to head the Alberta PC party, didn't like what he saw.
"Very disturbing to see a woman punched in the face at Edmonton protest yesterday," he tweeted.
Very disturbing to see a woman punched in the face at Edmonton protest yesterday. I condemn such hatred & violence. https://t.co/cXKnO2f1EK

— Jason Kenney (@Jason Kenney)1485138978.0
Laureen Harper, wife of former Canadian Prime Minister Stephen Harper, mocked the witnesses by tweeting that "sisters helped the guy slither away."
Loved the part in the video where the women helped @SheilaGunnReid to safety. Oops, I meant where the sisters helpe… https://t.co/RxILy8aIqr

— Laureen Teskey Harper (@Laureen Teskey Harper)1485143978.0
But two people who said they were there disputed Reid's claim and said she was never hit.
"He just hit the camera off the tripod ... [he] didn't actually assault her in any way," a self-proclaimed witness who called herself Tiana said in a Facebook video.
"Had she been hit, there would have been a reaction," said the other self-proclaimed witness, who called himself Ezra.
CTV News reported that Dion Bews, identified as the man in the video, spoke with the network on Monday, saying he talked to police and that he won't face charges.
CTV News added that Bews said he didn't hit Reid in the face, just her camera — and that he doesn't believe the camera hit Reid.
Bews added to the network that apologized via a tweet and said he'd replace the camera — and that he and his wife left their home due to threats via texts, phone calls and emails.
This story has been updated.