The three major broadcast news networks — ABC, CBS and NBC — covered the recent Women's March on Washington 129 times more than they did last year's March for Life, according to a new study by the conservative Media Research Center.
Protesters gathered in the nation's capital Saturday in response to the inauguration of President Donald Trump.
According to the MRC study, ABC, CBS and NBC spent at least one hour, 15 minutes and 18 seconds on the Women's March. The 2016 March for Life earned only 35 seconds of coverage from the three networks — 13 seconds before it took place, and 22 seconds after it took place. The Women's March was granted 23 minutes of coverage before it took place.
The study also found that although the Women's March made headlines for revoking the partnership of several pro-life organizations, that controversy was not covered by the networks.
In her analysis for the Media Research Center, Newsbusters' Katie Yoder wrote, "It's anyone's guess as to whether or not they will cover the 2017 March for Life Friday."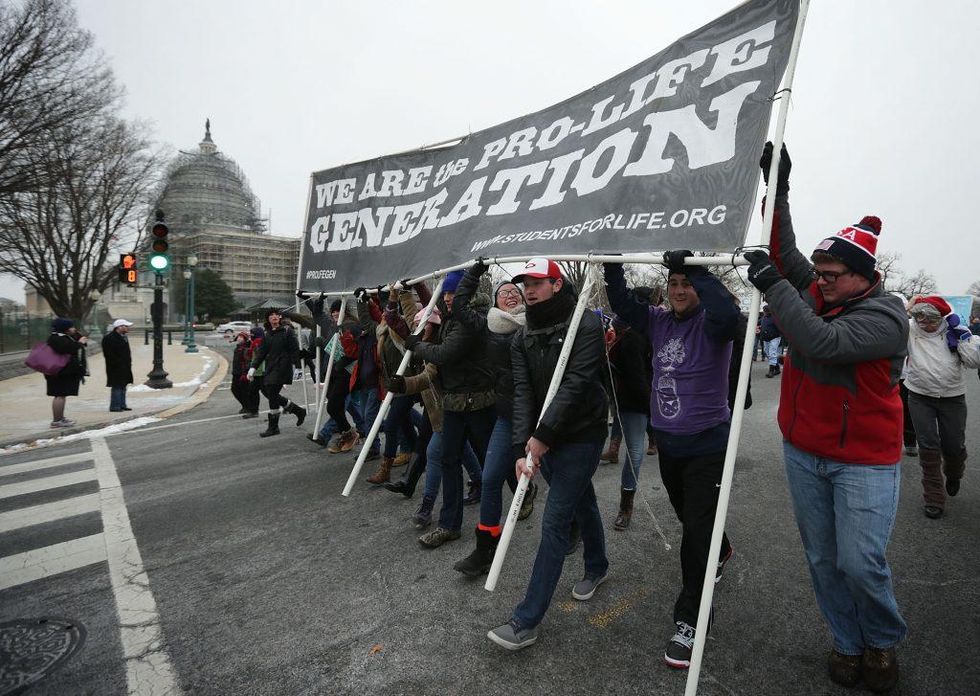 Activists participate in the 2016 March for Life as they march up Constitution Avenue Jan. 22, 2016, in Washington, D.C. The annual event marks the anniversary of the Supreme Court Roe v. Wade ruling in 1973. (Alex Wong/Getty Images)
On Wednesday, the Alliance for Fair Coverage of Life Issues, a coalition of 25 pro-life organizations and two members of Congress, launched their second annual #CoverTheMarch campaign urging journalists to not only cover the March for Life but to cover it fairly and accurately.
"This Friday is a true test for the media," Brent Bozell, the president of the Media Research Center, said in a statement. "They provided massive, and fawning coverage of the pro-abortion 'Women's March' just four days ago. The media's coverage of the 'March for Life' in two days, both in time and tone, will tell you everything you need to know about their support for abortion. With media's trust in the basement, they will be exposed for the partisan hacks they are if they don't give pro-lifers the same amount of coverage. I'm not holding my breath."
The March for Life — the largest pro-life event in the world — takes place annually on or near Jan. 22, the anniversary of Roe v. Wade, the 1973 Supreme Court decision that legalized abortion nationwide. This year's event was delayed due to Trump's inauguration, which is typical for the March for Life during inaugural years.
The 2017 March for Life will take place on Friday in Washington.