© 2023 Blaze Media LLC. All rights reserved.
Watch one guy shut down chanting protesters in college library just after Trump inaugural address
For left-wing college protesters, a method that's proven effective to get their points across — and make sure they get bystanders' full attention — has been invading libraries and hampering students' study time as much as possible.
A couple of years back, for example, Black Lives Matter protesters had a field day at the Dartmouth College library, taking over a floor and snaking by tables, chanting loudly and getting in students' faces.
And it didn't appear that anybody stood up to them.
But things were different at the University of Washington library last Friday.
An hour after Republican President Donald Trump's inaugural address, a KING-TV reporter noted on Facebook, a small band of protesters invaded the library and fired up a megaphone-charged chant.
"Who's got the power?" "We've got the power!" "What kind of power?" "People power!"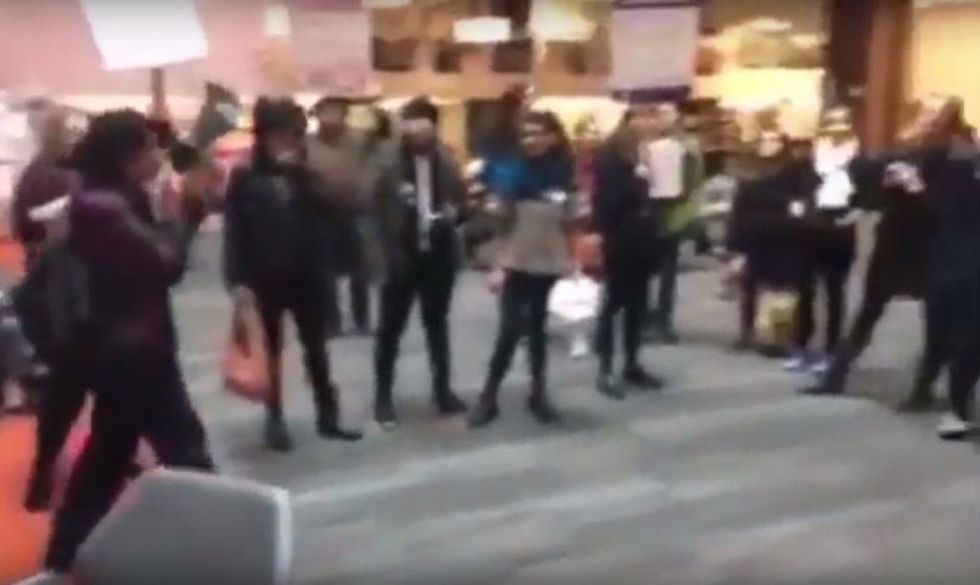 Image source: YouTube screen cap
As it kept up, one guy stood in front of them, and rather than meekly staying silent like the rest of his fellow bystanders, he actually tried to get the protesters' attention: "Hey! Hey!"
Nothing doing.
He tried again, a little louder: "Hey!" And again, "Hey!"
After one last "Hey!" the protesters finally quieted down. And without any nuances or apologies or "I agree with what you're doing but" preambles, he offered a three-word observation that likely summed up others' sentiments perfectly.
"This is library," he said.
Mic. Drop.
It isn't clear if the chanting continued — the clip soon cuts out — but as the Asian man walked away, one sarcastic question flew back at him. And it was just the lowest of the low. Someone asked if he'd be going "back to Beijing."
Couldn't have been one of the tolerant-to-a-fault protesters, right?
In the days since, our unnamed hero has attracted a lot of social media attention, with parody videos and memes springing up.
(H/T: Heat Street)
Want to leave a tip?
We answer to you. Help keep our content free of advertisers and big tech censorship by leaving a tip today.
Sr. Editor, News
Dave Urbanski is a senior editor for Blaze News.
DaveVUrbanski
more stories
Sign up for the Blaze newsletter
By signing up, you agree to our
Privacy Policy
and
Terms of Use
, and agree to receive content that may sometimes include advertisements. You may opt out at any time.