Melissa McCarthy surprised the audience of "Saturday Night Live" over the weekend when she showed up to do a spoof of the daily White House press briefings, which are led by White House press secretary Sean Spicer.
"Settle down, settle down!" McCarthy, as Spicer, says to begin the briefing. "Before we begin, I know that myself and the press have gotten off to a rocky start — in the sense when I say 'rocky start,' I mean it in the sense of 'Rocky' the movie, because I came out here to punch you in the face!"
"And also, I don't talk so good," McCarthy adds, an obvious slight to Spicer.
Then McCarthy, as Spicer, apologized for the press on behalf of the press — then rejected that apology before downing an entire canister of gum.
"I'm not here to be your buddy," Spicer declared. "I'm here to swallow gum and I'm here to take names."
Then Spicer got into the meat of the press conference, where he addressed the recent announcement of Trump's Supreme Court nominee, Judge Neil Gorsuch.
"When [Trump] entered the room, the crowd greeted him with a standing ovation, which lasted a full 15 minutes," Spicer told the press. "You can check the tape. Everyone was smiling. Everyone was happy. The men all had erections. And every single one of the women was ovulating left and right."
Then Spicer began taking questions while audibly "booing" the press. First up was Glenn Thrush from the New York Times who asked about Trump's recent executive order on immigration and refugees. Spicer reiterated that it is not a travel "ban," but Thrush was quick to point out that Trump himself labeled it a "ban" on Twitter.
"Yeah, exactly, you just said that. He's quoting you. It's your words," Spicer shot back. "He's using your words when you used the words and he uses them back, it's circular using of the word and that's from you."
After, Spicer chastised Thrush and labeled the entire press corps "Glenn."
Several more reporters continued to question Spicer about Trump's executive order. Finally one reporter from the Wall Street Journal flatly asked Spicer if he was OK, to which he responded by charging her with his lectern.
"Take that! You take it. Take it! Take it!" Spicer screamed. "You cannot come at me like that or I will put you in the corner with CNN."
Then the camera flips to a caged Jim Acosta — CNN's actual White House reporter — who is only wearing a diaper and white t-shirt.
"We are not fake news," Costa screams from the cage.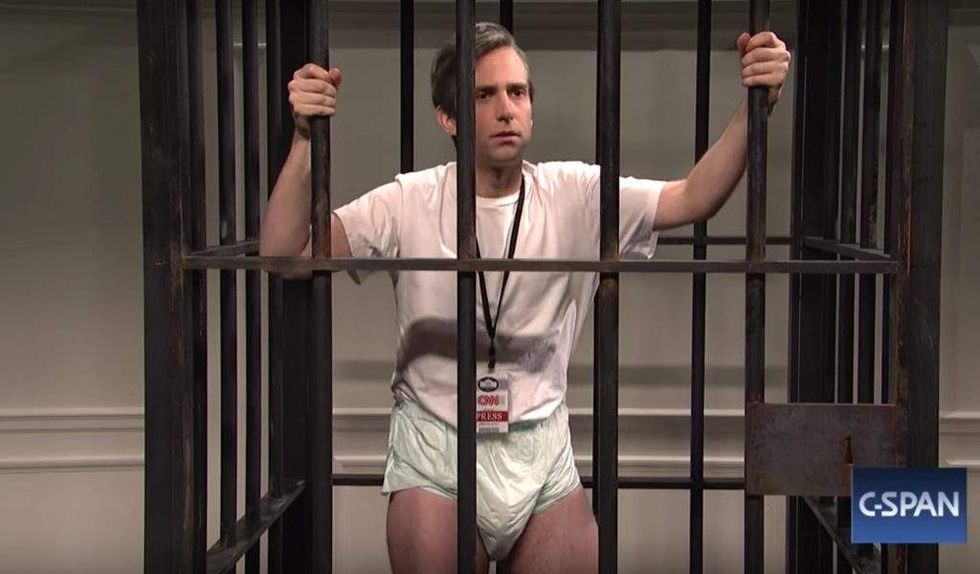 Image source: YouTube
Afterward, Spicer parades Betsy DeVos, played by Kate McKinnon, before the press to answer a question, but she was unable to answer it. Finally, a reporter asks Spicer about the White House's decision to exclude any mention of Jews from their statement on Holocaust Remembrance Day.
That reporter got sprayed with soapy water from a water gun by Spicer.
"This is soapy water and I'm washing that filthy, lying mouth," Spicer told the reporter. "That is what I'm doing."
"That's enough for today! Spicy's gotta go bye-bye right now, I need a big-boy nap," Spicer concluded. "I will be woken me up exactly one minute before tomorrow's press conference."
Watch the full skit below: