A Michigan Republican politician has resigned after he suggested multiple times on social media that "another Kent State" situation could stop recent campus protests.
Dan Adamini resigned from his position as secretary of the Marquette County Republican Party Wednesday, he told the Mining Journal, after meeting with the state party's chairman.
In the wake of the University of California, Berkeley riots that stemmed from a right-wing provocateur's campus event earlier this month, Adamini posted on Facebook that "another Kent State might be the only solution."
Four students were fatally shot at Ohio's Kent State University in 1970 during a protest against the invasion of Cambodia. During the protest, members of the National Guard fired at the unarmed students, killing four and injuring nine, and paralyzing one.
"Time for another Kent State perhaps. One bullet stops a lot of thuggery," Adamini said on Twitter on Feb. 2.
"I have always been intent on being helpful to anyone I associate with, and at the moment, all the hatred and anger and threats are being directed not only to me, but to other members of the party," Adamini said in a statement about his resignation. "It's made it impossible for me to be helpful. The desire to not be a distraction and a hindrance to the work of the party is what prompted me to do this."
While Adamini's original social media posts and accounts appear to have since been deleted, the Michigan Democratic Party circulated screenshots of the controversial posts in a press release.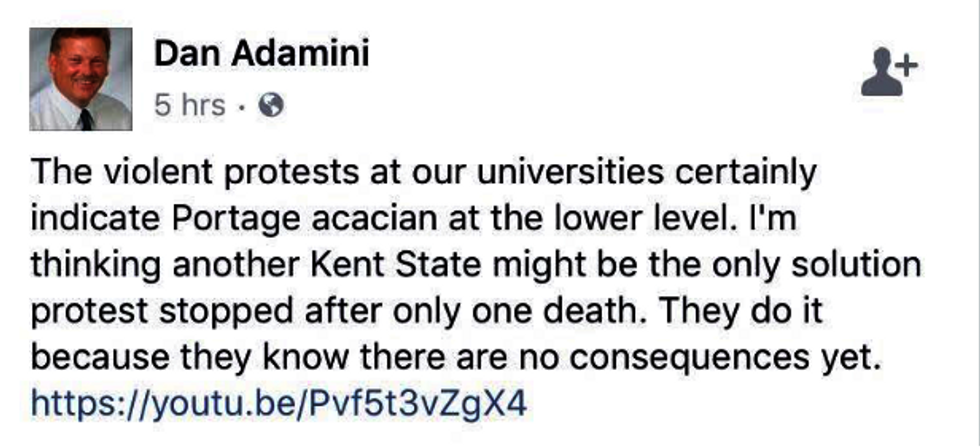 Image via Michigan Democratic Party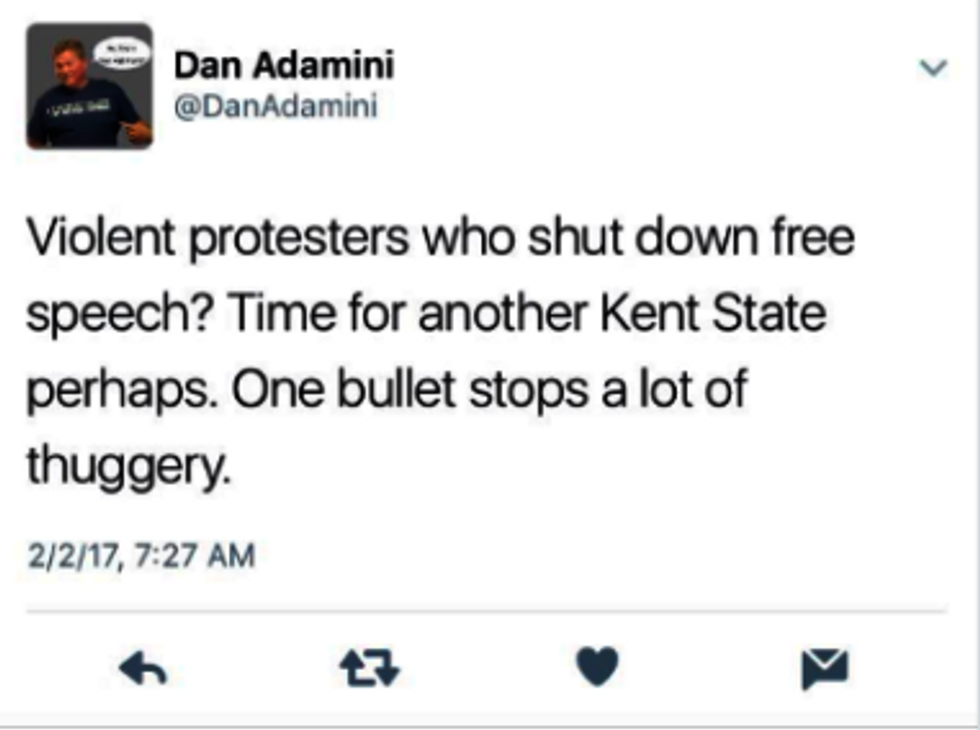 Image via Michigan Democratic Party
"What I was trying to get across, apparently very poorly, is that the violence at the college campus in Berkeley was reminiscent of the violence on college campuses in the '60s," Adamini told the Mining Journal last week before his resignation. "I fear that if we cannot get a handle on the violence, we might see the same type of tragic end."
Brandon Dillon, chair of the Michigan Democratic Party, called the statements expressed on social media by Adamini "sickening, inhuman and indefensible."
"There is no ambiguity or alternative interpretation. To call for 'another Kent State' and declare that 'one bullet stops a lot of thuggery' is to clearly and openly advocate for the murder of unarmed college students, simply because they don't share his beliefs or point of view," Dillon said in a statement. "The right to free speech is the cornerstone of our democracy, and when someone threatens another individual or group with harm for exercising it, that one person is a threat to all of us, as Americans."
More than 700 people liked a Facebook group by Thursday morning that called for Adamini's resignation. The group celebrated the resignation with a post that said, "We did it!" Wednesday night.
Marquette County Republican Party Chair Brendan Biolo told the Mining Journal that Adamini's resignation was "unprompted" and added that he had hoped he would not have to force the resignation.
"We're sad about the situation, and we accept his resignation," Biolo said. "As I've said before, we don't condone any of his actions."
Kent State addressed the U.P. politician's remarks in a statement:
May 4, 1970, was a watershed moment for the country and especially the Kent State University family. We lost four students that day while nine others were wounded and countless others were changed forever.

This abhorrent post is in poor taste and trivializes a loss of life that still pains the Kent State community today.

We invite the person who wrote this statement to tour our campus and our May 4 Visitors Center, which opened four years ago, to gain perspective on what happened 47 years ago and apply its meaning to the future.
According to Marquette's Word on the Street, Adamini's weekly talk radio show which aired on WDMJ-AM and WIAN-AM has also been suspended for the remainder of the month.